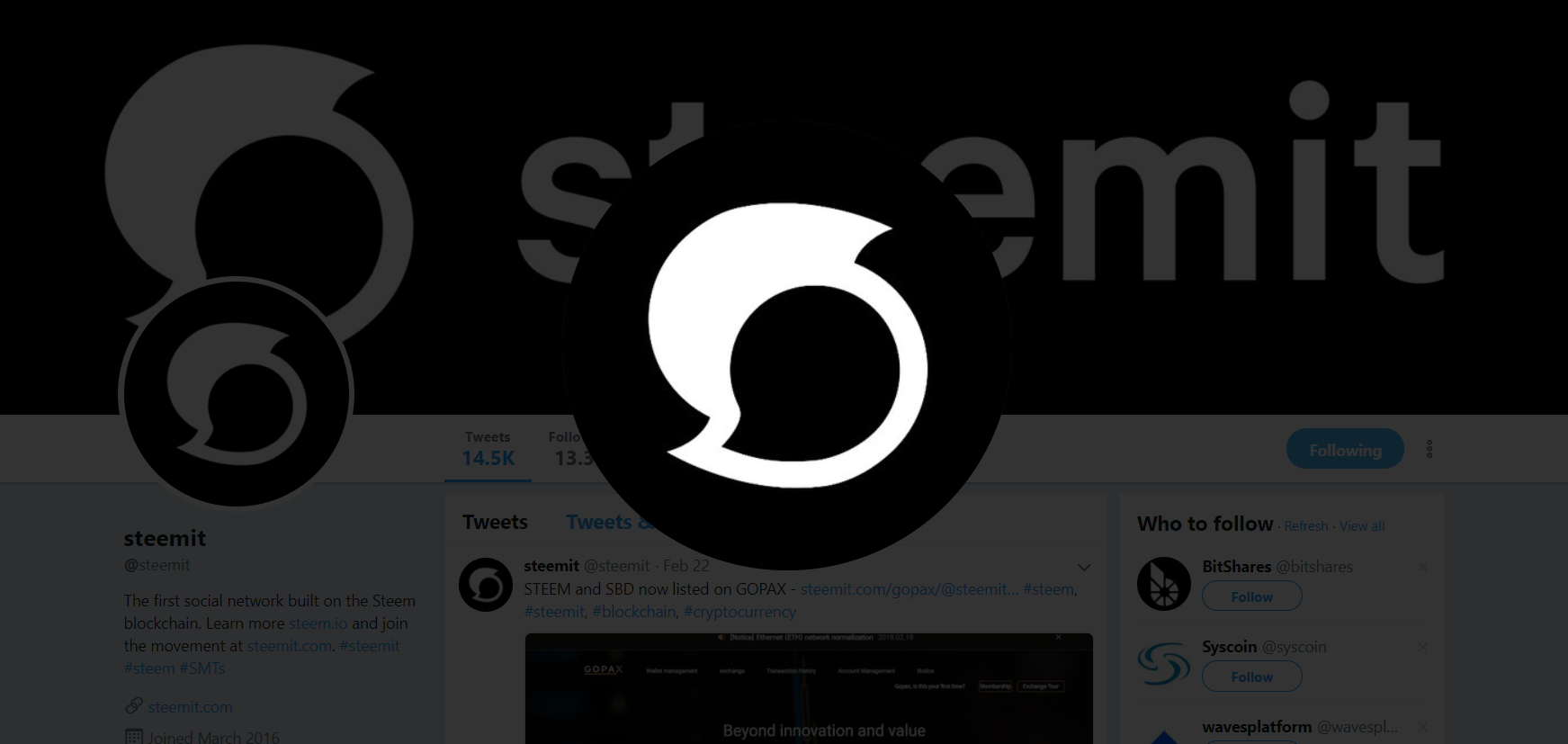 Market Cap - $20M +
Rank - 259
Website - steem.io
Trading Platform - Poloniex | Bittrex
---
If you look at market cap and rank this coin has nothing from what I consider a good coin to invest in. But if we are looking at the project behind and if we take a look at STEEM which is ranked at 29 with $400M+ market cap, I definitely can say that SBD is a good coin with great potential.
Few months ago, I've started to follow a lot of "guru trading guys" which gave me a lot of "buy signals". After a few weeks I've lost a lot of money based on they predictions. In that moment I've decided to start learning how to trade. Every single day from then I've studied and applied a lot of tools. I've lost money, I've won money but right now I am not depending on any "guru signal".
One of the trade which I've made by my own was to buy SBD. Why I did this? Because right now it has great potential. In the following months, based on my analysis I see more that 200% growth potential.
Let's see the charts.
First thing I do when I am looking on a coin, is to look on weekly chart. Because I want to have an overview about that coin.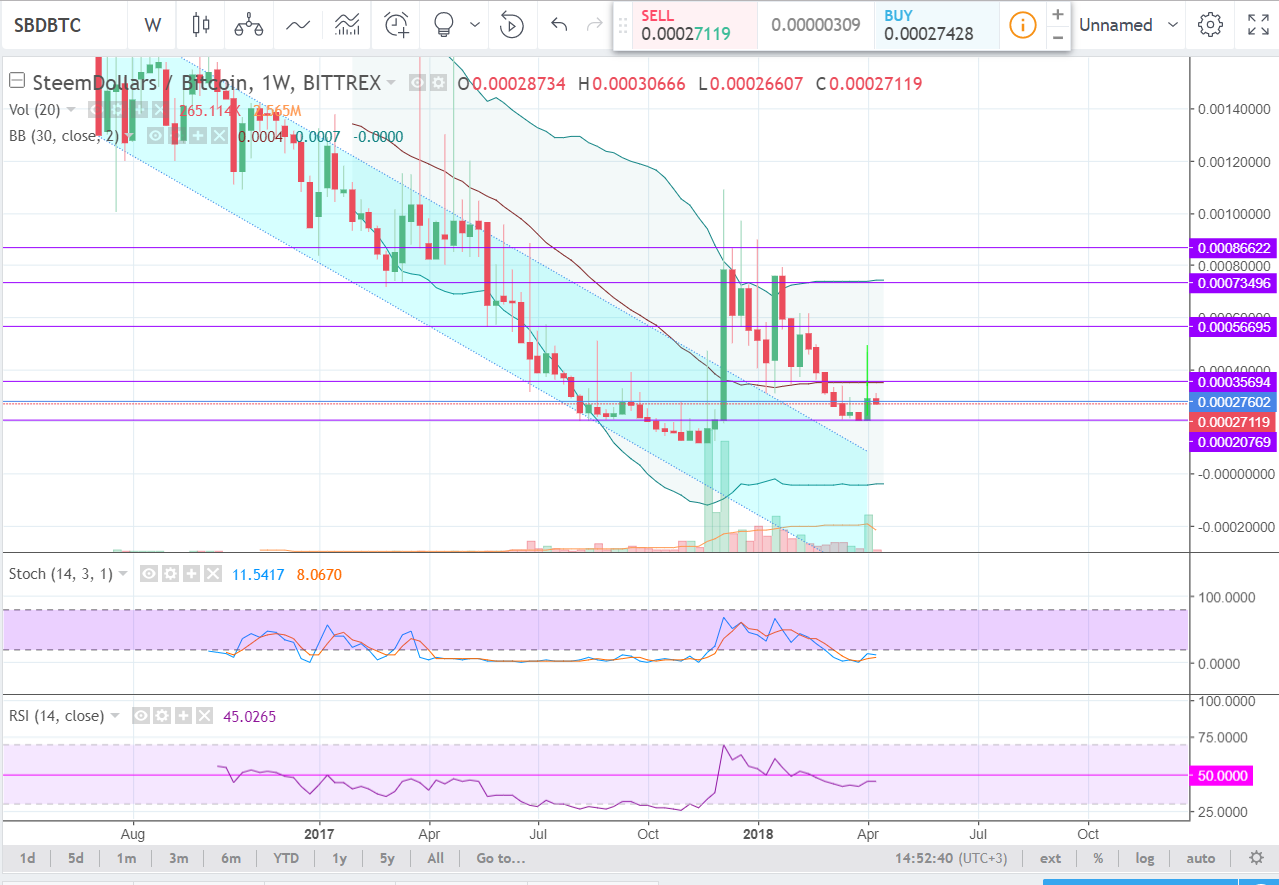 As you can see, SBD found a strong support at 20769 satoshi. Sochastic looks oversold so if you want to invest on a long term, is the perfect time to BUY some SBD. RSI is bellow 50 (magenta line) but there are signs that the coin is moving up.
Let's go closer to see what indicators are telling us if we are looking on 1D chart.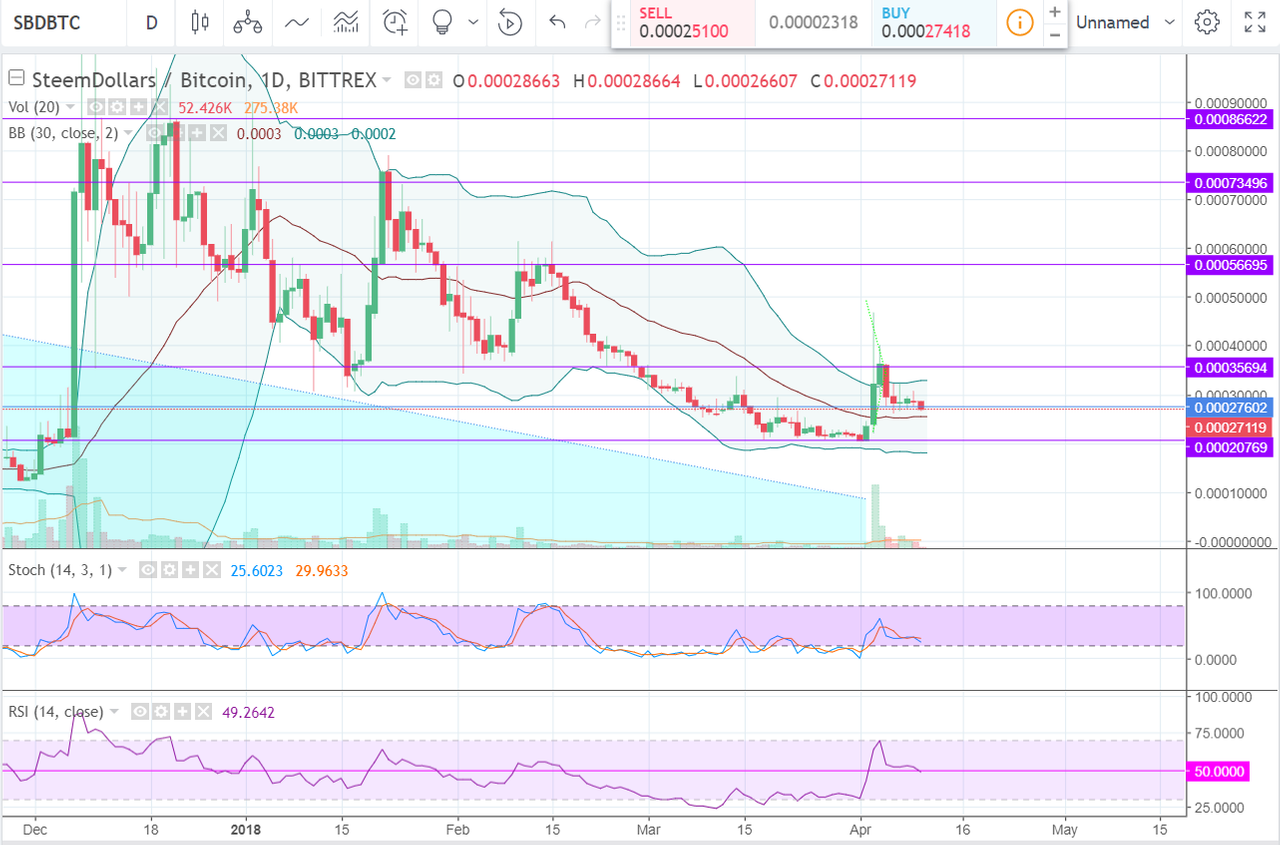 We had a good jump, three days in a raw followed by an expected correction. The good thing is that SBD found support around 27602 satoshi which is at 50 level of RSI. If will remains on that level and above, it means that we have an uptrend confirmation. We have Stochastic, the second indicator which is telling us that SBD it's almost oversold which means that more investors will start to buy in the next following days. Of course this will depend on BTC evolution.
These are my analysis. If you have questions, please comment leave a comment bellow.
---
Keep in mind - Only trade with your money that you can afford to lose.
Want to start investing in crypto?
Come and join more than 7 Million users on Binance

---
Thank you for your support.
If you want to receive more updates like this, please upvote and follow me.