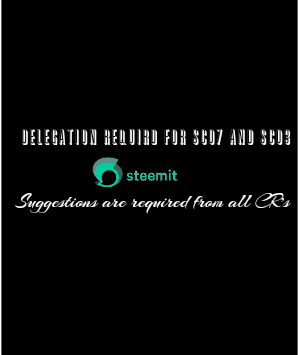 with three days of thinking and planning we have got to conclusion that steemit team should increase delegation of curator accounts rather than making of country curator accounts,
However he further asked me to have your view over it as well and as you guys could see in new commers community many new steemitians are joining which got helped by @cryptokannon @tarpan and many others.
But as soon they grow furthermore, as can be seen they are growing by x3, delegation is required for
Steemcurator07 , steemcurator03 ( as requested by cryptokannon for initiatives to help new commers grow faster )
which could be taken from Sc 02 on the other hand we are going to prove that we really deserve the delegation
Also the idea of country curator account would be tough work and isn't possible too as we have about 195 countries = 195 country curator accounts would be trouble.
Problem CR of Sc07 facing:
currently we have 4 countries using sc07 India,Pakistan,Bangladesh and Srilanka with amount minimum of 400 Active users approx now if we see the Sc 07 power vote worth its 2.3$ and in a day its would be 2.3*10 = 23$
now if we say we reduce 400 to 350 now if we distribute this 23$ to 350 we get 0.0657142857142 / post now consider
350/2 half of them are low in quality 23 / 175 = 0.15 $ max
So we can conclude if we reduce it further it would be max 0.4 $ / post of person giving his/her efforts,time and wrote 300 words.
I hope i hadn't made any mistake in calculations sorry if i made any :p.
---
---
---
---
Let me know if you Agree for the increase in Delegation for both of these accounts sc07 and sc03 .
Also if you have any suggestions, recommendations or Idea about it kindly give your opinion in comment.
Its necessary, please give your 10 minutes .
And should any of the other Curator Accounts get any more SP delegation ?
@njiatanga @njaywan @oppongk @beautychicks @focusnow @yohan2on
@belenguerra @fendit @adeljose @anasuleidy @edlili24 @mariita52
@tocho2
@rex-sumon @tarpan @toufiq777 @neerajkr03 @rishabh99946
@sapwood @anroja @ernaerningsih @nazarul @radjasalman
@cryptokannon @rashid001 @besticofinder @randulakoralage
@girolamomarotta @filinpaul @knopka145 @alikoc07 @antorv @olesia
if i forget to mention anyone kindly reesteem that or share this with them so i can have all of the suggestions from each ad every CR or Curator account eligibles.
I am sorry for taking your precious time here as i dont have your private contacts also that would be easy for steemit team as well to come to conclusion.
With all due respect,
Yours Hassanabid,
Mod Steemit Pakistan.