All of a sudden, things are changing fast since the New Hardfork 21/22 was implemented.
Back in the old days, I used to only upvote myself... my own posts... my own comments... even my own replies, lmao. ='D ( #MyBad . #MyConfession. #ForgiveMe...)
Today, I am beginning to enjoy now being here compared in the days of #OldSteem as we feel the presence of being a true proof-of-brain content discovery platform.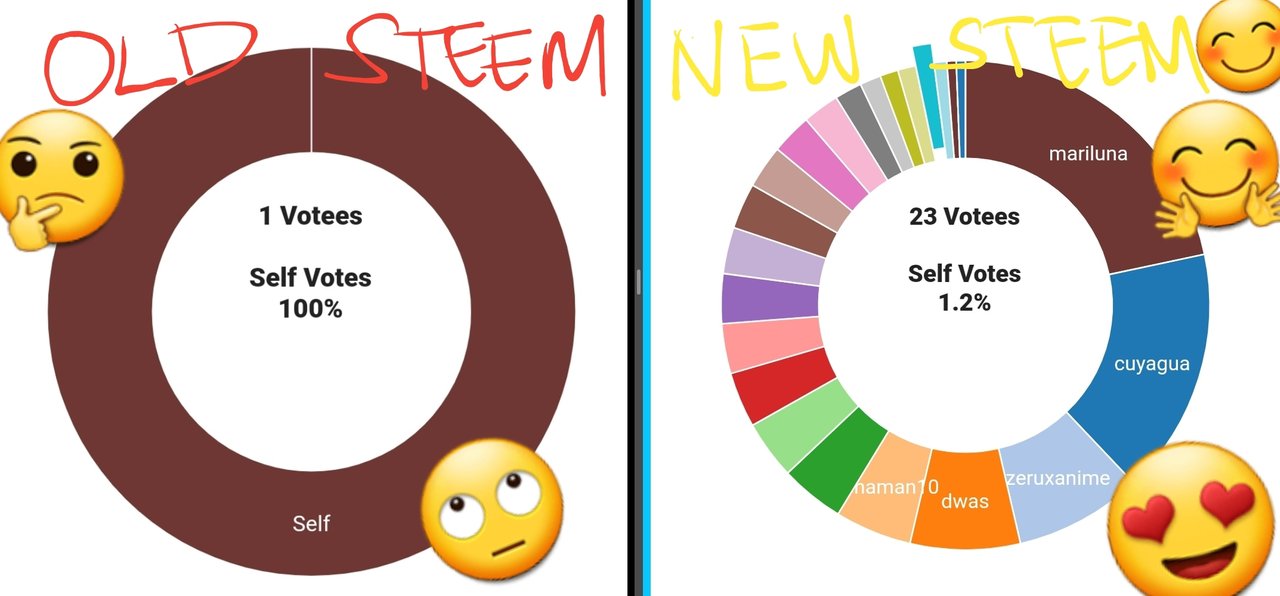 http://www.steemreports.com/outgoing-votes-info/?account=hiroyamagishi&days=7
My New Behavior because of #NewSteem
I didn't notice that the #NewSteem changed my voting behavior a lot. The new Steem hardfork transform my self-voting from a 100% towards only 1.2% self-upvote in the past 7 days, that was 98.8% difference there! 98.8% is a huge number, think of it like the Steem price difference from an all-time high of $9 going down to $0.16.(Lol, just kidding there ='D)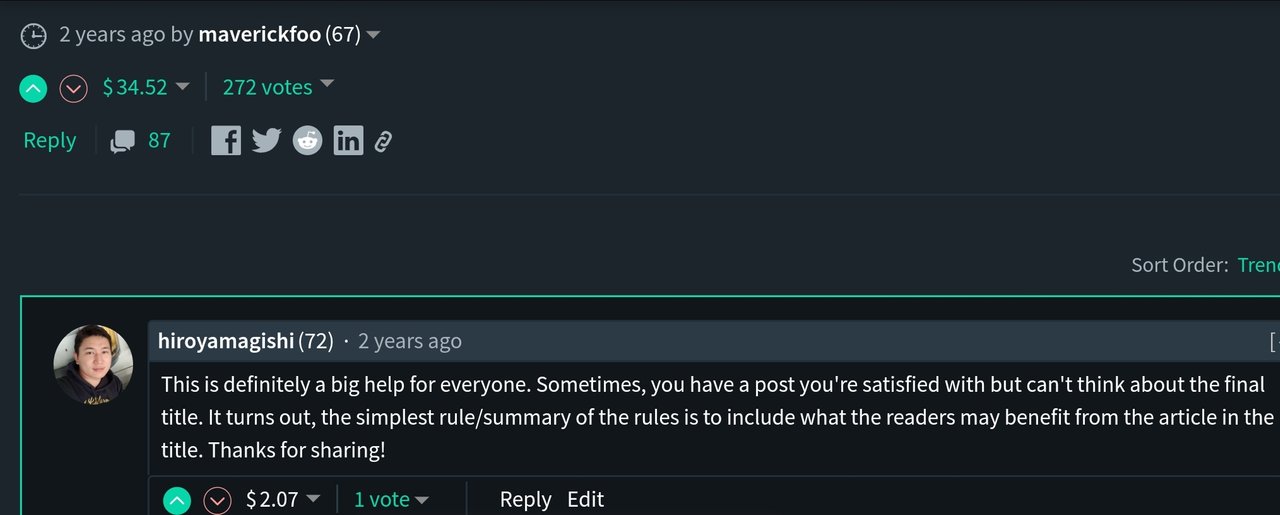 An example of my former bad habits of commenting to purposely upvote it all the way to the top. A little bit embarrassing but I think it was the result of the broken economy. Good economy force bad people to do good while Bad economy force good people to do bad. I want to quote what @trafalgar once said;
We don't create a set of economic rules that rely on good people to be altruistic for the system to work. We create a set of economic rules that force bad people to do good things in order to be profitable.
Old Economy vs New Economy
We'll get on more serious matters here. We know that Steem is an inflationary cryptocurrency, in our old steem system to protect ourselves from inflation some of us curate our own post and comment or even delegate our Steem Power to bid bots to get the return of investment we want. The old economy ( #OldSteem) is paying content indifferent voting behavior for self voting, vote selling to bid bots that is 4x more than honest curation.
In the broken economy, @kevinwong said this before...
I'm not holding back as much anymore, and I'm playing the vote-farming game on my alt-account @etherpunk to keep up until Steemit Inc and the top witnesses decide that some of us are right about our diagnosis and proposal to fix the misaligned economy.
After the new economy kicks started he began to show interest again. Also @trafalgar has the @traf that is vote-farming account to counter the bad economy in the old system which is not necessary from now on as he mentioned here. A proof that broken economy pushes the good people to be bad actors to protect their investments.
However, because of the new economy there are more people now voting honestly because of 50% curation rewards and bad actors are getting downvoted using the free downvote pool introduced in our new system.
I have confidence what @kevinwong mentioned in his post...
Steem's value would likely begin to appreciate with a functioning Proof-of-Brain. It can be many things in the future, but for now, maybe a way to think about this is to view Steem Power as a utility token to participate in a competitive multiplayer game. To put it simply, the more awesome the game is, the more value it brings. Just like Fortnite, except our economy can extend much further in a lot of directions once we get our core game design in the right ballpark.
The Day to Remember
On August 27, 2019, is one the most significant day on the Steem ecosystem, the day the EIP and SPS were first introduced into this blockchain. However, there are downtimes and bugs to be fixed that doesn't go smooth while the big new elephant 🐘 is entering in the room. Thanks for all the hard work of Steem Witness, I salute you and earn my utmost respect. You are the true heroes of this chain, so I made this #meme for all of our hard-working witnesses.
Not All Heroes wear Capes, sometimes they are Steem Witness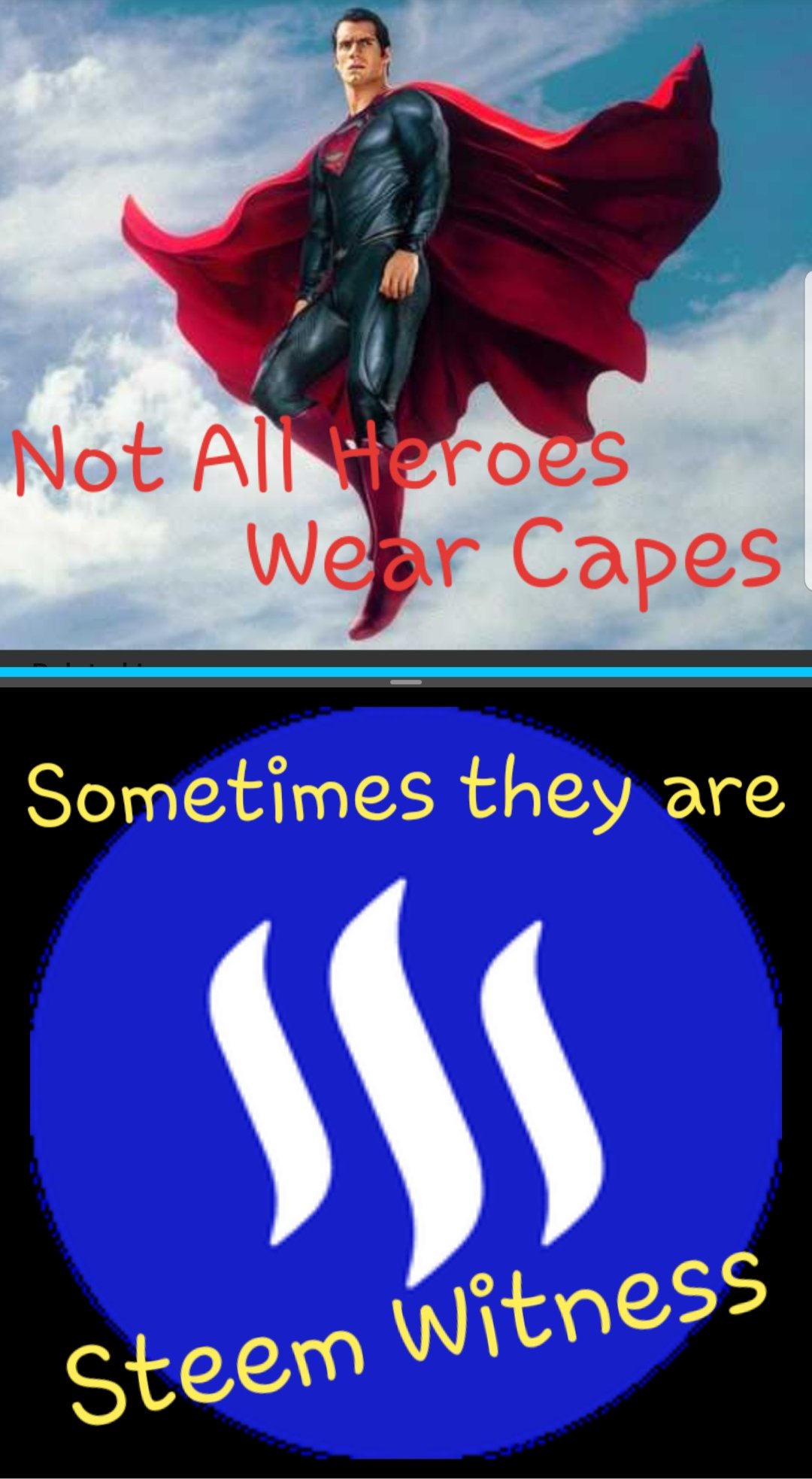 Disclaimer:
I do not vote for own post even this one. Why I need to? I can earn it from curating others...😅
Also, Nothing can beat #Ramen for me!🤣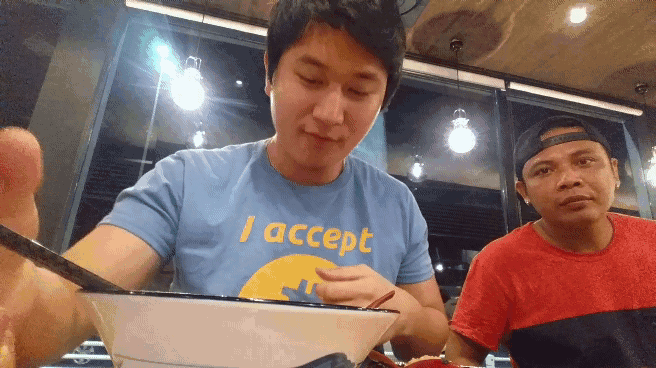 Please upvote, resteem and follow me. We are also helping Venezuela and Nigeria, please join our Discord Chat if you think we can help out...