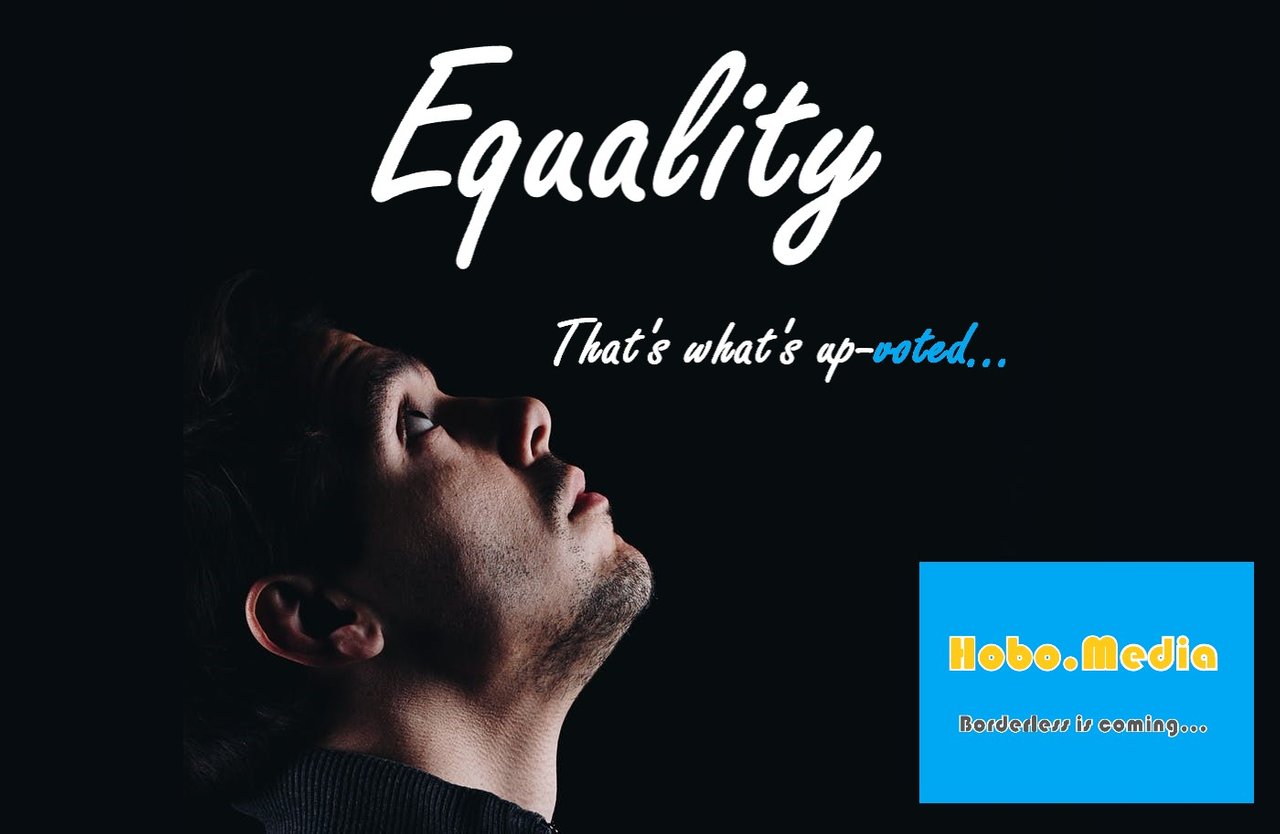 Would Mass Adoption Make Steem More Equal?
---
Its great that Steem is becoming the blockchain that helps people in difficult economic environments to grow. It proves the fact that Steem is indeed the only blockchain actually functioning as an economy within itself and rewarding work outside of the coder community.
However, despite those positive factors and, despite the lowered price of STEEM, the cost to work your way out of the worthless upvote category and get yourself into just the $0.01 upvote value area requires 220 SP in today's market or a $61.60 financial investment. That's not extremely difficult for many people in the United States with a $10.50 minimum wage, but it can be rather difficult in many other places in the world. Even for thriving economies people often think twice about buying into anything online in the $50+ range.
It is undeniable that as more and more people adopt the Steem ecosystem that it will become more expensive to buy STEEM to power up your account for resource credit and upvote uses. For example, I bought a bunch of STEEM at $1.10 and at that time it required 125 SP to be able to dish out $0.01 valued upvotes. This means that it cost me $70.40 US dollars more than it would cost someone else for that same upvote valued at $0.01. Gradually, prices will go back up as online communities begin to recognize the value add to integrating Steem in their blogs, podcasts and what have you... This means it will become more and more difficult to acquire a large amount of STEEM to power up your account.

Its humbling to be called a minnow and outright insulting to be called plankton, yet that is what the majority of Steem users are referred to as. In fact, its not easy to NOT be plankton on Steem for many people. Some folks are doing financially well, but Steem also draws in many people truly struggling to make an income in life and are putting their hope in being able to find others that value their hard work online.
Even when people can afford to get themselves out of the plankton or minnow categories they might ask themselves if its worth the risk investing a bunch of money in a social experiment. Sure, the banking system is terrible, but people tend to stick with the devil they know.
Well, I'd like to help you out with a more positive angle on the situation. Do you need a lot of STEEM/SP to succeed on the Steem platform in the future? I say no and I hope you will give me the opportunity to explain why I think this way.
In the early days of a blockchain very few people enjoy the benefits of rapid coin acquisition and that very same event was experienced on Steem. However, after the immediate accumulation of large sums of a coin the owners of those coins often start selling some off. This isn't bad, it increases the amount of humans actively owning and utilizing the network. Additionally, as the community of coin owners for that particular network grow liquidity increases, as well as value per coin.
Okay, so that's a generic example, now let's discuss Steem. This blockchain is primarily meant to spread throughout the internet and be utilized by social hubs, personal blogs, news sites, podcasts and many other forms of content production sites. Let's look at some hard numbers:
"23% of total Internet usage time is devoted to social networks or blogs."
"The average person watches 182 online videos per month."
---
Stastista.com reported that 350 million blogs exist on Tumblr during July 2017.
InternetStats.com stated on June of 2018 that as many as 1,883,637,867 websites were online.
Imagine if Steem was adopted by only 1% of the websites online, from the math above that would mean no less than 18,836,378 new Steem accounts with enough SP to actively perform daily tasks using resource credits.
Let's round down for simplicity, far down to just 18 million new accounts. Currently, we need about 5 SP per account to reasonably function, but this might go down over time, still, for now, let's use the 5 SP standard. At 5 SP for each of these 18 million accounts we have 90 million STEEM locked up in plankton accounts as SP.
That sounds great, but this is just the tip of the iceberg! We're just talking about sites, not the visitors of those sites. But also, we want to hammer down the potential of the opensource platform known as Steem as accurately as we can. So, how should we go about that? I suggest we reflect upon Wordpress statistics.
"WordPress is the most popular CMS in the world and is used by nearly 75 million websites. According to WordPress, more than 409 million people view more than 23.6 billion pages each month and users produce 69.5 million new posts and 46.8 million new comments every month. It also powers more than 25% of the world's websites."
---
Let's pretend Steem's growth is stunted at 10% of Wordpress' success. That's 7.5 million sites with at least 1 Steem account and 40 million people that view these sites each with individual accounts. Cool, so that puts us at 47.5 million accounts each with 5 STEEM/SP powered up, which results in 237.5 million STEEM locked up in plankton accounts. There are only 324,270,212 STEEM in total supply right now, and inflation reduces by 0.5% every year.
The Lambo Effect
---
This will drive a huge increase in the price of STEEM, which will make it more difficult to acquire large amounts of STEEM. However, where will all these people get their STEEM? Simple, from people that already have it right now. Sure, this does mean the people with STEEM right now will make a lot of money off the newcomers, but it also means they have to give up some of their STEEM to make that profit. Lambos don't buy themselves...
A perfect example of this is Steemit Inc. which owns a large amount of STEEM. But hey, everyone has bills and the only way to pay those bills is by self-voting or selling the STEEM. Obviously, as they keep powering down it means they are selling their own supply. This isn't something to be worried about, its a positive. As the whales take profit the network becomes more and more equalized and more network owners or sharehodlers come into existence. Steem gains traction as a valuable asset and people keep flocking to it and using it.
In the future, what if we got Facebook level success? 2 billion active Steem accounts with only 500,000,000 STEEM in existence? On average, that would be about 0.25 STEEM per person. How much STEEM/SP do you have? One day, you just might find that your plankton account is actually a whale.