Bitshares is a leading blockchain based distributed exchange (DEX) you can freely sign up to and use. Steem is a rapidly evolving blockchain environment with a large and lively community. Gridcoin Research is one of the oldest coins and rewards scientific computations.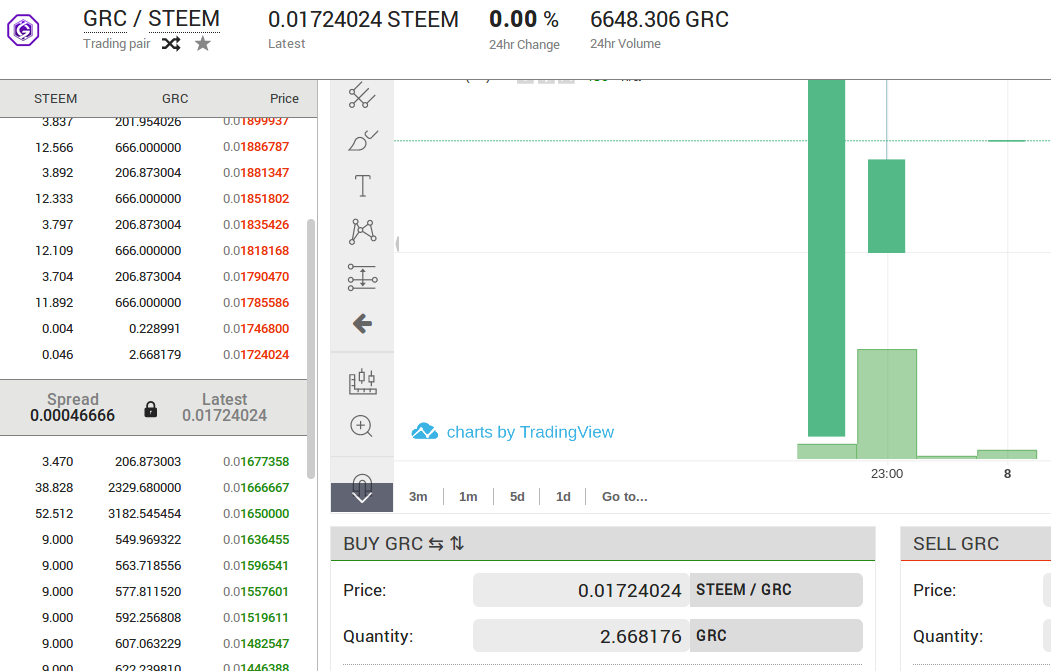 Aims: liquidity, small spread between buy and sell orders and low fees.
A new trading pair GRC / STEEM has been launched on Bitshares DEX to facilitate fast and reliable direct exchange between Steem and Gridcoin. Now you can easily and directly exchange your weekly Steem rewards for GRC or Gridcoin rewards for Steem as required.
As STEEM/GRC market is just starting, I have deployed a bot to provide basic liquidity and as small as possible spread – difference between highest buy and lowest sell orders. Bot should help to provide fair prices for small orders until market becomes more popular.
Trading on Bitshares
To trade on Bitshares blockchain you need to set up an account / wallet. It is fast and simple. You do not need to run a node. Just follow instructions. To support my market making bot you can just use my referral link. To connect to the Bitshares DEX you can use web based or standalone client, which simply is both a wallet and DEX interface. If you already have an account, you can connect to DEX using any of these interfaces.
There are two account types, basic and lifetime member. If you're going to make one or a few trades a week, basic one is enough. Account name for a basic account needs to include other signs apart of letters: john123, jo-hn are ok.
Member account provides even lower fees and allows you to register account names without special signs, like john. Current cost is around 20 USD paid in BTS (native token in Bitshares blockchain). You can upgrade your basic account at any time.
RUDEX tokens
GRC and STEEM are traded in form of Rudex issued tokens: RUDEX.STEEM and RUDEX.GRC. It will be denoted as above in Bitshares interface, or just Steem and GRC in Rudex interface. Rudex works as a gateway and allows to deposit and withdraw funds between Steem – Gridcoin – Bitshares blockchains quickly and at low costs.
Sign up to Bitshare DEX
Rudex wallet / interface
Special thanks to @ShmoogleOsukami and @barton26 for support and placing first orders and DEXbot community for support and great tools.