Steem is a truly peer to peer, zero fee, and 3 second block confirmation blockchain. With regards to its fees and transaction speed, it beats almost all blockchains. Even after implementation of technologies like lightning and sharding, Bitcoin and Ethereum blockchains will still be inferior to Steem in performance. Additionally, Steem blockchain can implement such technologies too. Read more about Steem's superiority in this article later. The purpose of this article is to analyze why Steem may be the best cryptocurrency to invest in and the article supports its purpose with many solid reasons.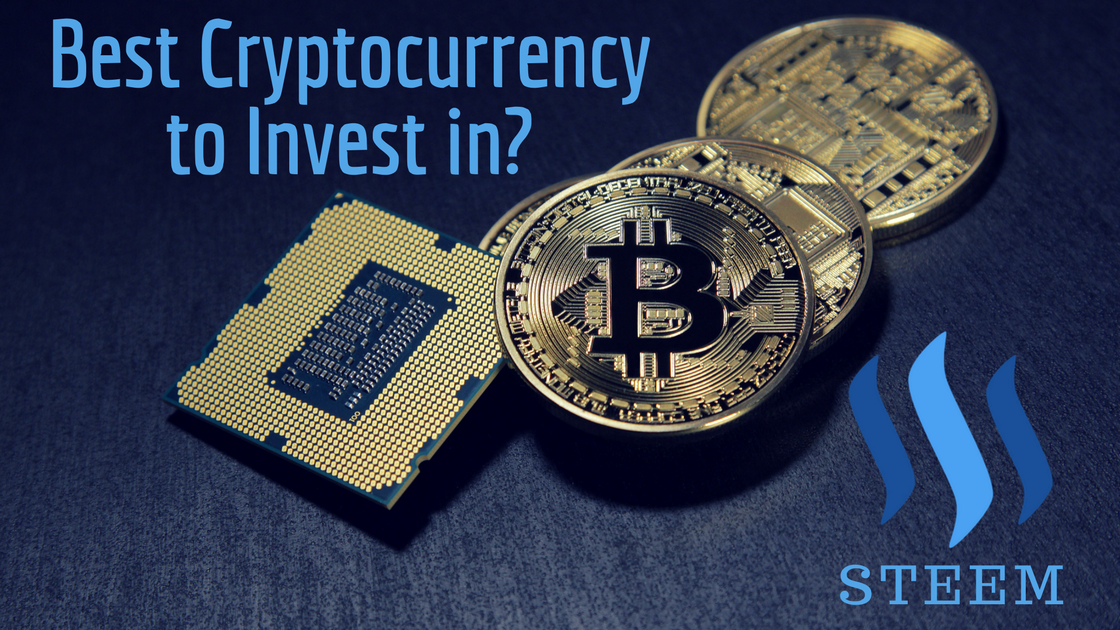 Image Source: Canva.com (designed by me)
Steem blockchain is fast becoming the most rapidly adopted chain in the world. There is so much to this project that it deserves more attention than it gets. In this article, we will see what Steem looks like from an investment point of view. Listed below are some features of Steem as an investment. The heading on profitable opportunities contains multiple ways in which investing in Steem can earn you dividends unlike any other cryptocurrency. Stay tuned.
Simplest, Yet The Securest Wallet
Your Steem wallet address is basically your username on the blockchain. It can be as simple as your name. Mine is @ilyastarar. If anyone makes a transfer to my username, it reaches me within 3 seconds and it costs nothing. Despite the simplicity of its wallet address, the blockchain offers multiple keys which can perform actions allowed via the particular key only. The Steem wallet also offers multiple ways in which your assets can be stored. Two of these ways are the securest storage protocols offered by any cryptocurrency. Here are some features of Steem wallet.
Steem offers an account recovery like no other crypto does. If you have created your account through the normal signup process and the @steem account has created it, this means you are eligible for an account recovery in case anyone were to get a hold of your private key.

If you convert your investment into Steem Power, it will take 13 weeks, and 13 equal installments, to convert back to liquid Steem. It means that if any hacker was to gain access to your keys, he will have to wait up to a week to be able to steal only 1/13th of your Steem. Meanwhile, you can recover your keys through the process above and secure your investment.

Even if you wish to keep your investment fairly liquid but safe, you can keep it in the Saving account in your wallet. It takes 3 days to get your Steem out of savings and make them transferable.

As an added layer of security, you can always login to your wallet (website) using your private posting key. Even if the posting key is compromised, it cannot be used to make transfers and you can easily login using Active or Master key and get your funds secured.
I would invite you to read the post by @acidyo in which he explains why Steem wallet is the securest of all. A comprehensive guide on Steem keys and passwords will also help you in realizing how secure this blockchain is.
Steem Is The Most Utilized Blockchain!
One way of looking at cryptocurrencies is the Coin Market Cap website. It simply tells where money is going in the cryptocurrency space and what is the share of market held by different projects. We know Bitcoin and Ethereum as leaders in market share. But are they leaders in the blockchain space? To determine that, we will have to look at cryptocurrencies in a different way. We should rather look at the blockchain technologies behind these cryptocurrencies to see their value.
If we look at the activity on the various blockchains, we can see how fast they are and how much they can scale. Scalability and speed are two fundamental requirements for any blockchain to provide sustainable value to its users. There is an interesting website called Block'tiviy which tracks activity on the blockchains and lists them in order of performance. Steem is at the top of their table.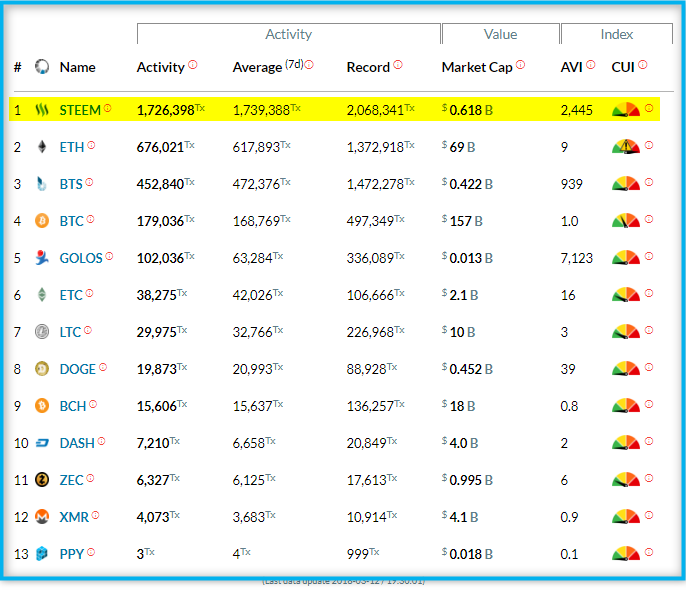 There is a chart which shows transactions on the most active blockchains in the last 7 days. It is interesting to note that Steem blockchain has 109 % of all the transactions  happening in the blockchain space.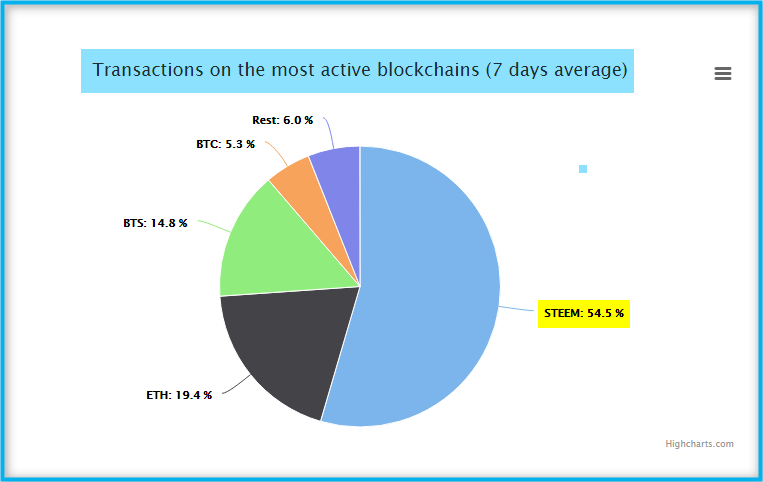 And if you click on the little info circles in the table, you can see that Steem is using only 0.14 % of its total capacity right now, with 1.7 million transactions in last 24 hours alone. For a comparison, Ethereum did 0.676 million transactions in the last 24 hours, using its 100 % capacity and 14,000 transactions unconfirmed as of writing.
When compared to Bitcoin, Steem is 2445 times undervalued  based on its activity. It's probably why Weiss Reports have been giving Steem the highest ratings recently. You will find the blocktivity website interesting so open the link above in a new tab and see it for yourself.
Steem is Bringing Mass Adoption through Amazing dApps Already!
Functioning services and media website have been built on top of Steem blockchain already. The tokenization of online media, social sharing and even open source contributions places it way above other blockchains in terms of blockchain adoption by masses. Common folks are joining Steem blockchain through the multiple platforms and getting rewarded in cryptocurrency is what fuels adoption.
Here are the most commonly used services built on top of Steem.
Can you sense mass adoption coming to blockchain and cryptocurrency through Steem based applications? If that was not enough, Smart Media Tokens (SMTs) is a protocol which would enable entrepreneurs to create multiple businesses and tokenize them with custom tokens. Steem will be used an investment instrument in the creation process and thus have a chance to go up in value. The who Steem community is anxiously waiting for this to happen.
There Are Uncountable Ways to Earn Dividends with Your Steem Investment!
Previously, cryptocurrency projects have allowed only three ways of earning more coins. One is mining and the other one is staking. Proof of Work (PoW) and Proof of Stake (PoS). Steem allows literally uncountable ways of earning more coins on the Steem blockchain. Interested in knowing what proof Steem uses?
The Steem blockchain has a unique Delegated Proof of Stake algorithm. Just buying Steem and keeping it a wallet doesn't earn you more coins. To be able to have influence on all the platforms powered by Steem, you need to power up your Steem into Steem Power. Steem Power is basically your vested share in the blockchain and you can use it in many ways. I will explain quite a few.

On the front-end of things, Steem rewards Proof of Brain. This post is done using my brain and it will be rewarded according to its quality and outreach. Content creation gets rewarded. If you have some time and some interests to talk about or discuss, it can earn you rewards.
That was technical side of things. Let me share with you some of the most common ways of earning more coins with your investment.
1. Curation Rewards
When you use your influence to upvote someone's content, he or she get rewarded. But you get 25 % of that reward paid to you because you curated that content. The more Steem Power you have, the more Steem Power you can earn as curation rewards. For example, if you have 100,000 in Steem Power, your single vote will be worth $16.31 and you can give 10 full votes in 24 hours. So, you can literally reward people, even your own self, with $163 everyday. You get 25 % of it credited as curation reward so you get more than $40 worth of Steem Power everyday or $14,600 worth of it for a year. And these are just curation rewards.

But there are some interesting things to take notice of.
The vote value $16.31 means $4 worth of Steem for you as curator, 6.116 Steem Dollars (worth more than $2.5 each right now) and another $6.116 worth of Steem Power (that's how the reward system works). So the simple $16.31 is actually worth $4+$(6.116x2.5)+$6.116 = $25 right now.

If the price of Steem doubles, the value of your vote will increase massively. If the price of Steem Dollars increases (which it has to above $15 recently), the whole equation becomes thousands of dollars everyday.   
If you find it hard to curate manually, you can choose some good authors and vote for them automatically using services like SteemAuto or SteemVoter. You will keep getting curation rewards without even logging in to your wallet.
2. Author Rewards
If you have time to share your thoughts or knowledge with the community, you can not only use your own vote for yourself, the community votes for you too. You can earn author rewards corresponding to the effort put in and the people reached. It is one of the most amazing ways of earning cryptocurrency and that is where my 2000+ Steem came from, and also the 800+ Steem Dollars.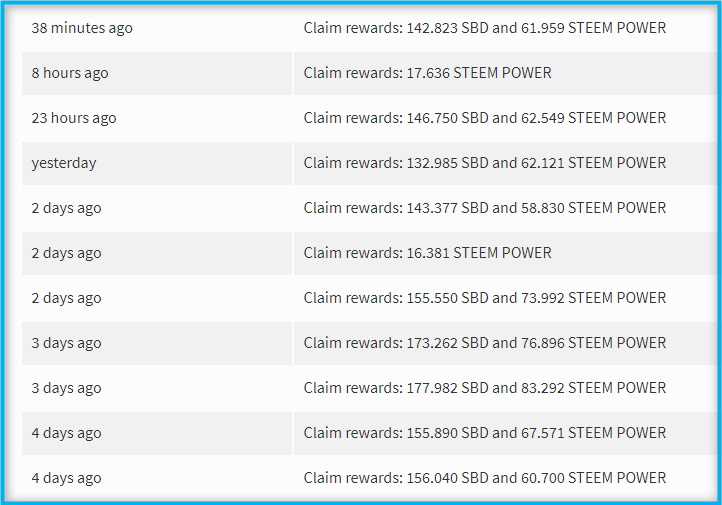 Curation and author received by @ADSactly. Multiply every amount with $2.5 and you will get what the account earn in less than 4 days. I am imagining tens of thousands of dollars.
3. Delegate Your Steem Power and Earn Daily Dividends
Without losing your ownership rights, you can delegate your Steem Power in a host of ways to earn dividends. A service called @MinnowBooster offers a Steem Power leasing market where you can fill lease requests and earn Steem.

You can delegate you Steem Power to any of the promotional bots like @postpromoter, @buildawhale, @smartsteem, @promobot, and many more and earn a share of their profit (they normally share 95 % of all Steem earned with their investors) as per your percentage share of all investment.
4. Sell Your Vote Automatically
If you wish to keep your Steem Power with you but do not have time to be online or curate manually, you can easily sell your vote to services like @smartmarket and @minnowbooster. I have made a comprehensive guide on how to do that and both services are covered in detail. They will send you 85 % of whatever they earn from vote buyers. In addition to the payments, you get 25 % curation rewards on all votes thus sold. 
5. Earn Interest on Steem Power
Just by holding your Steem wallet, you can earn interest on it. The rates may fluctuate. It does not matter what you use your Steem power for (curation, vote selling etc.), you will be eligible get this interest.
These are just some of the ways which can earn you thousands of dollars every month. With a rise in Steem's price, everything multiplies. There is so much to look forward to as the Steem project reaches the value it deserves and it is no less than top 10 in my opinion. 
What Do You Think About Steem?
After reading this post and based on your own knowledge of Steem, cryptocurrency markets and investment opportunities, what do you think about Steem as an investment? Where do you see Steem going? Although I do not claim to be a financial adviser, I did share my reasons why Steem is going to go big in 2018. Over the weekend, I shared story from 2064 in which I described the Steem revolution and how it happened over the years.
It would be interesting to know how you evaluate Steem as a cryptocurrency and where you see it going. Do share your thoughts in the comments below. Share this post with potential investors so that they can see if investing in Steem makes sense to them. Please upvote it for visibility so that more people can see it.