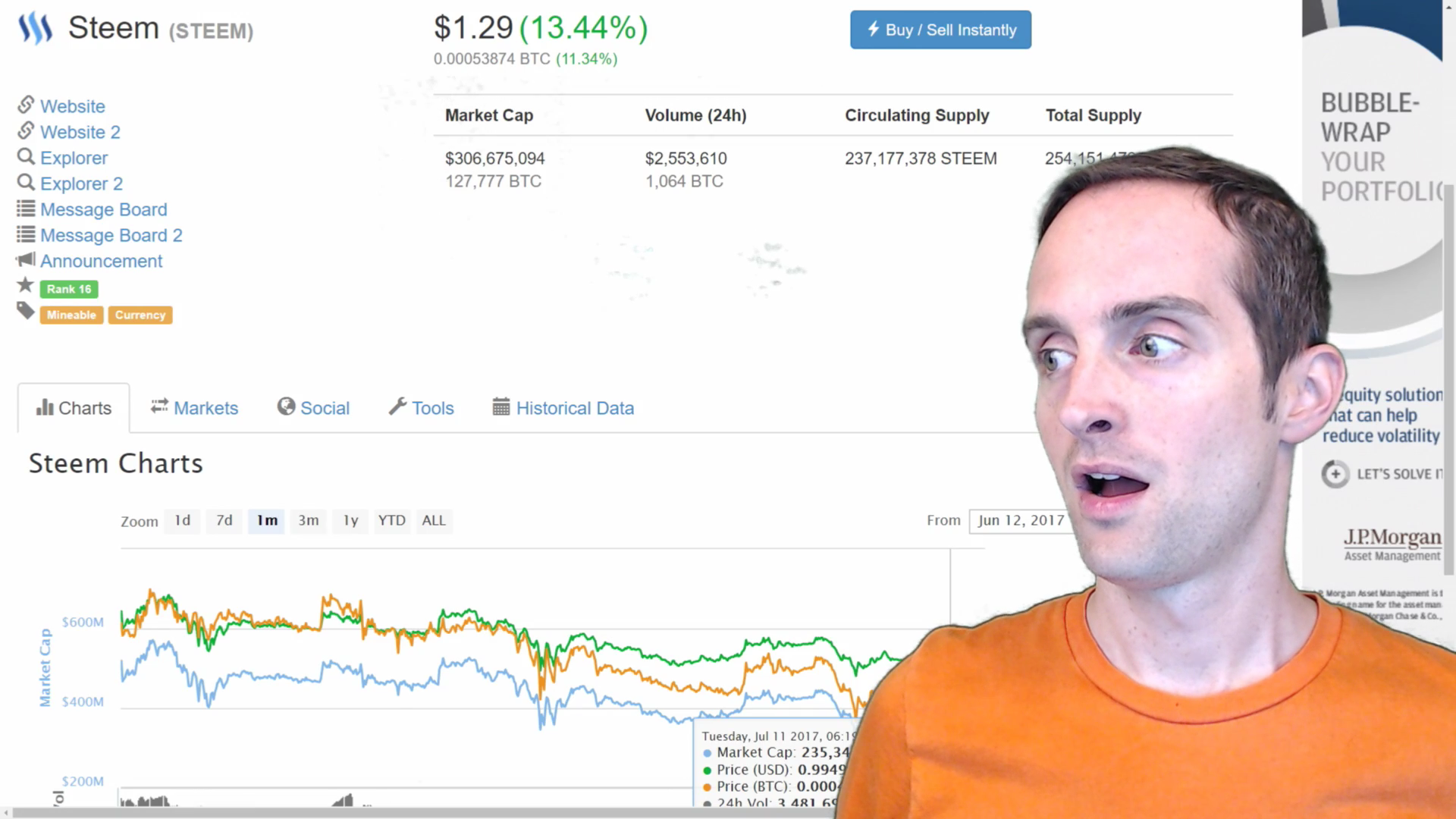 What a ride the Steem price has been last month! Is now our last chance to load up cheap before it hits $10? In the last month my account value has dropped over $20,000 and it does not worry me at all because I am planning to be here for at least ten years! In fact, I bought 1500 more Steem yesterday and have been putting most all of my author SBD rewards into buying more Steem!
Thanks to your help, I have increased my Steem Power by 15% in the last month from 36,393 a month ago to 41,924 today while also now having over 2,000 Steem ready to send to the SteemJ winner! I rented servers and got my witness online and got my first block yesterday thanks to hundreds of upvotes! If you have not voted at https://steemit.com/~witnesses yet, would you please vote for me because this will help me participate more and represent us as a witness?
With me being all in on Steem, is it crazy I get excited when the Steem price goes down because then I can buy even more? A few of my closest friends I work with online have been buying more Steem and recently just loaded up. Here are a few that have recently loaded up!
@aarellanes bought 1,000 Steem and powered up!
@robertgenito bought over 4,000 Steem and powered up!
@jo3potato is brand new to cryptocurrencies and bought his first $200 ever to invest in Steem! He made an awesome tutorial that might be helpful if you want to buy your first Steem and have never done anything with cryptocurrencies at https://steemit.com/steemit/@jo3potato/crypto-nooby-loses-virginity-to-steem.
I think now is definitely the time to buy more because my top upvoter @hendrikdegrote just loaded up with over 50,000 more Steem in the last few days on top of buying over 250,000 Steem a month ago moving up now to #11 in Steem Power! Seeing this motivated me to buy more also and keep changing SBD rewards as often as possible into more Steem. I need to cash out some because I am currently racking up a huge tax bill by buying more with everything I have while I am reporting the income each day!
Is today a day we will look back on and say wow remember when the price was $1.29? When Steemit reaches the same market cap as Facebook, one Steem even with double the amount available would be worth about $1,000. While I believe it will be over $10 in 9 months as explained at https://steemit.com/steemit/@jerrybanfield/10-reasons-for-usd10-steem-price-in-10-months the real opportunity I see is when Steemit goes mainstream in maybe one to three years.
Thank you for allowing me to be of service to you today and continuing through testing these different posting strategies! Would you upvote this post if you would like me to make more like it because that helps me know how to serve you best?
Love,
Jerry Banfield