Altcoin season may be starting and it should be good news for steem!
Altcoin season is a period of time where other coins significantly outperform bitcoin.
Historically, these periods of time (seasons) have started when the correlation between altcoins and bitcoin breaks down.
Going back to 2015, we have seen 4 altcoin seasons and each time before they started we saw a breakdown in correlation between them and bitcoin: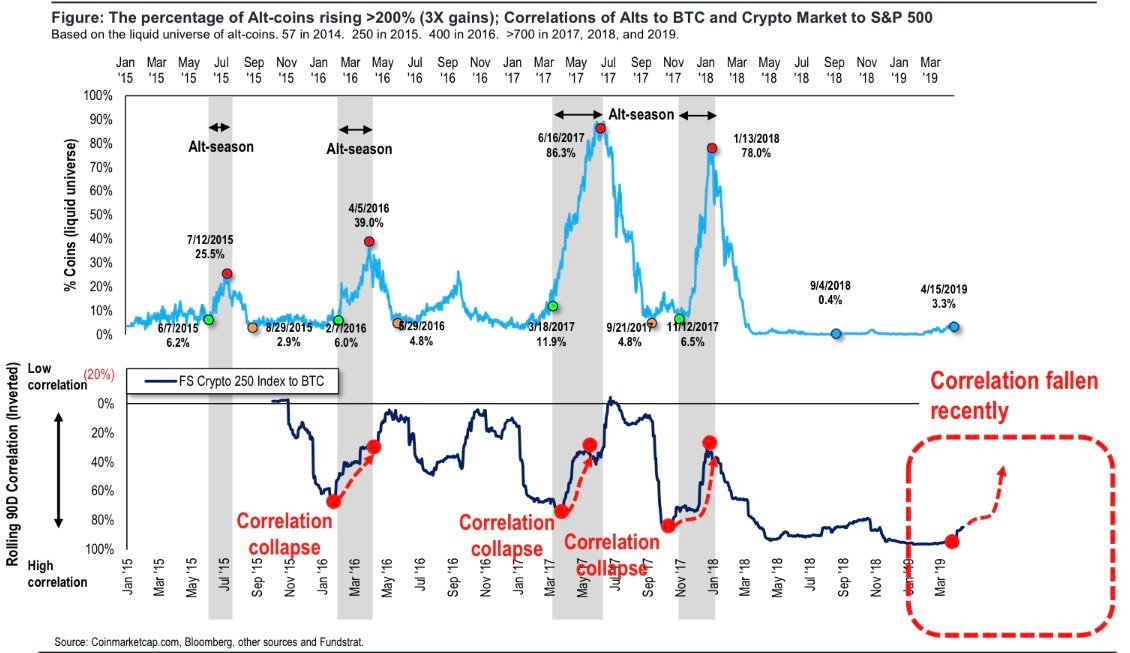 (Source: https://twitter.com/fundstrat/status/1119646089311866880)
Why does that matter right now?
Well, if you look at the chart above, you can see that the correlation between altcoins and bitcoin is near the lowest it has been in some time.
It's actually the lowest it has ever been on that chart.
That doesn't guarantee that we will see altcoin season emerge again in the near future, but it is a pattern we have seen play out 4 other times just in the past several years.
Altcoin season tends to peak after the correlation between bitcoin and altcoins spikes significantly.
What kind of returns can we expect?
Looking at the previous altcoin seasons, we can see the kinds of returns that might be expected during the next one...
Taking the average of the last 4 altcoin seasons, we get an average return of over 1,100% gains, with a median return of roughly 360%: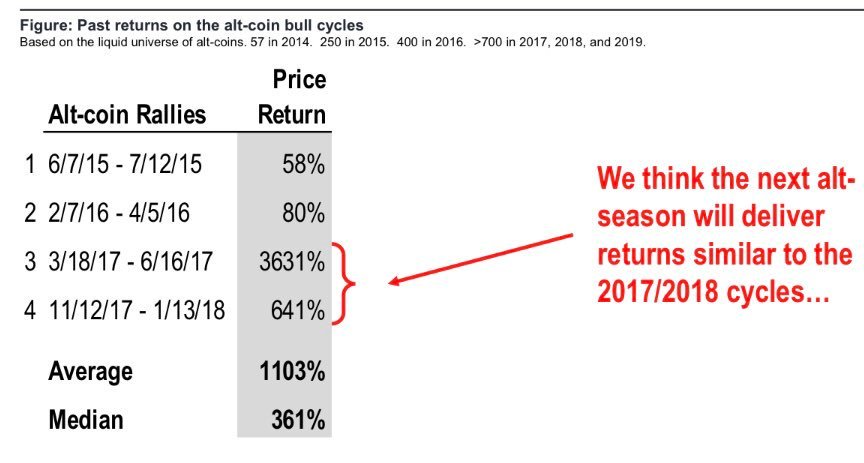 (Source: https://twitter.com/fundstrat/status/1119646736711061504)
Keep in mind that the vast majority of those returns came in the last two altcoin seasons, which is why the median number is so much lower than the average return.
However, given the fact that there are probably only 50 million active wallets in all of crypto vs 5 billion Visa/MasterCard accounts, crypto is likely still early in the adoption curve.
Which means, this next altcoin season is probably going to be most similar to what happened in 2017 and 2018.
Remember, steem went from $.10 to over $9 during these 2 altcoin seasons...
Not sure about you, but that sounds pretty good to me!
Stay informed my friends.
-Doc