Steem continues to rate well in the latest CCID rankings
China's Center for Information and Industry Development (CCID) has published its latest blockchain rankings and steem is moving up the ranks.
In the previous release, steem was rated as the 9th best blockchain project.
In the latest release, steem has climbed up into the 6th spot: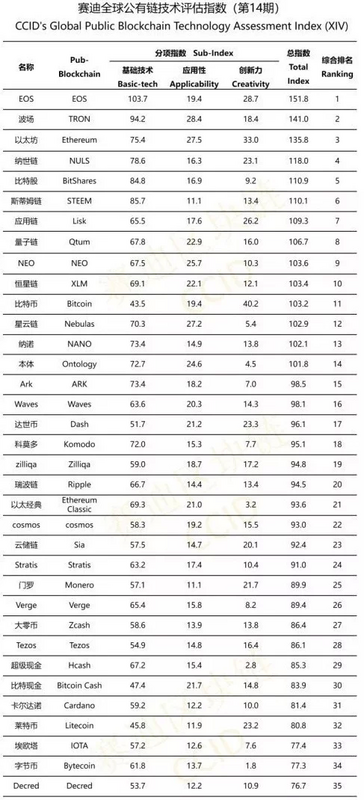 (Source: https://cointelegraph.com/news/eos-holds-top-spot-bitcoin-11th-in-chinas-latest-crypto-rankings)
This is the highest ranking for steem in some time
This was the 14th report put out by the CCID, which started in early 2018.
At one point early on, steem was listed as the 2nd best blockchain project, but has mostly been hanging around the 10th spot during previous releases over the past year.
https://steemit.com/steem/@jrcornel/steem-ranks-as-second-best-blockchain-in-the-world-according-to-chinese-government
EOS and Ether have mostly enjoyed the top couple of spots since the list was created as there seems to be weighting towards platform tokens/projects.
Interestingly enough, bitshares continues to rate higher than steem, even with the recent move up.
Either way, having steem rate as the 6th best blockchain project yet be listed as the 82nd most valuable projects seems to be a bit out of an incongruence.
Steem's biggest weakness according to the CCID?
Steem scores terribly in the applicability category.
In fact, steem has the lowest score of any of the 35 projects rated, only tied with the 25th ranked monero.
That is a bit ironic in that steem was supposed to be revolutionary in that it powered one of the most widely used apps in crypto in steemit.com, at least it was one of the most widely used apps. I haven't checked the numbers lately but ever since the recent HF and threespeak springing up, steemit.com has been hemorrhaging users.
Overall, what does this rating tell us?
After 3+ years of existing in the wild, steem is still a good blockchain, a great blockchain in fact, but it is still searching for a real use case.
At least according to China. :)
Stay informed my friends.
-Doc