Searches for Steemit.com have been picking up the last several months
In the last 6 months, searches for "steemit.com" are significantly higher than the 6 months prior.
Specifically, they really started picking up late last year.
Hitting their peak in December of last year and early January of this year...
Check it out: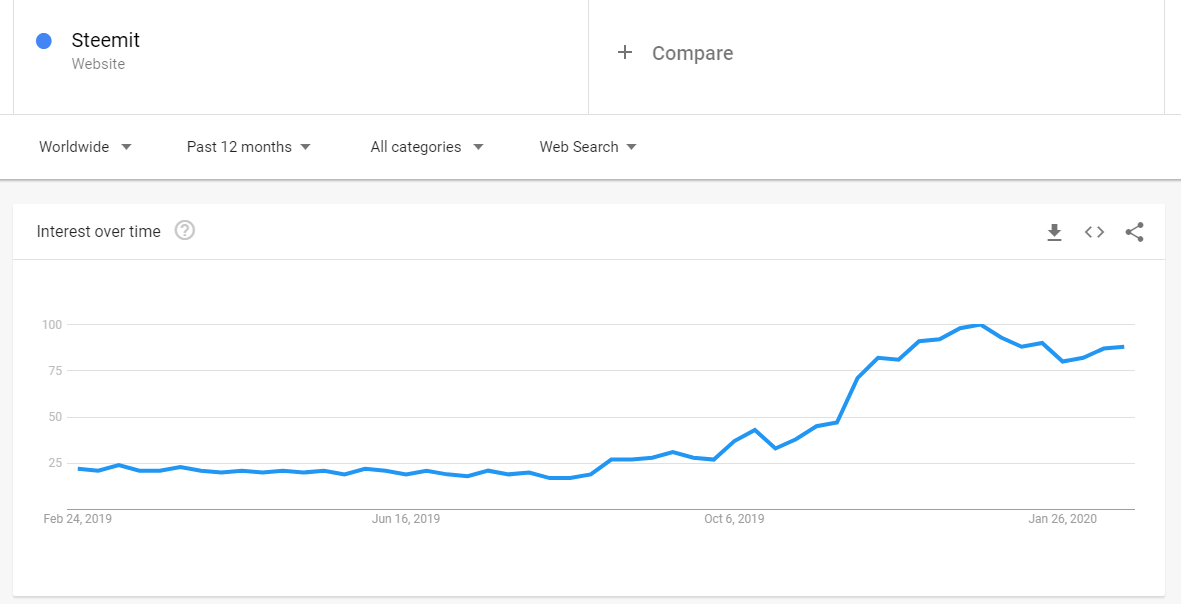 (Source: https://trends.google.com/trends/explore?q=%2Fg%2F11cp75gyvb)
As you can see searches for steemit.com started climbing in August of last year and hit their peak in late December/early January.
The Justin Sun effect?
On first glance, people would look at those search trends and then the timing of when the Steemit/Tron partnership was announced and say they not really related.
And they would technically be right, well sort of.
If you recall, there were tons of leaks coming out for months prior to the official announcement that Tron/Justin Sun was somehow linked to Steemit and Steem.
There was nothing official, but we had been seeing smoke literally since middle last year, which ironically is right about the time the searches started increasing...
Coinincidence?
Perhaps, or perhaps not. It's tough to say for sure either way.
The interesting thing to me though is where the majority of those searches are coming from...

(Source: https://trends.google.com/trends/explore?q=%2Fg%2F11cp75gyvb)
The overwhelming majority of them are coming from South Korea.
Justin Sun has Samsung partnership and Korea loves them some Steemit...
Interesting to me is that we are seeing all this search interest for steemit.com in Korea and Justin Sun specifically said that they have a partnership with Samsung.
Which as you likely know, is one of the largest companies in South Korea.
Specifically, he said he hoped to get steemit.com listed with the all the new Samsung devices, something that may turn out huge for steemit.
Especially if people in Korea are already showing tons of interest in steemit like they above search results indicate.
It remains to be seen exactly how steem/steemit/tron will all coexist and mutually benefit each going forward, but if they do, we could see some fireworks down the road.
Stay informed my friends.
-Doc