Recently, my home server and my coffee grinder died due to a power surge a week or two ago. Now I need to buy a new power supply, coffee grinder, and coffee machine (seems like a good excuse to upgrade my coffee game).
Since all my fiat money goes to paying the bills and feeding my wife and me, I need to spend some hard earned STEEM to get some stuff to go along with the coffee machine. This includes the numerous chemicals to keep the new espresso machine clean and running well.
Plus, we all need to cash out some STEEM from time to time to cover the basics of living or splurging a little without affecting our fiat based budget. This by no means says you, or I am not bullish on STEEM but that we need to live a little.
For myself, I am still powering up the needed amount each week to hit 5,000 Steem Power by December 31st, 2018 and am actually ahead of the game! There is a difference between taking out what we need and taking out everything we earn.
I can't count how many times a participant of the Redfish Delegation Contest told me they need help due to bandwidth only for me to see that they pull out all of their STEEM earnings.
How I Do It
Set up an account on Purse.io
Use steemdollar.com to figure out how much STEEM or SBD you need to spend.
Head over to blocktrades.us.
Choose STEEM (or SBD) in the leftmost box.
Choose Bitcoin in the rightmost box.
Enter your Purse.io wallet address into blocktrades' receiving address box.
Click "Get Deposit Address."
Manually send the desired STEEM to the deposit address and make sure to include the memo (or use STEEM Connect).
Wait for the Bitcoin transaction to go through then find your desired product on Purse.io and purchase!
If the Bitcoin exchange rate is too high for you on Blocktrades, you can try using an exchange like Changelly. Than use the Changelly receiving address in step six than add your Purse.io address as the Changelly output.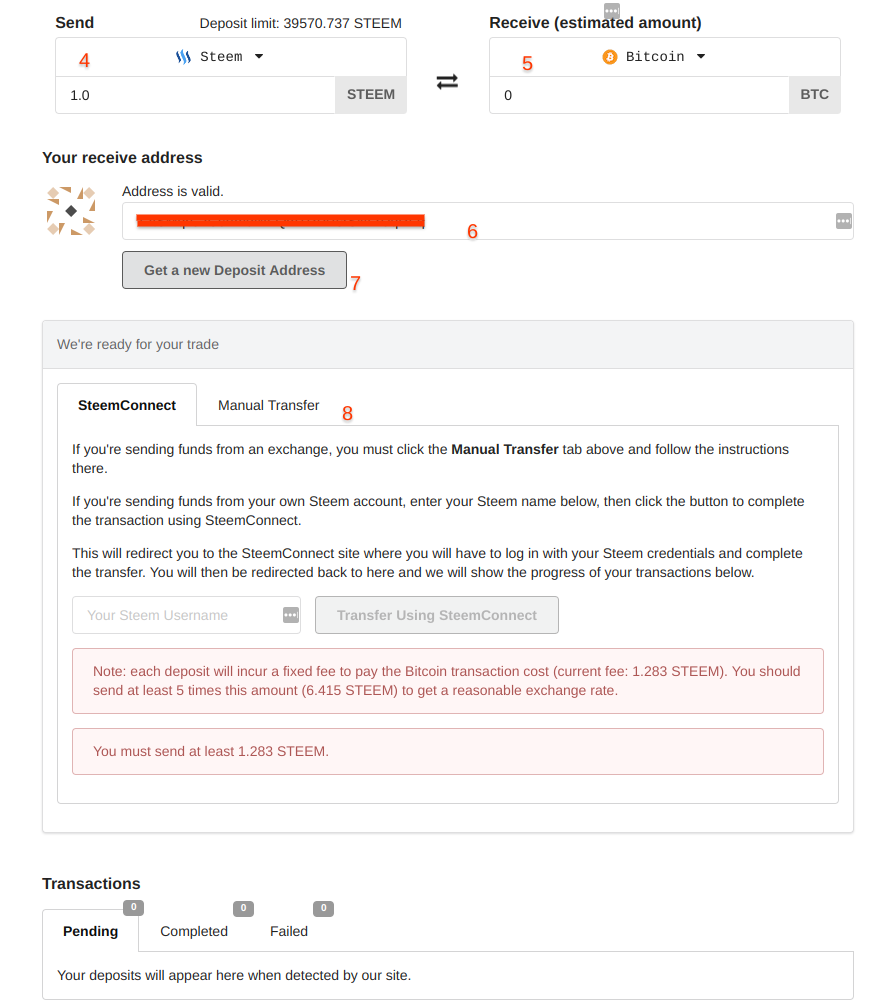 DO NOT USE THE BUILT IN SHAPESHIFT FEATURE ON PURSE.IO!
I have already lost $100+ in STEEM because the transaction never went through. It is much safer to use Blocktrades and convert right from STEEM into Bitcoin even if the fees look high. Not to mention Blocktrades is much faster than Shapeshift every was for me.
Using Blocktrades to move STEEM directly into Bitcoin and depositing it into the Purse.io wallet is the easiest way to go about this process. As I said, using the built-in Shapeshift exchange on Pure.io has already lost me money on two occasions.
While using Blocktrades to send Bitcoin straight to my Purse.io wallet was almost instant. I did transfer the max recommended to cover the fees, and it looks like Blocktrades only used what was needed to pay for the fees. Since the Purse.io wallet has more USD equivalent than if Blocktrades' used the entire transaction cost.
If you don't want to double check the details when sending STEEM to @blocktrades than use the Steem Connect feature. After testing it out, it is almost foolproof. The only mistake one could make setting the wrong deposit address for the Bitcoin so make sure to double check that you copied it correctly from Purse.
A good trick is to look at the first three or four characters in the address and make sure they are correct. If they are doing the same for the last three or four characters. If everything checks out that you copied the Purse.io deposit address correctly and can let Steem Connect handle the details for Blocktrades.
Finding Items On Purse.io
It's as easy as finding items on Amazon, and all it takes is a simple search. Purse will show things from Amazon that fit your search criteria. Also, if you have a link to a specific Amazon product, you can pass that link directly into the Purse search box to find the product form that exact seller.
This works will all shippable items from books to coffee machines, to computers. I have not bought any digital goods via Purse so I can not say if it works or not. But I do have two monitors and a mount that I used STEEM, blocktrades, and Purse to buy.
If you can find it on Amazon, you can buy it with STEEM!
Thanks For Reading!
All images came from royalty and attribution free sources unless specified.
---
Looking to take your Steem based creations to the next level?
Join us over at the Creators' Guild Discord group! We are here to encourage, support and increase the creation of quality content.
---
Like what you see?!
You can vote me as witness!
If you have any questions about the future of Steem
or my witness please feel free to message jrswab#3134 on Discord.

Click here to vote with SteemConnect!
Or you can do the following via Steemit:
Go to https://steemit.com/~witnesses
Scroll down to the bottom.
Type "jrswab" into the box.
Click "Vote" once.
Refresh.