With a 50%/50% payout, you will get more than 2x the monetary value in USD compared to a 100% payout. This allows you to get more STEEM as a result. Here is how!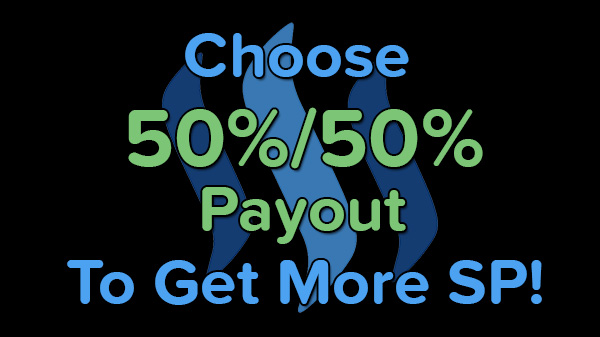 As of writing this, on Bittrex STEEM is worth about 0.00030740 BTC, and SBD is worth about 0.00033600 BTC. That translates into about $3.24 USD and $3.54 USD respectively.
---
BTC
STEEM/BTC: 0.00030740 BTC
SBD/BTC: 0.00033600 BTC
---
USD
STEEM/USD: $3.24 USD
SBD/USD: $3.54 USD
---
When you get a post payout, some of it goes to curators and some of it goes to the author (you).
An example of a post that pays out $20.38, the author gets $16.16 and curators get $4.22.
The $16.16 is paid out as 8.079 SBD, and 2.406 STEEM POWER.
Half (50%) of your rewards are given in STEEM as it is currently valued in the market, while the other half (50%) is paid out as half of the total author rewards. The current market price of SBD is ignored, because it is assumed that $1 SBD is pegged to $1 USD. Since SBD is worth about 3x that of USD, you get 3x more value for half of your payout.
Given the current price on the market of Bittrex, here is what that translates into in terms of USD:
---
50%/50% Payout
Author payout: $16.16
8.079 SBD
2.406 STEEM POWER
SBD/USD: 8.079 SBD / 28.59966 USD
STEEM/USD: 2.406 SP / 7.79544 USD
Total: $36.3951 USD
---
If the payout was in 100% payout, that would only give SP and no SBD, which is about 4.812 SP (2.406 SP x 2).
That translates into 15.59088 USD for 4.812 SP as of the writing of this post, which differs from the total payout of the post for a reason. The reason for the price difference in the previous calculations is because the price of STEEM and SBD changes, so the payout example I am using had different STEEM and SBD values compared to when I am writing this post. Sorry for the discrepancy.
---
100% Payout
Author payout: $16.16
4.812 STEEM POWER
STEEM/USD: 4.812 SP / 15.59088 USD
Total: $15.59088 USD (now) or $16.16 USD (when payout happened).
---
As you can clearly see, $36.39 is more than $15.59, meaning you get 2.33x more with a 50%/50% payout than a 100% payout. Choosing a 50%/50% payout gives you more value -- in terms of USD -- compared to 100% payout.
You can then go buy more STEEM and power it up into STEEM POWER.
Getting a 50%/50% payout is the winner. I had started to use 100% payout again for a few days before I realized this. Oops. Learn from my mistake, and get the most value from your posts by choosing 50%/50% payouts for now. When SBD goes to $1 USD again, then maybe you will want to choose a 100% payout.
---
Thank you for your time and attention. Peace.
---
If you appreciate and value the content, please consider: Upvoting, Sharing or Reblogging below.


me for more content to come!
---
My goal is to share knowledge, truth and moral understanding in order to help change the world for the better. If you appreciate and value what I do, please consider supporting me as a Steem Witness by voting for me at the bottom of the Witness page; or just click on the upvote button if I am in the top 50.