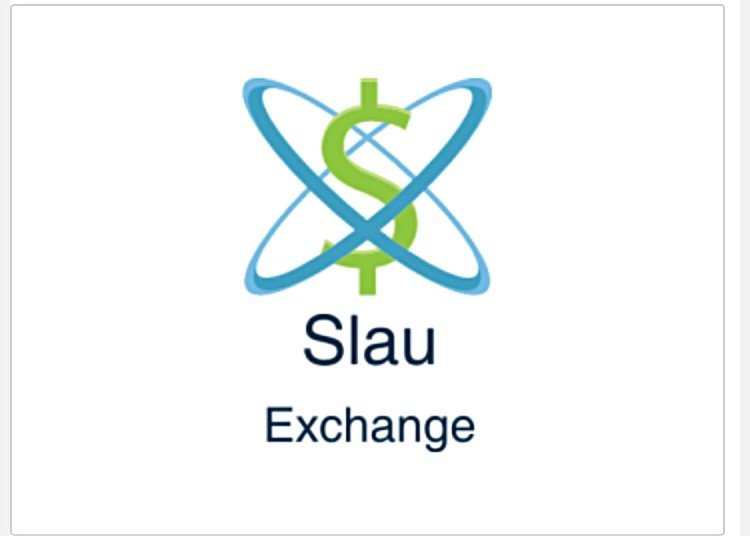 Hi Guys,
I have something interesting to share with you guys today. A lot of people are having difficulties at converting their coins (Steem & sbd) into fiat. Thanks to @slausonboy for coming up with an initiative, a platform that solves that problem for you.
---
ABOUT SLAU EXCHANGE
Slau exchange is a revolutionary exchange that has the aspirations to make sellers of sbd and steem gain a lot of profit from what they have been gaining on other exchanges. Slau364 is a reputable registered business entity with an interest in cryptocurrency, trading and investment, digital marketing, online media and general contracts. Slau exchange is a new exchange which just kicked off 25th july 2018 which is why you stand a chance to gain more by trading on this exchange. The founder and CEO of this exchange is Emmanuel Sunny Ayuk a.k.a @slausonboy a well-known trader on steemit platform. It originated from Nigeria and only open to Nigerians, for now, it is still growing in a few years time we'd be including other countries too.
---
How does it work?
It is very easy to trade your coins on this platform by just following a few steps
SELLERS send SBD or STEEM to the official account of this exchange @slau

The steem and sbd is confirmed

Payment is made to the seller at the best rate available in the market.

Seller confirms receipt of the funds.
Complains and delays will ve sorted out openly on the telegram channel.
Note: DO NOT SEND YOUR COINS TO ANY OTHER HANDLE EXCEPT SLAU always use Escrow www.steemit.com/@slau
---
SLAU EXCHANGE LOAN SERVICES
Now this is a great advantage many of us are going to enjoy, not every exchange support loan services but luckily for us SLAU EXCHANGE is one of the few, i mean isn't that amazing?
---
HOW TO OBTAIN LOAN:
JOIN THE LOAN GROUP ON TELEGRAM
https://t.me/joinchat/GzksVQwBnPY9y6saV779XA
SHOW INTEREST IN LOAN COLLECTION
A COLLATERAL OF STEEM OR SBD WILL BE REQUESTED FROM YOU. STEEM OR SBD COLLATERAL WILL BE SENT TO @laurawright on steemit

YOU'LL NEED ONE STEEMIAN AS A GUARANTOR WHO WOULD ALSO PAY 50% OF THE SBD OR STEEM COLLATERAL REQUESTED FROM YOU. THIS MEANS THAT COLLATERAL IS SPLIT 50/50 BETWEEN APPLICANT AND GUARANTOR. COLLATERAL IS 150% STEEM OR SBD VALUE AT CURRENT MARKET RATE FOR LOAN AMOUNT REQUESTED

YOU HAVE A MAXIMUM TIME FRAME OF 7 DAYS TO PAY BACK YOUR LOAN. AFTER 7 DAYS ELAPSE YOU'LL BE GIVEN 3 DAYS OF GRACE AND A CHARGE OF 0.5 STEEM OR SBD FROM YOUR COLLATERAL FOR EVERY DAY THAT PASSES. WHEN THE 3 DAYS GRACE ELAPSE, YOUR SBD/STEEM YOU PUT IN AS COLLATERAL WILL BE CLAIMED BY US AND WON'T BE REFUNDED TO YOU ANYMORE.
Join SLAU EXCHANGE today on telegram and start trading.
---
https://t.me/joinchat/GzksVU7DS8vAKp1yExam8g - TELEGRAM
https://t.me/joinchat/GzksVU7DS8vAKp1yExam8g - Whatsapp
---
PERSONAL OPINION
To me, SLAU EXCHANGE is the best place to exchange my coins for cash. It takes less than 5 minutes to complete a transaction, i mean how many exchange can do that? only but a few. You stand to gain a lot from using this exchange ranging from airtime bonuses, free giveaway e.t.c Not every exchange can do that and not go bankrupt, LOL.
So my personal advice is for you to try the exchange see if it meets your expectation, if it doesn't. ABORT MISSION, i repeat ABORT MISSION. I know it won't get to that point because i believe so much in this project.
Thank you for reading my personal review.