This post will generate potential SWAG for project ULOGS hailing from the Philippines as well as open the micro-programming-task involved, up to interested developers or programmers. Each GitHub issue created by project ULOGs is kept as simple and "micro" as possibly to put "everyone" into the picture. Even in the presence of time constraints, you should be able to find a task to handle. These applies also to hobbyist programmers and enthusiasts as much as it does veterans. If you are interested in carrying out this task, simple indicate in the comments or reach out to @surpassinggoogle using this discord URL: https://discord.gg/gvGc6fj
This task is simple and involves a replication of the existing main editor on https://ulogs.org, with certain tweaks to specialize it for #ulog-ned.
So, if the #ulog-ned editor is selected (from a list of specialized editors soon to come), it should load up this editor shown in the screenshot below: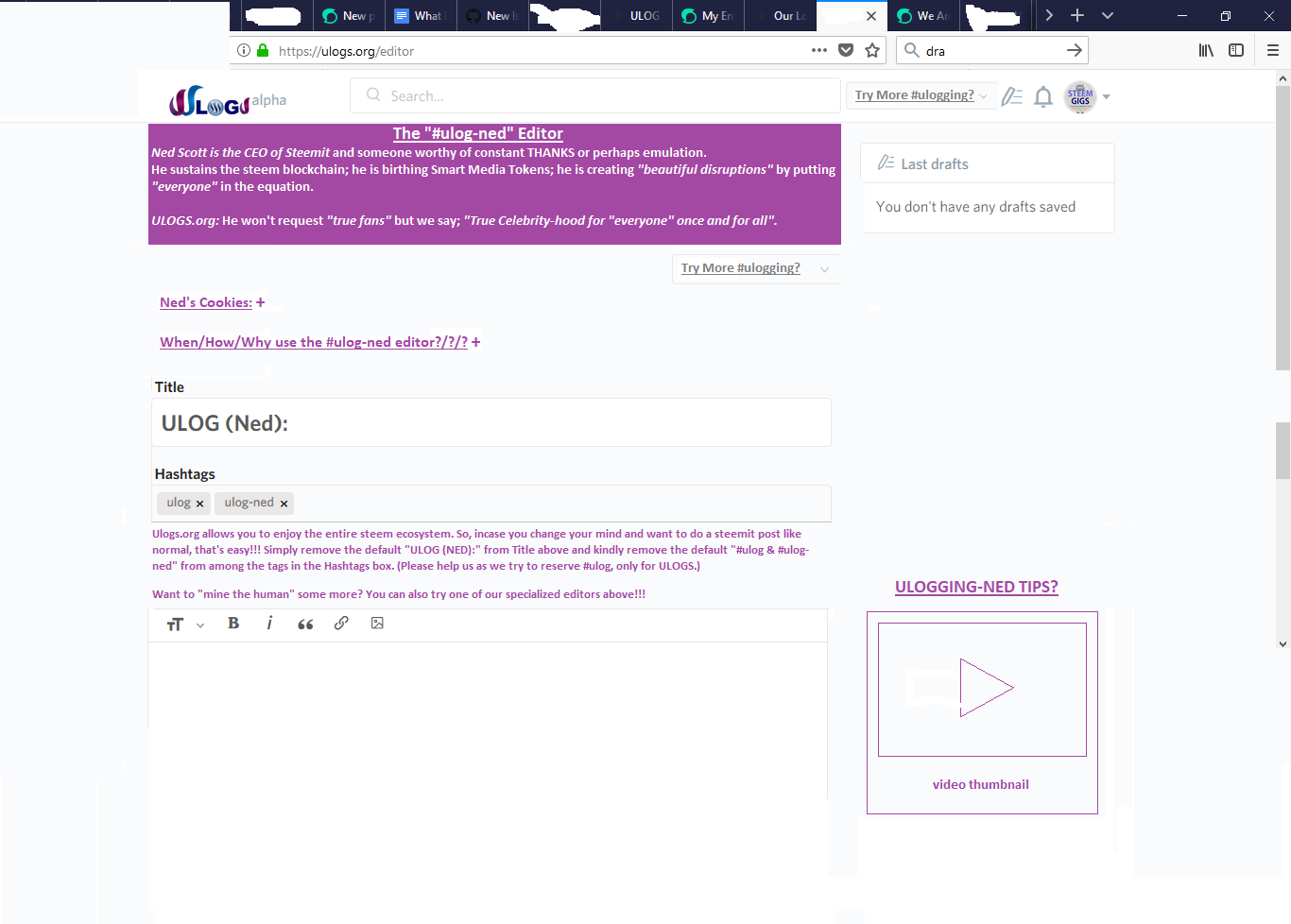 You must maintain everything that already exists e.g auto-save, all  existing editor features and functions etc. 
The only that changes  required for this task are: changing of wordings across the editor as well as changes to the default "IN-TITLE" and default first and second hashtags.
The wording (raw text) for the first area of the editor (from top to bottom) is as follows: 
(The "#ulog-ned" Editor)
Ned Scott is the CEO of Steemit and someone worthy of constant THANKS or perhaps emulation.
He sustains the steem blockchain; he is birthing Smart Media Tokens; he is creating "beautiful disruptions" by putting "everyone" in the equation.
ULOGS.org: He won't request "true fans" but we say; "True Celebrity-hood for "everyone" once and for all". 
Just following the above, we have "Ned's Cookies:", which carries an expand or "+" button, which when clicked on should expand the raw text below (purple-colored font):
i.e
Ned's Cookies: +  
He involved his mum in deriving the name "Steemit". Men do that!
He is social. He parties. He is geek. That's something!
His vision is within the dream.
He doesn't allow events shake him. He doesn't just react to stimuli. He is Ned.
etc
Then following "Ned's Cookies", we have: 
When/How/Why use the #ulog-ned editor?/?/? +  
If you are ulogging on subjects that you have learned about him as his "true fan".
To add his personality (style etc) to your ULOGS
To give back to steemit/steem/ned while ulogging daily.
To rehearse CEOism in the art of ulogging.
To contribute experiences, selfies, meetups with Ned Scott etc
etc
Then, we have the final set of words according to the screenshot above and here is the raw text (with purple-coloured font: 
Ulogs.org allows you to enjoy the entire steem ecosystem. So, incase you change your mind and want to do a steemit post like normal, that's easy!!! Simply remove the default "ULOG (NED):" from Title above and kindly remove the default "#ulog & #ulog-ned" from among the tags in the Hashtags box. (Please help us as we try to reserve #ulog, only for ULOGS.)
Want to "mine the human" some more? You can also try one of our specialized editors above!!! 
Lastly, add the video embed area and adjust the title of that space to: "ULOGGING-NED Tips?" and embed this video:
https://www.youtube.com/watch?v=kKZ1CixLG2s&t 
Conclusion
The "#ulog-ned editor" will be linked to from a modal area. See issue #9 on the Ulogs Github
In general do well to visit project ULOGS here: https://github.com/surpassinggoogle/UlogsV2/issues for all open issues and you find one that interests you, you can decide to do a PR directly, leave a comment here or contact @surpassinggoogle here to discuss charges per micro-programming-task.
You can support the "steemgigs" witness as well: