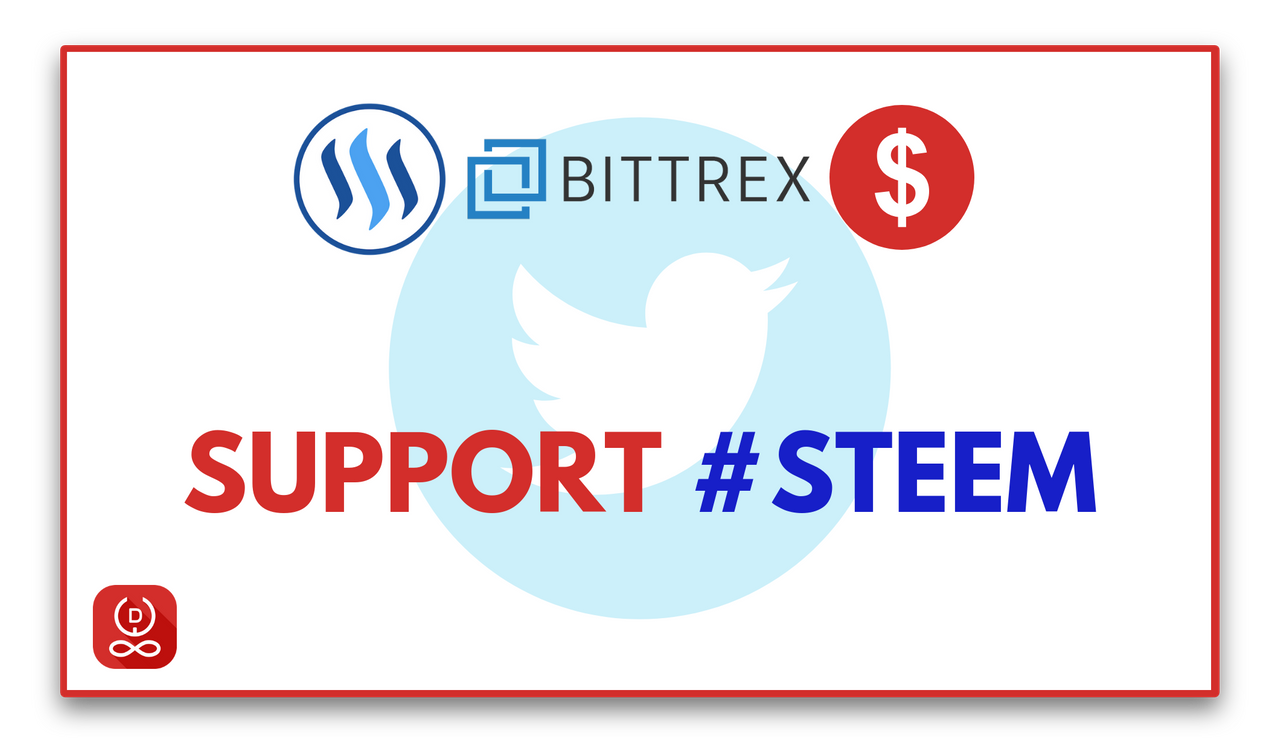 Yesterday, @theycallmedan and @aggroed brought our attention to the @Bittrex's latest tweet. They asked us a million dollar question: "What USD market pair would you want to see in 2019?"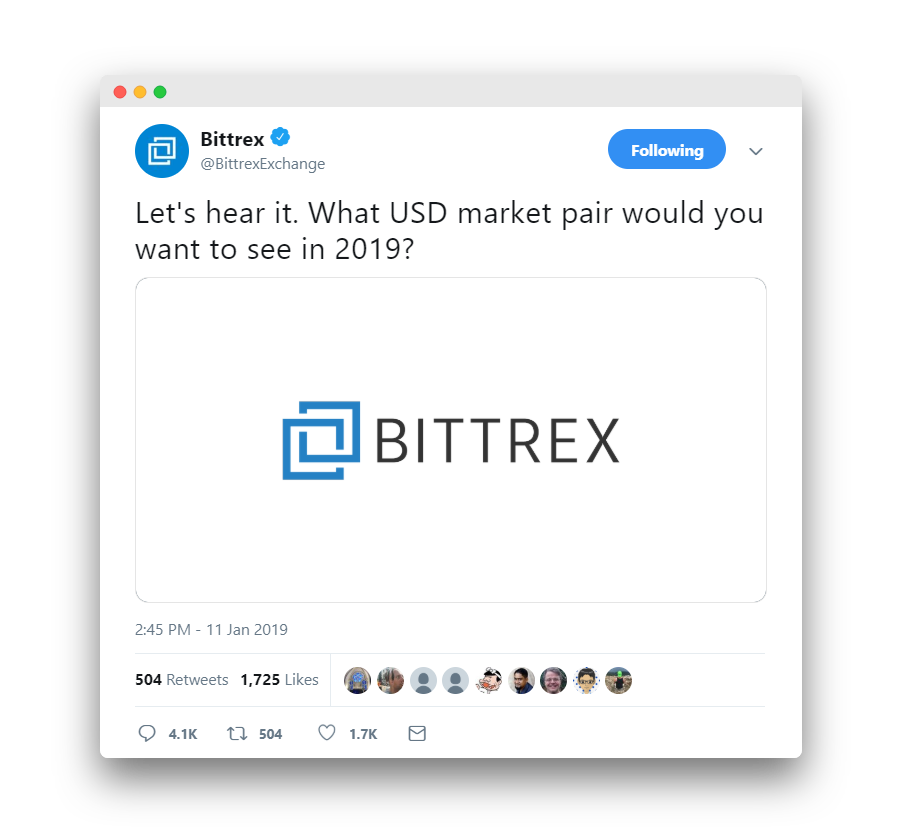 This means that we have an opportunity to have STEEM-USD and SBD-USD trading pair on Bittrex Exchange! That would be a welcome move to open a new direct fiat exchange market for us. This also means that it would be easier to obtain STEEM directly with US Dollars which is the widely used Fiat currency all over the world.
If we can help get a fiat to steem pair it will change EVERYTHING for our wonderful community! We deserve this! Let's blast it! Steemrollers!!!
TASK DURATION
Start date: 13-Jan-2018
End date: 20-Jan-2018
TASK TYPE
Reply to @bittrex's tweet and support STEEM!
TASK GUIDELINES
Post the screenshot of your reply in the comment section to get rewards.
Tag 5 Steemians in your comments and ask them to participate.
Resteem this post.
REWARDS
Comments posted meeting all requirements will be rewarded with upvotes. Amount of upvote will be at the discretion of Oracle-D.
Note 1: This is an OPEN TASK AVAILABLE TO ANYONE ON STEEM and hosted by Oracle-d! Only posts that follow the directions in this task sheet will receive an upvote for their contribution. Questions may be posted in the Oracle-D Discord.
Note 2: Strictly one comment per person. Anyone found abusing this in any way will not be upvoted and may be banned from participating in future tasks via Oracle-D.
NOTE: All liquid rewards will be donated to @girlsfoundation - non-governmental organization committed to the enlightenment of women and helping their need.

Oracle-D
is a new STEEM blockchain business venture bringing new investment into the ecosystem. Founded by @starkerz and @anarcotech, we previously were co-founders of the #promo-steem and @steem-ambassador projects, and we developed the CAMPUS curation system, which is a fully decentralised system for distributing rewards.
Core Mission
We remain apolitical, and our number one goal is to raise the price and utility of the STEEM blockchain, improve culture and education about the blockchain, and create opportunities which support exceptional quality content creators through collaboration with investors and clients. In other words, to add as much value to the blockchain every day as we can.
Account Creation API
If you are a DApp owner, your might be interested in our new account creation API. It helps small DApps with little SP or RCs to create their own sign up process to onboard new users on the Blockchain. You can read more about it in this blog or directly go to http://go.oracle-d.com/acapi to register. It is available only for the DApp owners and not for the regular endusers.


You can support us in the following ways:
Go to our campaign's link given above and donate to us. The funding we get will be used only to cover the expenses of the events we will attend to attract more investors.
Upvote & Resteem this blog and spread the word about Oracle-D and our campaign.
Support our writers and their content which will ultimately empower quality on the STEEM Blockchain.
Join our curation trail in SteemAuto to maximize your curation rewards.


Upvote @Oracle-D witness by going to https://steemit.com/~witnesses
or directly through SteemConnect
Any kind of contribution is much appreciated and thank you for being a part of this Journey! Also, please do not hesitate to connect with us for any kind of collaborations that can help the STEEM Community grow.


Connect with us at the following: