I have never cared too much for grammar. It's rather odd for a well-educated person to put so little effort into their writing, but that's how it's been for me. "I'm mathy" was always my excuse. But that is all about to change.  Newsteem is here.
After reviewing posts on The Excel Club I noticed a lot of posts with a poor score on grammar. Being so big on SEO lately, this can be damaging for rankings and I needed to make some changes. Much of my content is evergreen and I can share it many times across social. Improving the grammar could help with page rankings when I repromote this content. 
With the recent changes on steem, it's time I put a little more effort into my writing here too. Maybe we all should? Curators are going to want to find great content. And great content, will convey the message and be well written. Lazy writing won't cut it anymore. And to be honest, I'm glad. 
I now use two tools when writing posts for my blog. Hemingway editor and Grammarly. Both tools are good as they both seem to catch different things.  And I thought I would share these tools with you.  If we want to improve our chances of being curated, it could be worth that little extra effort.
Hemingway Editor
The first tool I use is Hemingway Editor. It's a free online editor that helps you write as you go. Check out the screenshot below and see how this article was looking as I wrote it.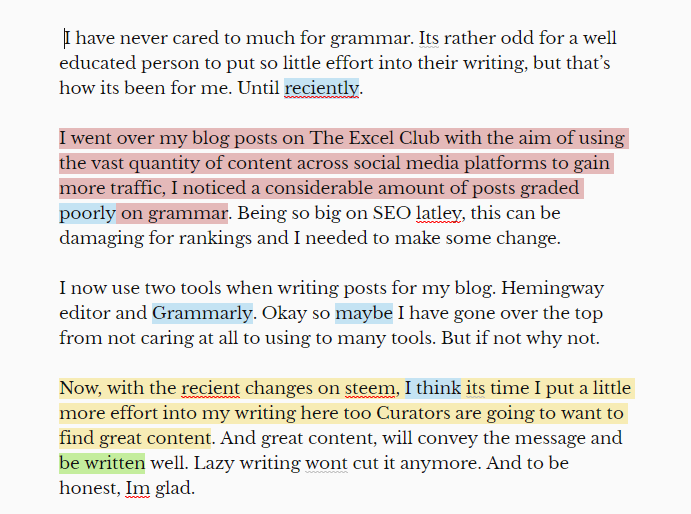 Hemingway also scores the post with a readability score. And there is a nice little color key summarizing the highlighted part of the writing.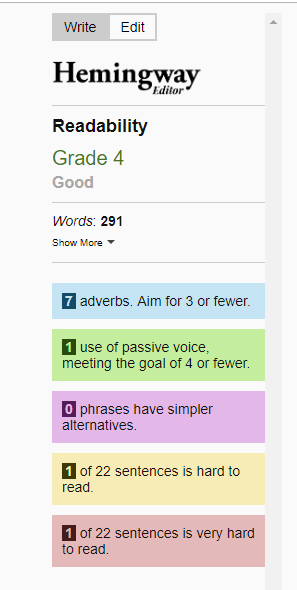 Grammarly
The second tool is Grammarly. A browser extension is available so it will help you write posts online. It works with Steemit.com when writing in the HTML editor. It doesn't seem to work for me in the plain text editor. This seems to pick up on punctuation, missing hyphens and such that Hemmingway does not pick up on. It's like my final checker when I paste the article from Hemingway.

So there you have it, the two tools I am using to improve my writing.  It will benefit me to do this on steem and it might even benefit you.  
Happy Sundays - Steem on - and if you care..........you will share!