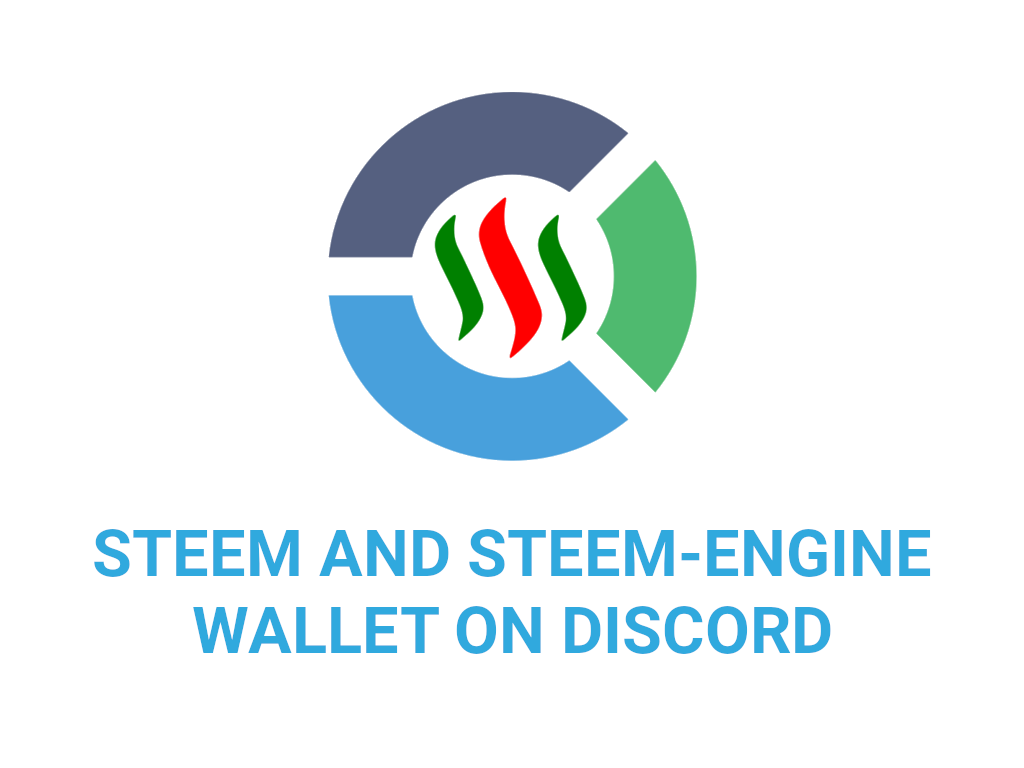 BDExchange is a Discord bot available in BDCommunity Discord server. You may have heard of it before. It was initially introduced as an escrow facilitation bot using Steem Blockchain's built-in escrow features. The bot was not used much because of the difficulty in approving, disapproving, and/or disputing transactions.
As a usual Steem user, I use Discord more than Steem. I have a fascination to build everything inside Discord so that I do not have to go anywhere to do the daily tasks. With that, I started re-coding the bot to make a Steem wallet. And later Steem-Engine wallet to keep up with the token craze. It also goes along with my other discord bots mainly MonsterMarket.
Separation of wallet from the condenser improved security but I find it kind of inconvenient. This bot helps when I am on the phone. Let us talk about the features currently available on the bot.
I have divided all the commands into three parts - STEEM/SBD wallet commands, Steem-Engine wallet commands, and Account creation command.
STEEM/SBD Wallet
BDExchange started as an escrow service. So, I kept the escrow but not using the Steem blockchain's escrow.
Available commands:
..price AMOUNT CURRENCY
Shows any amount of STEEM/SBD/BTC/ETH/ETC/LTC/EOS/DOGE/TRX/BAT/BTS's price in USD and BDT. This is powered by @coingecko's API.
..convert AMOUNT CURRENCY *
Converts provided the amount of STEEM or SBD to the other currency. e.g. if you put STEEM, it will convert to SBD and vice-versa. It uses Steem's own internal market and chooses the best rate available for the amount to convert.

Example transaction link. SteemConnect link may not work for convert, as SteemConnet v3 uses dSteem library which cannot broadcast limit_order_create2 due to some bug.
..exchange AMOUNT CURRENCY USERNAME
This generates a Steem Connect transfer link with a special memo to start an escrow transaction with the provided Steem user.

Ayasha is exchanging 50 STEEM with @brave1 using the escrow.
..release ESCROWID
Upon fulfillment of the contract, the escrow initiator can release the escrowed fund with this command.
..balance USERNAME
Shows the STEEM/SBD balances of the provided username.
..transfer AMOUNT CURRENCY BENEFICIARY [MEMO] *
Transfers any amount of STEEM/SBD to the beneficiary account.

I am transferring 1 STEEM to @zaku
..delegate AMOUNT SP BENEFICIARY *
Delegates the provided amount of STEEM POWER to the beneficiary account.
..delegations USERNAME
Shows outgoing delegations of a Steem account.
Steem-Engine Wallet
..se-balance USERNAME
Shows the current Steem-engine balances of the user.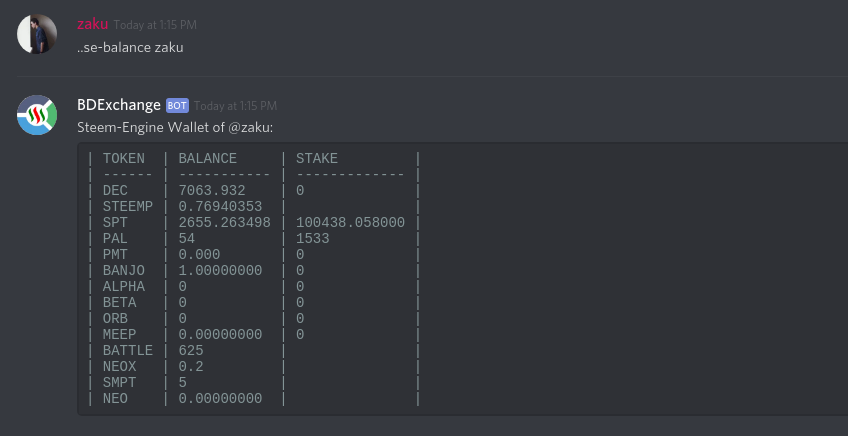 Steem-Engine token balances of @zaku
..se-price AMOUNT TOKEN
Shows current price of the Steem-engine token.

Zaku is checking DEC price
..se-buy AMOUNT TOKEN PRICE *
Places a buy order of provided quantity of the token at the specified price.
..se-sell AMOUNT TOKEN PRICE *
Places a sell order of provided quantity of the token at the specified price.
..se-orders TOKEN
Shows a list of your open buy and sell orders of the token.
..se-cancel ORDER_TYPE ORDER_ID *
Cancels the provided buy/sell order.
..se-deposit AMOUNT STEEM *
Deposits STEEM to Steem-engine.

Zaku is depositing 20 STEEM to Steem-Engine
..se-metrics TOKEN
Shows Steem-engine metrics of the token.

I am checking Steem-engine metrics of DEC
..se-transfer AMOUNT TOKEN BENEFICIARY [MEMO] *
Transfer any amount of the Steem-engine token to another user.

Ayasha is transferring DEC to @zaku
..se-withdraw AMOUNT STEEMP *
Makes a withdrawal request of STEEMP as STEEM.
Account creation commands
BDExchange offers Steem account creation service powered by @BDVoter for a fee of 1 STEEM/account which goes to @BDCommunity.
..order-account PAYER NEW_ACCOUNT
Orders a STEEM account. This will generate a SteemConnect transfer link with a unique memo. Right now one Discord account can request one new account per day.
..create-account ORDER_ID
Creates the ordered account after the payment verification. You'll receive a DM from the bot with Steem account's password and other details. I am planning to automate this process.
How to use?
The BDExchange bot is available on BDCommunity Discord server. Please join BDCommunity Discord which also has many other services that you may like such as MonsterMarket.
It is a monthly subscription bot. Currently, the 1-month subscription is only 2 STEEM. You can subscribe for multiple months.
..subscribe STEEM_USERNAME [MONTHS]

This command will you a SteemConnect link to transfer appropriate amount for the subscription. When you make the payment, the bot will notify you at the #bdexchange channel of the server.
If you are not ready to commit 2 STEEM per month without checking, you can have 2 day trial period.
..trial STEEM_USERNAME
Process is similar to subscription but it will only cost 0.001 STEEM.
---
I am continuously adding new features or updating existing ones. If you face any problem, please contact me @reazuliqbal or any other BDCommunity moderators.
---
All commands with a (*) after them will generate a SteemConnect v3 link. But if you have given @bdexchange active authority to your account (NOT RECOMMENDED), command execution will be automatic.