Right now when we look at Steem the chart is very choppy and slow moving until it breaks then there is extremely fast moves. So knowing this if you want to be in for the next upmove you will have to be in well before it moves or you will be left in the dust. However, there is a possibility for more downside and we might be seeing that here shortly.
In the following post, I will share a couple perspectives on what Steem might do giving both the bullish and bearish case as well as my own interpretation of the chart.
First of all lets take a look at the bigger picture of the chart, a 2 hour view.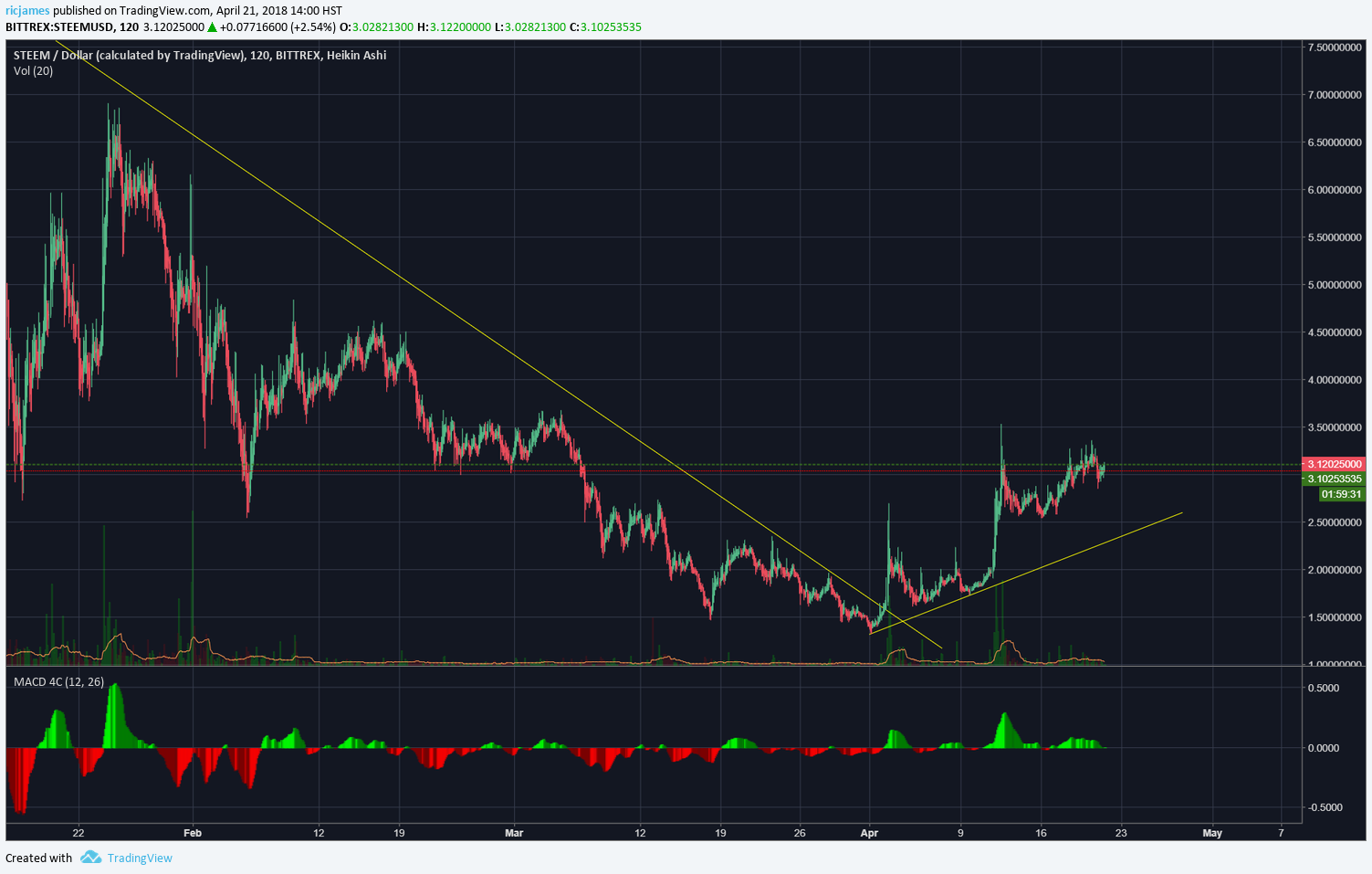 So as you can see from this view, we clearly have a breakout from the downward trend and are on a current move upwards. Now if you take a look at the impulse moves you can see how sudden and quick they are with extremely fast pull backs.
15 min chart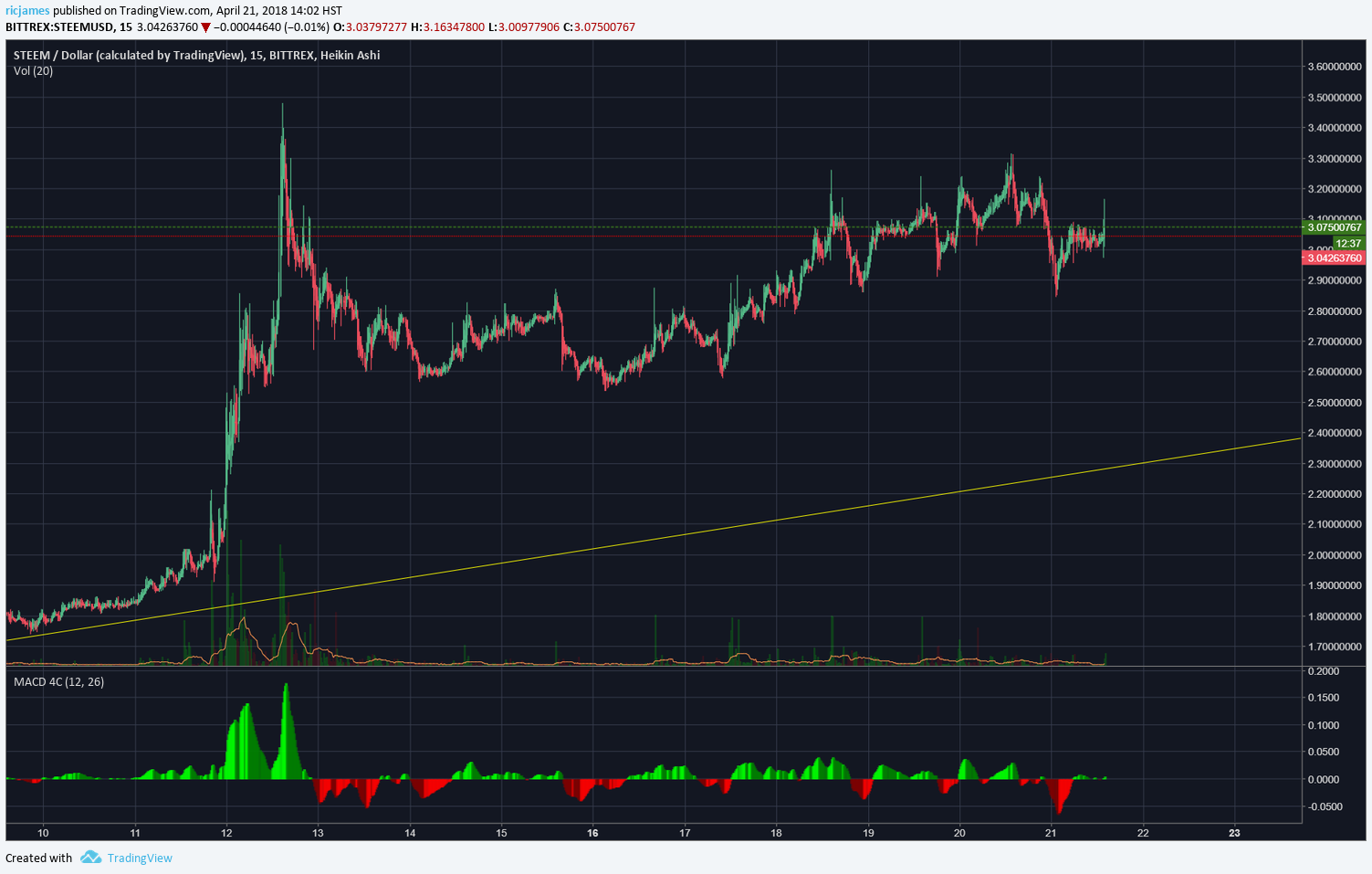 Now taking a look at the 15 minute chart you can see we look to be in a big sideways move. There is no apparent case for bullish or bearish right now. However, if I add a couple trendlines in you will see a little different picture.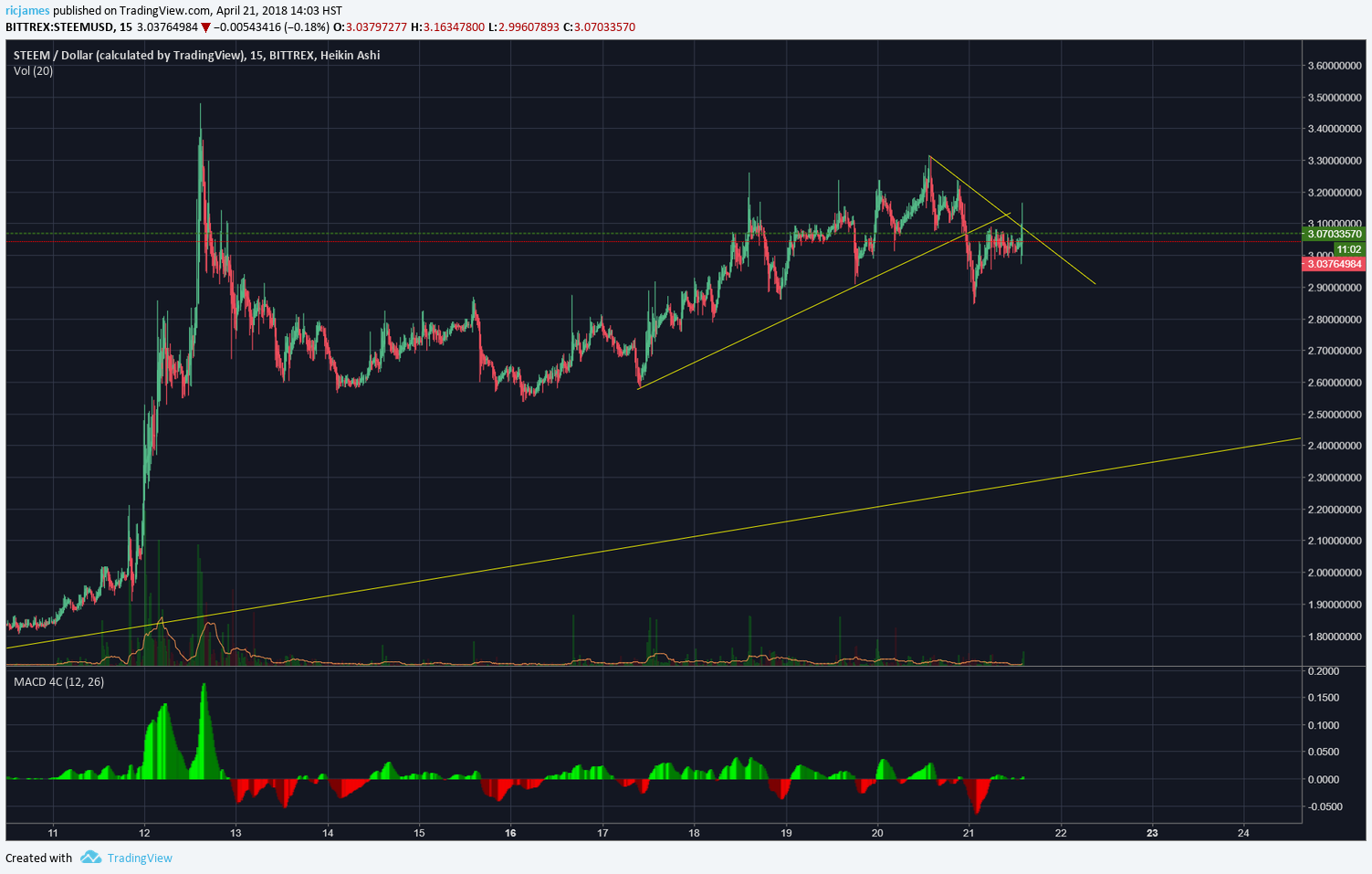 Now as you can see there is a sudden impulse move upwards, is this a breakout? I personally do not think so because we see big breakouts quite often like this that end up pulling back and doing nothing other than adding more lines to the chart. However, looking at the patters forming I would imagine a scenerio like this could play out for STEEM within the next couple days.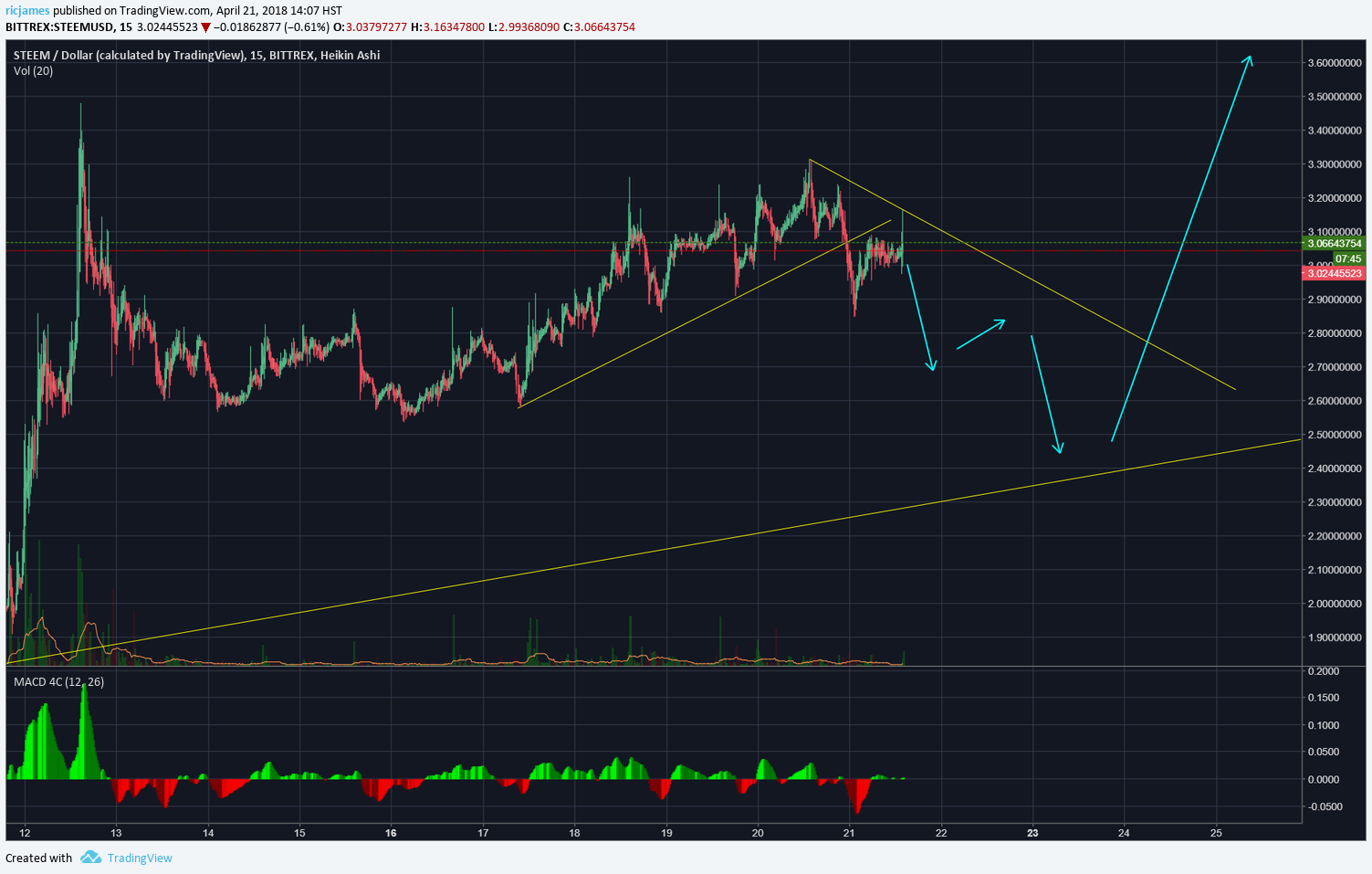 Now For this analysis I am extremely bearish because I believe we just completed the B wave of an ABC corrective wave and we should now be moving down to the trendline below. I believe we will break the previous low set on the 16th of this month before we see another moonshot up on STEEM.
However, I would like to bring up once again that STEEM has been EXTREMELY volatile and very fast moving when it rises or falls. So the next surge could happen at any moment with STEEM and if you get out and miss it you lose out on doubling your money quite possibly.
So how to trade it?
I would follow the current pattern and when it drops let the stop take you out and when it starts to consolidate again jump back in it and continue to let the chart fall and build your STEEM along the way buying every dip. That way if it does take off at least you will be in when the next impulse move occurs.
Hope you enjoyed my analysis and if you have any questions, comments or concerns leave them below. Any non relevant comments will be flagged as there has been an increase in bot and trashy comments occurring on this platform. One of which was a phishing site that would try to steal your password. I warn all you out there to watch out for comments and other users out there that are trying to steal from others and hurt this platform than to let it grow. We are all investors in STEEM and if you want it to succeed do your best to support those users that make this a better platform and try to rid the users who are trying to harm it.
As always have a great day and a better one trading.
If you would like to take a look at some of my other posts I will link them below.
Disney Trade Set Up
https://steemit.com/steem/@ricjames/great-trade-set-up-disney
S&P500
https://steemit.com/steem/@ricjames/weekly-update-s-and-p500