Hello everybody,
Below is an update of a valuation of the Steem network that I made about a year ago.
Here is an (incomplete) representation of the number of accounts and the Steem price over time (since 30 April 2016). Contrary to my expectation, you cannot see a correlation (more users -> higher Steem price). This probably is caused by short-term expectations of the "investors".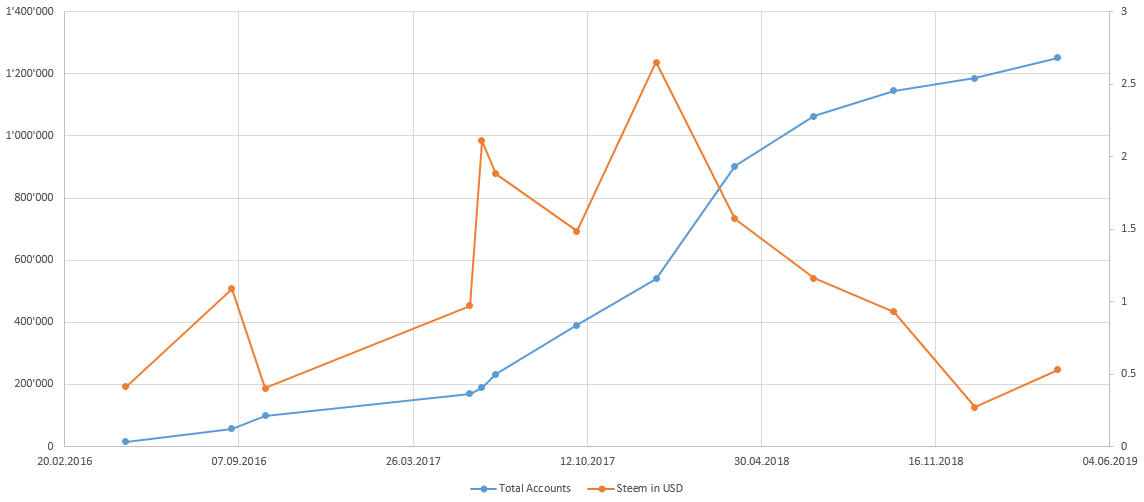 Here you see another graph showing the Steem price and the average daily account growth over time (for example, between 1th of April 2018 and 29 June 2018, the average daily growth in account numbers was 0.18%). This (also incomplete) graph shows a bit of a correlation. The higher the current (short-term) account growth, the higher the Steem price (because of the acute interest and attention). This is plausible, but not necessarily rational. It shows, in my opinion, that we are still in the experimental stage.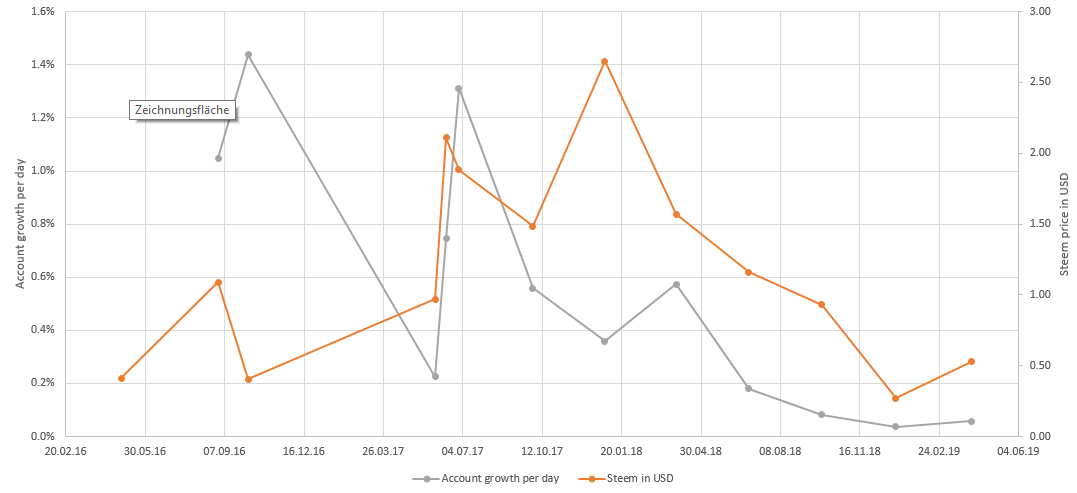 In my opinion, the value of a social network is mainly a function of its number of users. Based on this assumption, I made some calculations.
Steem currently has a user base (or number of accounts) of 1'251'616 (https://steemit.com/@penguinpablo) and a market capitalization of $ 144.27 million.
Facebook has a 2.32 billion user base and a market capitalization of $ 475.8 billion.
It can be calculated that Facebook has 1,856 times more users than Steem. The market capitalization of Facebook, however, is 3,298 times that of Steem.
In other words, a user has a value of $ 115 for Steem's stakeholders. A Facebook user, for comparison, has a value of $ 205 for the Facebook shareholders.
I see Steem on a growth path (exponential - if Steem does not grow exponentially, it is anyway done). I calculated 5 different variants:
Column 1: constant growth rate of 0.05% per day (roughly equivalent to the average of the last 5 months)
Column 2: constant growth rate of 0.1% per day
Column 3: constant growth rate of 0.18% per day (corresponds to the average since 1 Jan 2018)
Column 4: constant growth rate of 0.26% per day (corresponds to the average since 1 Jul 2017)
Column 5: constant growth rate of 0.53% per day (equivalent to the average during the crypto hype in the second half of 2017)
For each of these variants, I have calculated the market capitalization of Steem and the corresponding Steem price (the assumption are displayed in the picture).
As you can see, there is a big variation in the results:

Personally, I think the scenarios are very theoretical. Probably phases with weak account growth (as is currently the case) will alternate with hot phases and the price of Steem will fluctuate accordingly. Of course, a newcomer like Russia Today (which I do not consider a serious news medium) can result in a massive inflow of users, pushing the growth rate above past levels ("bullish for the Steem network, bearish for the informedness of Steemers").
What do you think about this valuation? Are there any big mistakes? Is it even reasonable to speak of a "value per user" (Facebook can process user data and thus make money for its shareholders, while the incentive to buy Steems is quite another)? What can be improved?
P.S. Is there an overview of the number of accounts and the price per day? Where and how can I download such data (via sql?)? With daily or at least many more data points, I could do a more detailed analysis.