Our most important goal at Smartsteem.com, is to constantly innovate and enhance our services.
We take great pride in having build Smartsteem.com, incl. all services, from scratch. Through that, we are able to implement changes and improvements extremely fast, instead of relying on 3rd party developers.
---
After our latest post, a Steemian (@mydays) made us aware about the fact, that the SBD author-payouts have changed drastically over the last few days.
Now, before we get into the technical details:
Our Customers are Priority N°1
We've updated our vote-value calculations to make sure that every vote-buyer from Smartsteem.com (@smartsteem & @smartmarket) is getting what they paid for.
This has resulted in an (slight) increased return for vote-buyers in comparison to the old calculation (with 50% SBD & 50% SP).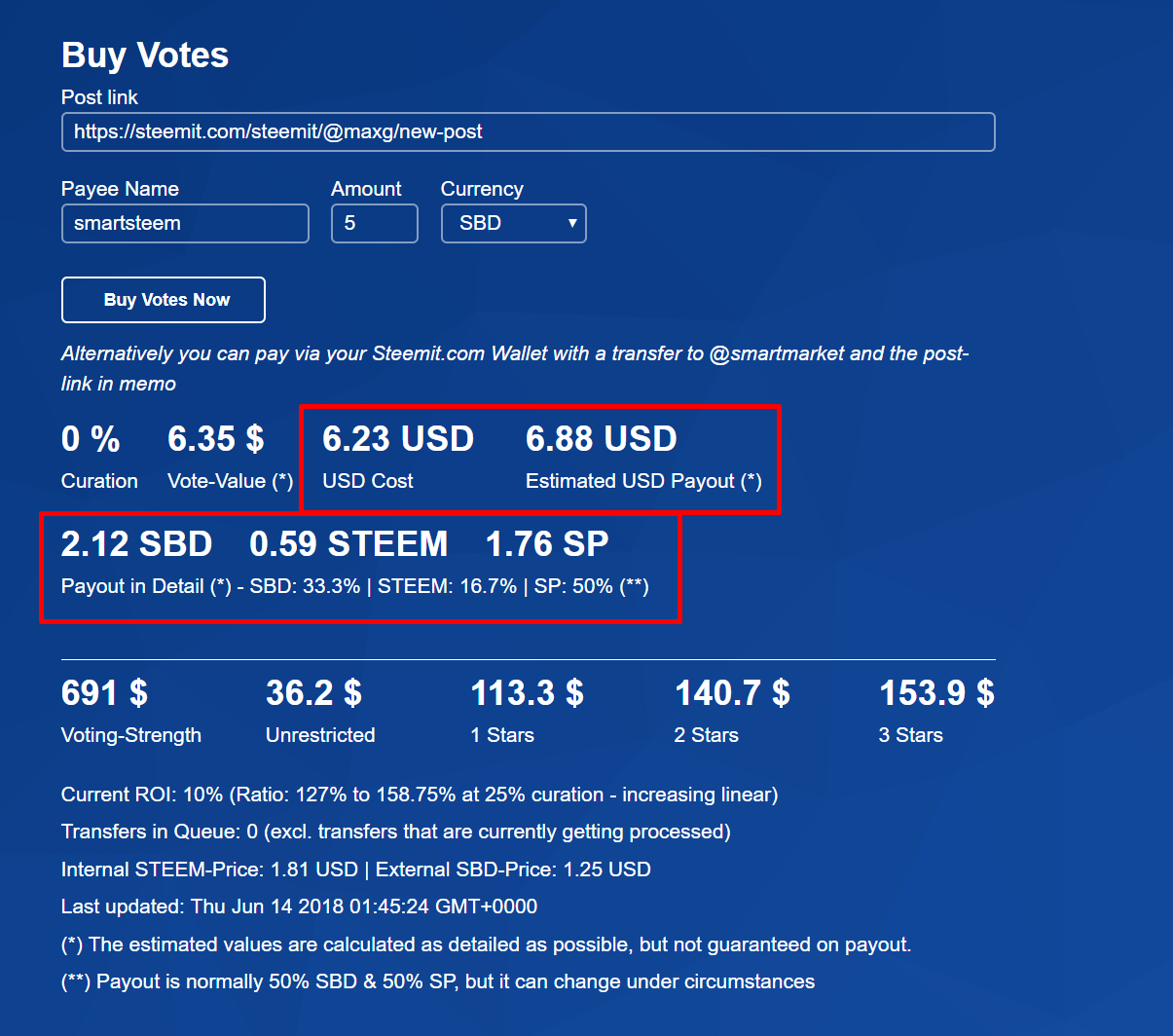 On the image above, you're seeing our vote-buying interface at Smartsteem.com/buy, which we've just updated.
You're now directly able to see how much it costs to buy votes (in USD) and how much the estimated payout is. Including the specific currencies (SBD, STEEM & Steempower).
Even though this is very detailed, it does not include outside influence (for example if the STEEM-price continues to fall).
But this should be enough for you have an overview about how much you can expect as ROI.
Also keep in mind that; as far as we know, no other service has implemented this updated-calculation right now - so make sure that you calculate the ROI yourself - or simply use Smartsteem.com.
Technical Explanation
The reason for the changes above is, that the SBD print-rate; the amount of SBD you get with your author-payouts, has decreased.
At the time of this post - the SBD print-rate resides at 67%.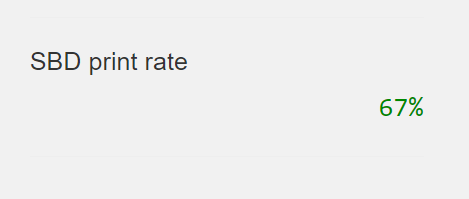 Screenshot taken from https://steemd.com/.
SBD-Printrate Explained
Normally, the printrate should be at 100%. But due to the recent price-fall of STEEM and the resulting lowered marketcap, in addition with a high SBD-Supply; which internally is known as debt-rate - the payout for authors has changed.
Previously, authors were paid out 50% with SBD and 50% with Steempower (based on USD). Now, since the SBD-Printrate has been lowered to 67%, the 50% SBD payout is now at 33.5%.
50 * 0.67 => 33.5%
The missing 16.5% are now getting paid out as STEEM, which is calculated the same way as Steempower.
Please read our latest post, which includes calculations for STEEM/Steempower.
But generally, it should be enough to use the calculator at Smartsteem.com/buy.
---
To sum it up
If you're still not sure what this all means:
We've made sure that you get exactly that what you paid for from Smartsteem.com.
Whether this is a bid-vote from @smartsteem or votes from our vote-sellers at @smartmarket.
Last but not least
We also increased the daily & weekly-limits for our vote-buyers from @smartmarket.
Head over to Smartsteem.com/profile to see how many votes you're able to buy.
---
And that's it for now.
Thank you so much for your support!
Team Smartsteem
---
Our Most Important Posts
Two Ways to Earn With SmartSteem: Do the Smart Thing!
Smartsteem.com - Empowering Quality Content
Smartsteem Referral System - Earn Vote-Selling Shares
---