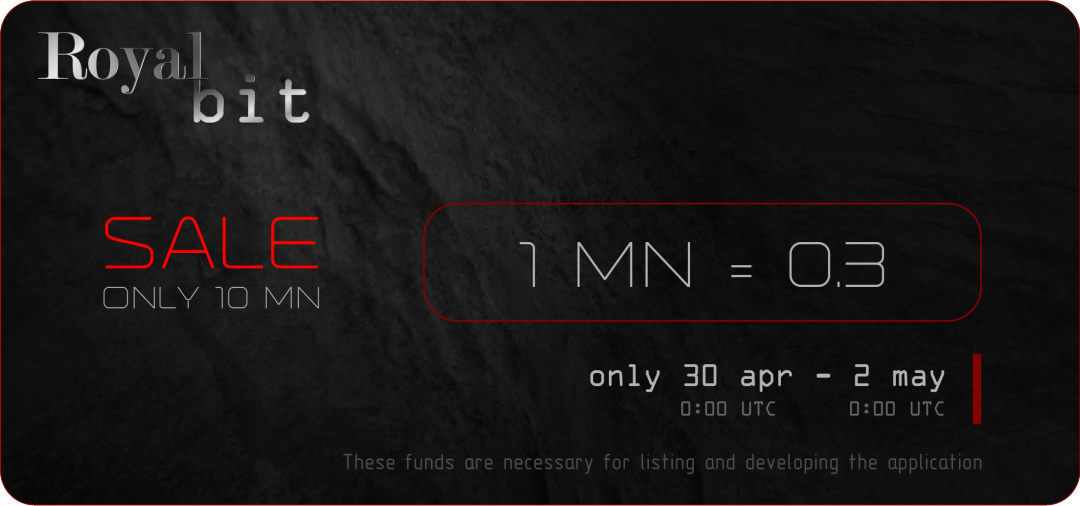 our ROI now 20000% and we start new sale
---
---
SPECIFICATION
---
90% MN / 10% MINERS
PoW Algorithm: Quark
Premine: (#1 Block) 3%
PoW Blocks: 2 - 200 000
PoS Blocks: Starting from 200 001
Block Time: 60 Seconds
PoW Max Coin Output/Supply: 100,000,000
PoW Ending: Estimated: Sept 2018
Masternode Requirements: 10,000 ROBI
Maturity: 110 Confirmations
Website: http://royalbit-coin.com/
Explorer : http://77.244.213.113/
Discord : https://discord.gg/aK7XYbH
GitHub: https://github.com/RoyalBitCoin/RoyalBitCoin

What is the idea of ​​RoyalBit?
Create a certain circle in which your actions will not be analyzed or verified. Aggregate or be analyzed.
All you need is to bring BTC to your special account.
All transactions take place with a minimum commission.
Need to rent a car? Then just order it through our application. The payment will be withdrawn from RoyalBit and no one person will ever know about this order.
This principle will work with all partners from our list in the application.
These are rental companies, restaurants, clubs, etc.