Friends, Romans, Steemians... lend me your eyes.
Steem Fiction has now released our first short story anthology.
It is called Voices in the Darkness: Tales from the Steem Blockchain (Steem Fiction Book 1)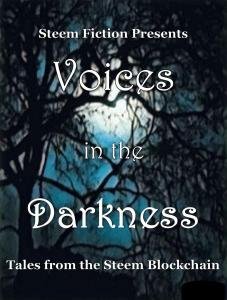 We set the release date for March 1st, and we successfully met that date.
We are featuring some of the best authors on the Steem Blockchain.
Every quarter we will release a new book on Amazon.com.
Our next story is set for release on June 1st.
Each book that we write will increase the number in parentheses by one.
Our current members are as follows:
@janenightshade
@improv
@felt.buzz
@jeezzle
@manoldonchev
@stinawog
@giantbear
@blueeyes8960
@ericvancewalton and @arbitrarykitten are on the team, but they were not involved with this first book.
I have to say that our team did a great job. These stories are simply fantastic.
This account will be used to promote and develop our authors and our books, and also to upvote those authors so that they may continue to put out quality work.
By supporting this book you are not only supporting those authors, but also the Steem Blockchain.
Here is a link to the Kindle version, which is priced at $4.99.
https://www.amazon.com/dp/B07P778X5T/ref=sr_1_1?keywords=voices+steem&qid=1551572204&s=gateway&sr=8-1-spell
Stay tuned for the theme to our next book, and for information on how to get involved with our project if you're interested.
Please upvote and resteem this post so that word can get out about our new book.
Voices in the Darkness: Tales from the Steem Blockchain (Steem Fiction Book 1)
We will soon release the paperback version as well.
I know you're going to enjoy our book.
To all our authors I say....Great job!
If you're interested in delegating to this project please contact @jeezzle on Discord or drop a link below.