Good news everyone. The paperback edition of the book you've been waiting for is now on Amazon store shelves.
Steem Fiction is the collaborative writing group that publishes books quarterly on Amazon.com.
The original goal for the Kindle version of Voices in the Darkness: Tales from the Steem Blockchain (Steem Fiction Book 1) was March 1st.
We met that goal.
We've already sold 19 copies of the Kindle edition. We appreciate your support.
It's taken longer than expected to get the paperback version up.
As this is our first in a series of Steem Fiction books, we are still experimenting with the process.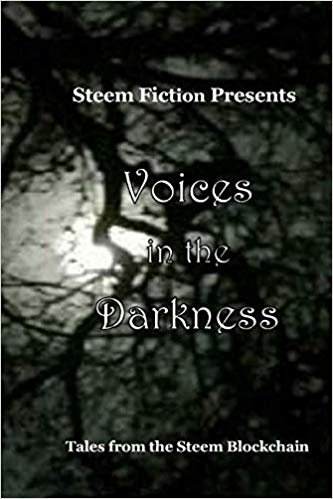 We decided to go with a bit of a different cover for the paperback. We used a higher resolution image, and altered the positioning of the image so that the feel for the overall book is slightly changed.
I think the black background and the positioning of the moon give this version a more melancholy mood.
Working with Amazon's book creation system has given me a new respect for paperback covers. They are not easy to make.
We now have first hand experience.
It's a fun but arduous process.
The paperback version is available here for only $9.99.
https://www.amazon.com/dp/1798517450/ref=sr_1_2?keywords=voices+steem&qid=1552089313&s=gateway&sr=8-2-spell
You can also get the Kindle version for $4.99.
https://www.amazon.com/Voices-Darkness-Tales-Blockchain-Fiction-ebook/dp/B07P778X5T/ref=sr_1_1?keywords=voices+steem&qid=1552089875&s=gateway&sr=8-1-spell
By purchasing this book, not only are you supporting the authors that wrote each individual story, but also helping to promote the Steem Blockchain.
So grab a copy, sit down in your favorite chair, and listen to the Voices in the Darkness.
Just remember not to turn off the light.
Stay tuned for more information from Steem Fiction.
We appreciate your support!