Good afternoon, ladies and gentlemen of Steem.
I thought I'd give you a quick update regarding the status of our first published book Voices in the Darkness: Tales from the Steem Blockchain (Steem Fiction Book 1)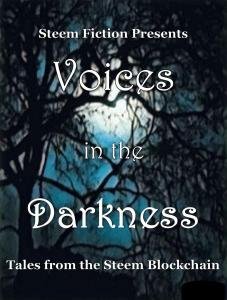 As you know, the release date for our book was March 1st. We published the book at the very end of that day, but we did meet our deadline.
I'm very proud of the writing team.
We've now sold 21 copies of the Kindle version.
You can purchase it here for only $4.99.
https://www.amazon.com/Voices-Darkness-Tales-Blockchain-Fiction-ebook/dp/B07P778X5T/ref=sr_1_3?keywords=voices+steem+kindle&qid=1552343358&s=gateway&sr=8-3-spell
The paperback version of the book was released just a few days ago.
This process has shown us just how difficult it is to create a perfectly crafted paperback cover. This will certainly be easier next time, and we anticipate a shorter delay between the Kindle version of the book and the paperback version.
The paperback version can be bought here for only $9.99.
https://www.amazon.com/Voices-Darkness-Tales-Blockchain-Fiction/dp/1798517450/ref=tmm_pap_swatch_0?_encoding=UTF8&qid=1552343358&sr=8-3-spell
With approximately 10 days gone since the first release of the book, we've now sold 25 copies.
21 Kindle versions, and 4 paperback versions.
It should be noted that the paperback versions only count as sold when they are shipped. That is because people are able to cancel their order before shipping happens. If you have Amazon Prime your book may be shipped very quickly, but if you don't that can actually take a week or two.
It's possible that we have sold more paperback versions then are showing on the reports so far.
Either way, we are very thankful for the Steem community.
Your support is incredibly important to us.
We are hard at work on the stories for our next book.
We have set a deadline of May 1st to begin editing, and June 1st for the actual publication.
By purchasing this book, not only are you helping to support the authors, but also to promote the Steem Blockchain.
You'll be hearing from Steem Fiction again soon with another update.
Until then, we sincerely thank you for helping us grow.
Our next book is about murder.
Stay tuned for more information.