On August 12th, Steemit announced its strategic partnership with @just-defi. We can feel the excitement of the community with this partnership and look forward to more details to be announced soon. Steemit has been exploring the DeFi sphere and is making progress, as well as new product updates we will be sharing very soon.
Today, to celebrate the partnership between Steemit and JUST, we are launching the Steemit & JUST Retweet, Resteem event. 500 STEEM prize pool for this event, join now and earn steem!
Challenge Rule
Step 1: Follow Steemit Twitter and Steemitblog. Retweet
this twitter
with your greetings and invite your friends to retweet or like the tweet. Resteem this blog and get more upvotes. The amount of your retweet and comments of your resteemed posts will decide the steem rewards.
Steemit Twitter:
https://twitter.com/steemit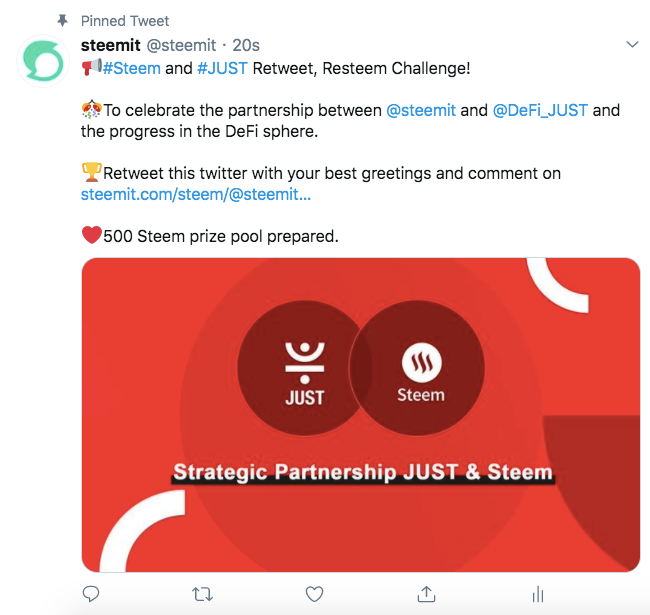 Step2: Post the link of your twitter and steemit posts in the comment.
Step3: Update your comment if you got more retweet or upvotes.
Challenge Prize
500 STEEM in total.
The one who retweets/resteems the most will get 100 STEEM as reward.
The next below are 2nd and 3rd, and will distribute the left STEEM.
Challenge Time:
Aug 14 UTC- Aug 18 UTC
Notes:
Within 5 working days after the end of the event, rewards will be delivered and notified by announcement.
If any form of cheating is found, the participants will be disqualified, and the interpretation right belongs to the Steemit,Inc.
Steemit, Inc.
2020 August 14