BITCOIN $1,000 INVESTMENT..!!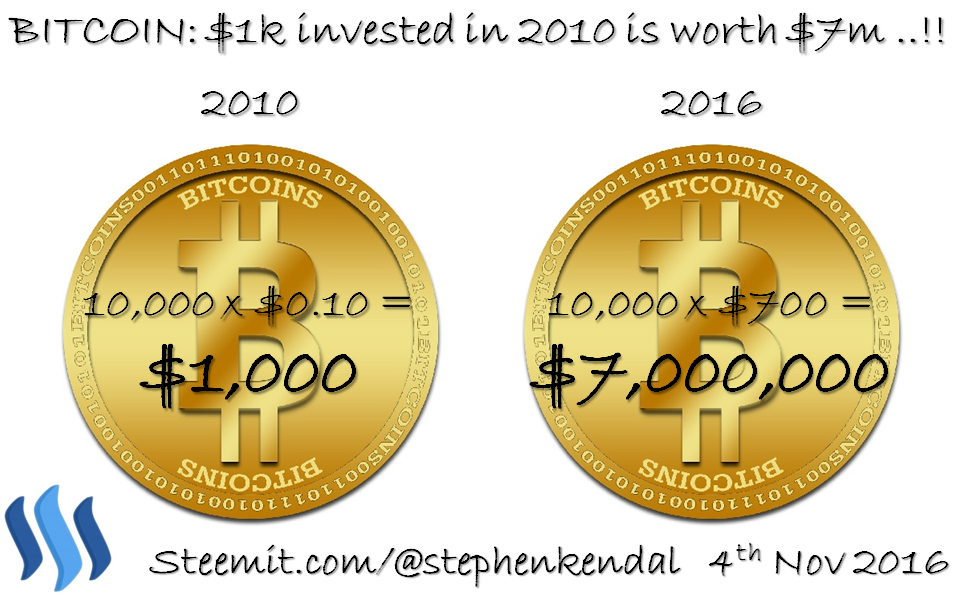 If you had invested $1,000 in BITCOIN in 2010 you could have bought 10,000 Bitcoins at $0.10 each..!!
Those 10,000 Bitcoins today would be now worth over $7,000,000..!!
Today STEEM is worth around $0.10..!!
....just saying..!!
A Global Blockchain Social Media Revolution is unfolding in front of our eyes and when people wake up to the reality that it is not CryptoCurrencies that are rising, but that DEBT-BASED Fiat Currencies are FALLING..!!
....watch this space..!!
Think of STEEMIT as a growing micro-community..!! A small Town, a small City, a small State, a small Country, a small Continent ........having its very own DEBT-FREE CURRENCY..!!
The future is not tomorrow, the future arrived yesterday..!!
STEEMIT + BLOCKCHAIN is the future..!!
Thanks for reading and feel free to share.
Stephen