Ultimatums. Do they work? Yes. However in order for them to work, the conditions of the ultimatum need to be sufficient to force action. You know, the gun to the head kind of thing. It is a position of or seeking control.
Personally, my response to an ultimatum is generally: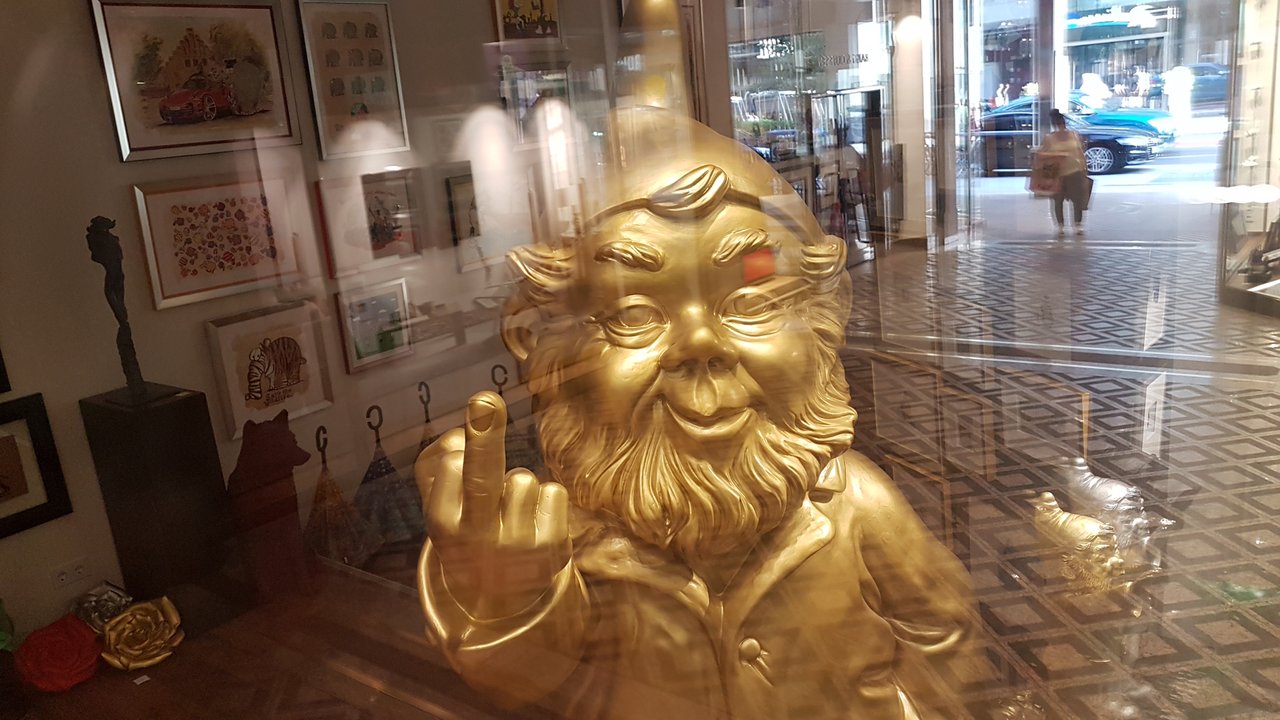 I knew this picture would come in handy for something.
I take the challenge accepted route because it is much like giving into terrorism and paying a ransom, there is no end to it. These kinds of demands are positions of manipulation and entitlement that at least on Steem, are generally ego-driven and self-serving.
Dare I say it, they are demonstrations of:
Self-Aggrandizement
 
That is fine, we are all free to behave as we choose - but there are consequences to the way we behave and, to making assumptions based on expectations. It is especially dangerous to make assumptions on expectations based on other people's performance, but again, we are free to think and do as we please and face the outcomes of our position.
Yesterday, I was shopping with my wife and daughter and my daughter wanted to go back to the center park instead of going through clothing stores looking for whatever my wife needed. We had agreed to conditions prior. At each store she stood at the door in a stance of defiance to us entering. My wife and I entered - she followed. What do you predict would happen if we as parents gave into the every whim of our child - do you think that we wold be better off for it - more importantly - do you think she wold be better off for it?
My daughter needs a bigger gun - I don't give into terrorism. She can stomp and scream and complain all she wants but, the more she protests, the less likely she is going to get her way - and she knows it. She is not the child to throw a tantrum in public or even much at home - if she wants something, she speaks softly in sweet words and uses her big, blue eyes. It is much more manipulative and effective.
The difference is that instead of trying to get me to pander to her ego and wants, she circumvents the process by pandering to mine, to making me feel positive rather than negative. And in so doing, she is more likely to not only get her way - but if she doesn't get her way, she doesn't feel negative herself either as there is no resistance to butt heads against, just a calm conversation and explanation. People who believe they can change minds through ridicule and anger are not overly effective and tend to be rather ignorant. It is not that it is impossible to do that, but in general, it requires having a relationship that is valued.
When my wife said to me when we were dating, "either you stop smoking or I start", it was an ultimatum I gave into because, I didn't want to date a smoker. It was a win/win - neither of us wanted to date a smoker, neither of us ended up dating a smoker. It helped a lot that my wife is hot - never underestimate attraction.
Is desperation attractive, is demanding people to act according to you wishes the kind of behavior that motivates action? It is quite childish and definitely not the go to process for a leader to say, Unless you yadayada, I will... Because, once it has worked once, the same manipulation will be used again and again and each time, it will require a lower bar to jump for recall. Emotional terrorism and response conditioning. Don't give into tyrants and terrorists because it justifies their actions.
But, this is Steem, and while I am what I consider heavily invested in the outcomes, I am also not the type of person to do it at any cost. If someone uses this kind of manipulation tactic to get their way, I say - you are not the type of person I need here. If you threaten to quit and don't - you have shown your impotence. It is a little pathetic.
What there should be is an account brick mechanism, where those who walk off in a huff can flick a switch and kill their account. All follower connections are disconnected, all autovotes taken away and all that will remain is the ability to power down and transfer whatever Steem one has left and, the history of the account on the immutable Blockchain. Consequences to behavior.
But of course, we all get somewhat emotional from time to time too and often it is coupled and driven by fear of loss and other factors of influence. We all freak out a little occasionally, say and do stupid things, but there are some who use the ploy far too often, so either they know what they are doing in an attempt to manipulate, or don't have the emotional control to manage themselves - either way, not the kind of person I trust.
Some who recognize it in themselves come back and say "sorry, I tripped-out a bit there, I am okay now", others pretend they never did, some are so narcissistic they convince themselves they never did. How many times can someone freak out or attempt emotional ransom before you stop paying attention, how many times can a leader personality prove themselves unworthy before you stop following?
And this is the problem for those who want to be leaders of a community, a movement or a company - if the process is,
follow me and do as I say or else I am going to punish you by leaving
it means that one is not a leader at all, one is a tyrant. A leader is someone who gets support for - what they do, what they believe, what they project, their attitude, their personality and the way they make others feel. A leader is able to gather people around them because they offer more than upvotes, more than kind words, more than promises.
My daughter isn't even 3 and seems to have a better grasp on leadership than most adults these days. You will likely all end up working for her one day - and be grateful for the opportunity. But for those that want to leave, I wish you well.
For those who want to stay, there is always a lot of work to do.
And it requires more than push-ups.
Taraz
[ a Steem original ]
Learning to say SORRY is not a bad comeback approach. But, sorry is meaningless if over used because it has a "Boy who cried wolf" affect.