Good day everyone! I've been on hiatus for the past 3 days, so eager to get back to STEEM, and to the topics I've been covering here.
So let's start with STEEM/BTC, and what an eventful weekend we've had! Take a look at the daily chart below: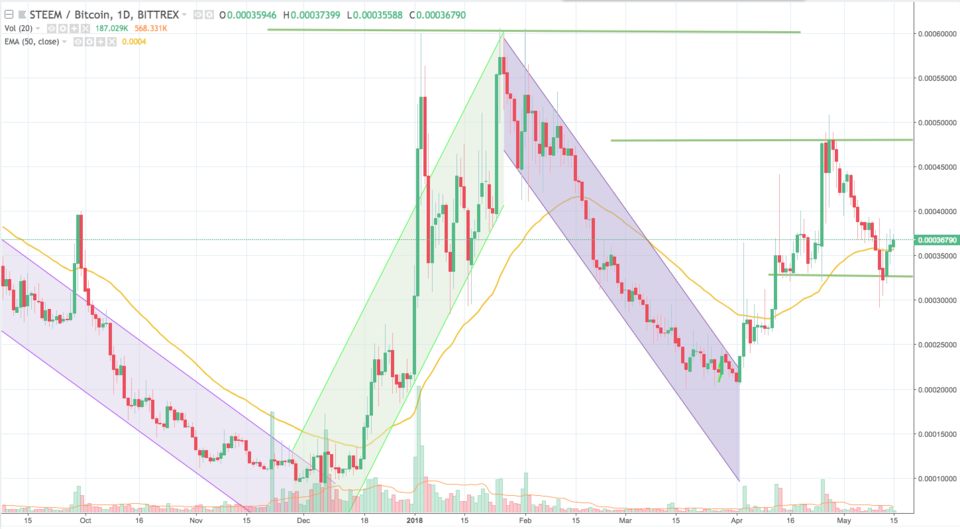 To be precise, last Friday's price action was quite dramatic (see 5th rightmost bar): Price opened at 0.00035, went as high as 0.00039 (11% move up), came all the way down to 0.00029 (25% move down from high), and eventually closed at 0.00033. Incidentally, 0.00033 is right where the support line is on my chart below.
Also, if you take a look at the 50-EMA (depicted by the orange line snaking across the chart), price moved well below the 50-EMA line on that day.
The bloodbath threatened to continue on Saturday, but again price managed to recover from its lows. However, it still closed in the red. Are we in the midst of a price breakdown?
Apparently, not yet! Sunday and Monday's recovery is a welcome sight for long term holders, and we are back right smack on the 50-EMA line.
The wild swing last Friday appeared to be fundamentally related. See this news for more info. Apparently, the Bitcoin news spooked the entire market, dragging the alt-coin market with it.
For now, everything is stable again. Support level remains at 0.00033. For resistance, first hurdle will be 0.00040. Should be an interesting week ahead! Trade safe!
Risk Warning: All comments, charts and analysis on this post are purely my own and should in no way be treated as recommendations or advice, nor should they be construed as an endorsement or recommendation to buy, sell or hold. Please do not trade based solely on the information provided on this post. Furthermore, past performance does not guarantee future success. Always do your own due diligence and analysis when trading.
Chart courtesy of TradingView