I try to post only once a day, but I want to get this out as well. Here's an update to STEEM/BTC, and we've got some big moves to analyze.
Let's have a look at the latest daily snapshot of STEEM/BTC: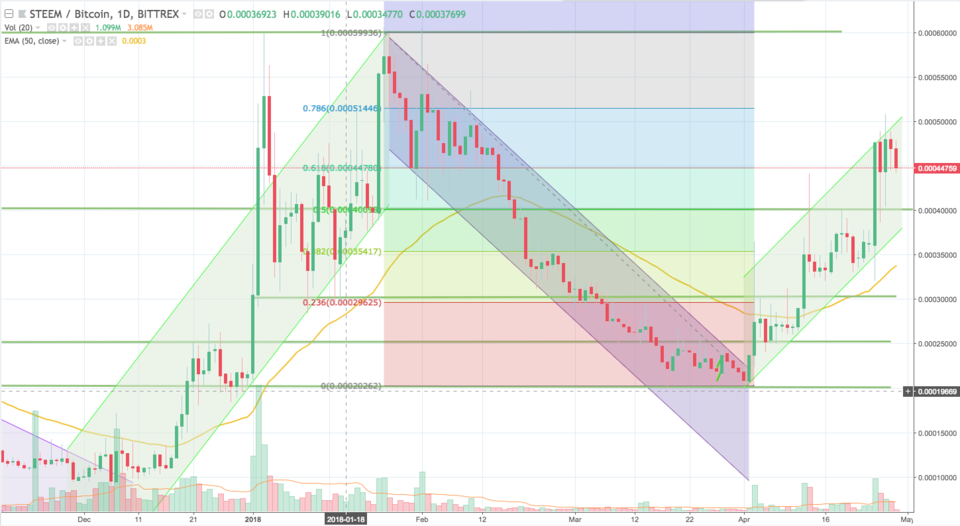 Recall that in my previous post on this topic at the start of this week, I mentioned that STEEM/BTC raced towards 0.00040 but retreated shortly after, indicating it may not be ready for the next phase of its bullish move. Well, the week certainly proved me wrong.
The long green bar on Wednesday indicated a surge in price not only past the 0.00040 level, but well into 0.00047 in such a convincing fashion. And even if Thursday was a red bar, the fairly long green bodied bar on Friday affirmed the bullish move this week. An amazing turnaround indeed since for more than 2 months earlier in the year, it seemed to be all doom and gloom as the price drifted lower and lower.
So what's next? For starters, I believe we can now establish that a bullish channel has emerged (green shaded channel on the right of the chart). The lower end of the channel is currently around 0.00037. On the other hand, the major resistance I am looking at is 0.00060.
Have we gone up too fast too soon? At the current price of 0.00045, we have now gone up 125% from the 0.00020 lows in March and early April. What do you think?
Risk Warning: All comments, charts and analysis on this post are purely my own and should in no way be treated as recommendations or advice, nor should they be construed as an endorsement or recommendation to buy, sell or hold. Please do not trade based solely on the information provided on this post. Furthermore, past performance does not guarantee future success. Always do your own due diligence and analysis when trading.
Chart courtesy of TradingView