John McAfee hat einen Tweet zur Steemit-Tron-Übernahme gepostet und getweetet, dass man keine Community kaufen kann. Wie wahr!
Derzeit herrscht sozusagen ein Krieg auf Twitter über die Interpretation der Ereignisse der vergangenen Tage. Justin Sun hat unsere Witnesses als Hacker bezeichnet und versucht sein Vorgehen mit Hilfe der Exchanges Binance, Huobi und Poloniex, die mit Kundengelder die gewählten Witnesses abgewählt haben, irgendwie zu legitimieren, während die andere Seite die Krypto-Community mobilisieren konnte und sich sogar Vitalik zu Wort gemeldet hat.
Ich denke, dass eine Partnerschaft mit Tron nach den Ereignissen sehr schwierig werden wird und Justin hat gestern auch angekündigt, dass er ASAP wieder von Steemit aussteigen und seine Anteile verkaufen möchte. [3]
Kann ich verstehen, insgesamt halte ich derzeit weder von Justin Sun noch von Tron sehr viel, obowhl ich anfangs noch optimistisch war.
Bin gespannt, wie es weiter geht und dass die Community und Witnesses eine Lösung finden. Hihi, vlt hätte ja EOS und Dan wieder Interesse an Steemit, jetzt wo Ned weg ist ;)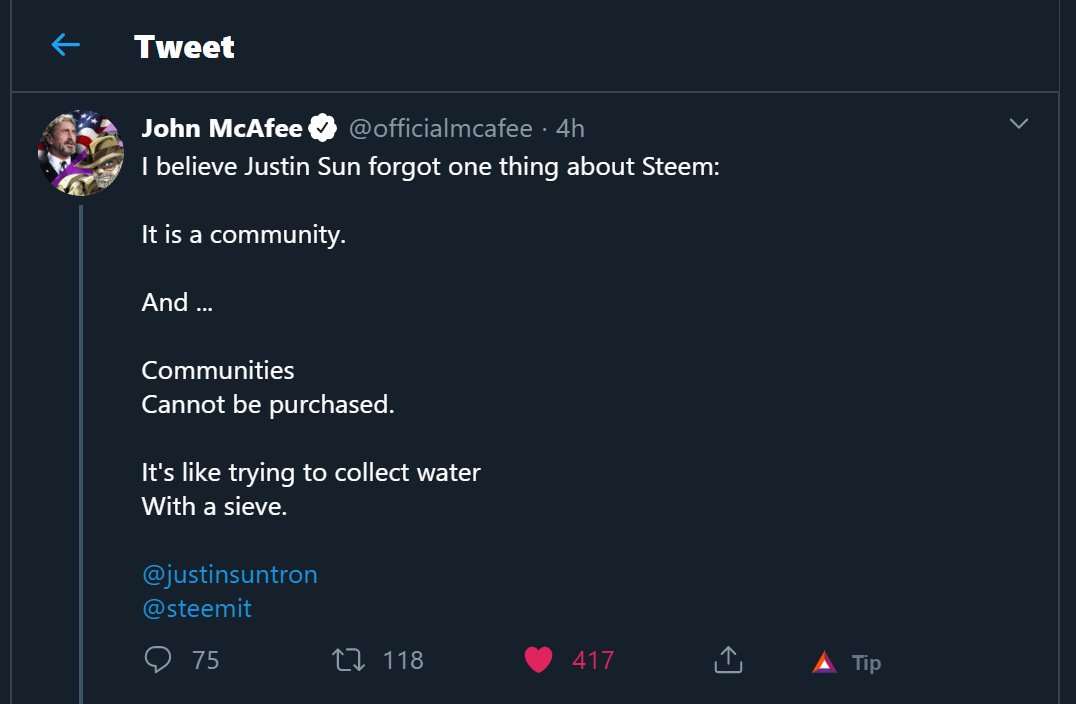 https://twitter.com/officialmcafee/status/1235468979377811457
English
John McAfee posted a tweet about the Steemit/Tron takeover and tweeted that you cannot purchase a community. How true!
At the moment there is a war going on on Twitter, so to speak, over the interpretation of the events of the past days. Justin Sun has described our Witnesses as hackers and is trying to somehow legitimize his corrupt actions with the help of three exchanges (Binance, Huobi and Poloniex), who used customer funds to replace the elected Witnesses of Steem with sock puppet accounts, while the other side has been able to mobilize the crypto community and even Vitalik has spoken out.
I think that a partnership with Tron will be very difficult after what happened and Justin also announced yesterday that he wants to pull ASAP out of Steemit and dump his tokens. [3]
I can understand that, but I don't think much of Justin Sun or Tron at the moment, although I was optimistic at the beginning.
I'm curious how it will go on now and hope that the community and Witnesses can find a solution after all. Giggle, maybe EOS and Dan are interested in Steemit again, now that Ned is gone ;)
Sources
[1] https://twitter.com/officialmcafee/status/1235468979377811457
[2] https://twitter.com/VitalikButerin/status/1234522463129800709
[3] https://steempeak.com/steem/@ura-soul/justin-sun-conversation-with-witnesses-is-online-ned-sold-out-the-community-failed-to-disclose
[4] https://steempeak.com/steem/@aggroed/justin-sun-tweeted-again-is-it-time-to-panic-is-it-time-to-celebrate
[5] Justin calling elected Witnesses "Hackers" https://twitter.com/justinsuntron/status/1234690483298820097
[6] https://steempeak.com/steem/@juliakponsford/justinsunsteemit-witness-voting-policy-original-text-that-was-deleted-but-forever-saved-on-the-chain
Live your Secrets and Steem Prosper 🔥
xx Viki @vikisecrets