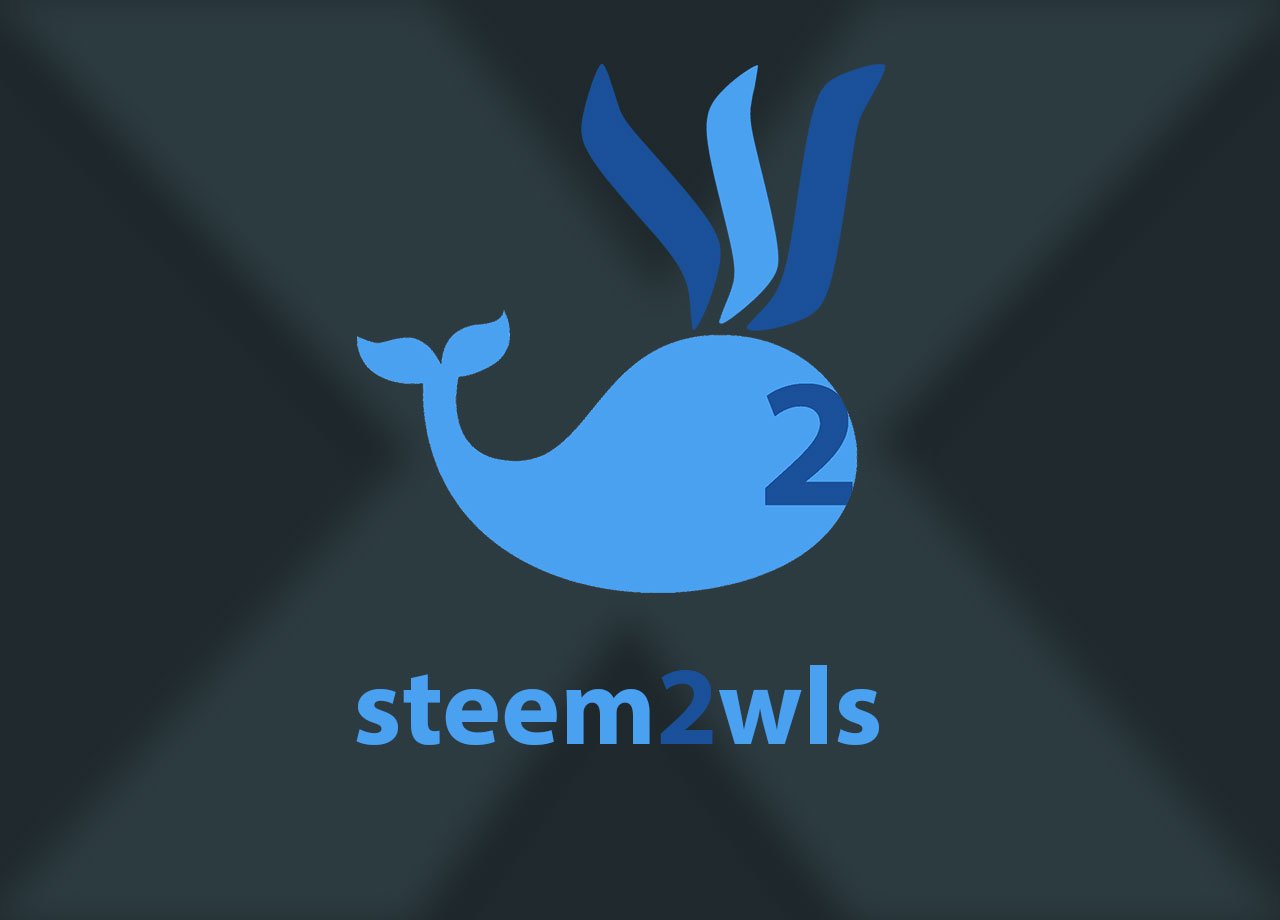 We are happy to introduce you to the new dApp between the chains: steem2wls. Our website is our motto:
steem2wls rocks! Why? Because it has never been so easy to cross-post from Steem to Whaleshares!
---
How does it work?
The beauty in steem2wls lies in how easy it is: You do not need to use any special tools or even remember cross-posting to Whaleshares - just link your Whaleshares account once and all your Steem posts will be cross-posted to Whaleshares automatically! It does not even matter which Steem dApp you post from - you can use Steemit, SteemPeak, eSteem, DTube or any other Steem dApp. Even better, any edits you make to your Steem post are updated on Whaleshares as well!

---
Settings made for your needs
Once you have connected your Whaleshares account, you can fine-tune under which conditions posts will get cross-posted. By default, all posts are cross-posted automatically (Operation Mode: Auto). Want to exclude your Steepshot posts? Fine, just add the tag "steepshot" to "Exclude tags" and press save.
Do you prefer to have full control over which posts get cross-posted? Great, switch the Operation Mode to Manual. Now, posts will be excluded by default, but you can specify tags to include, for example your awesome travel posts tagged with #travelfeed.
You can also use code snippets that are commented out in markdown (will be invisible) to have your post included or excluded from cross-posting.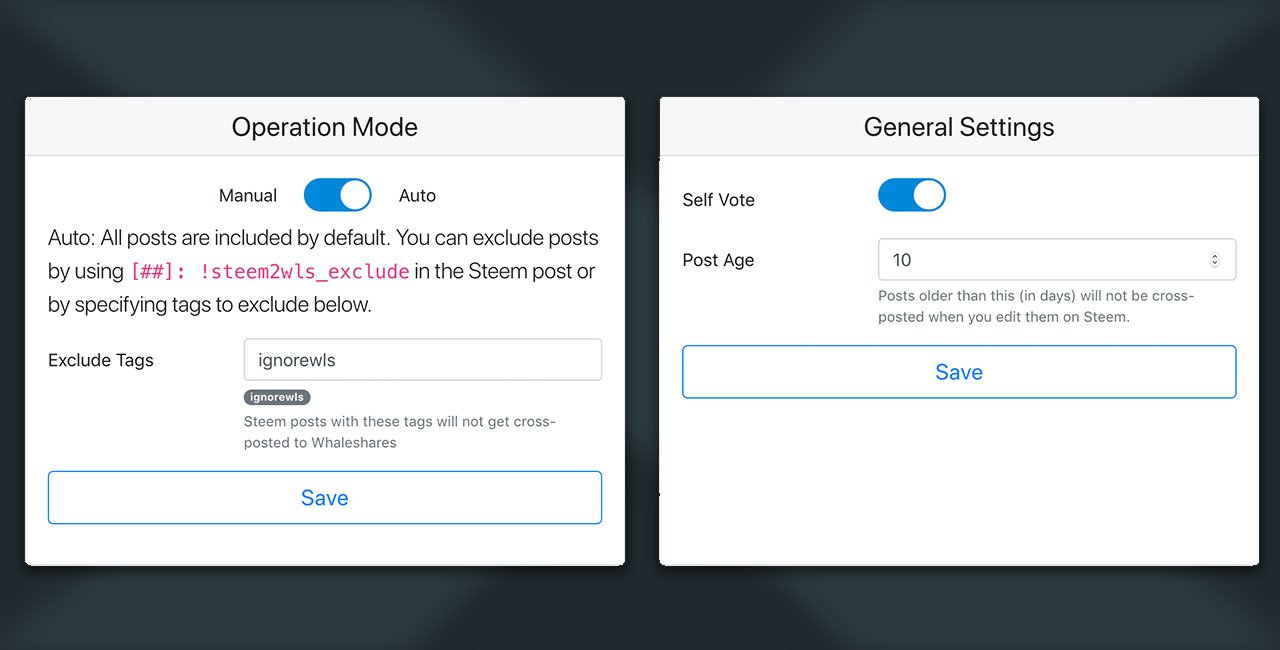 Do you want to cross-post old posts? Fine! Just set the maximum post age to a large number (for example 365 to include all posts from the past year) and then edit your post on Steem (e.g. with Steemit or Steempeak). If it was originally created not longer ago than the post age set, your post will get cross-posted to Whaleshares automatically! Please note that due to Blockchain limitations only one new post can be created every 5 minutes.
---
How much does it cost?
If you link your Whaleshares account during beta you will receive three months of complimentary Premium service. We need to pay for server costs and lots of coffee, so after that, you can choose to either renew the Premium service for 1 SBD per month or 10 SBD per year or will be downgraded to the Basic service. While Premium brings you unlimited posts, instant cross-posting and updates your posts edited on Steem in Whaleshares automatically, the Basic service is limited to only one post cross-posted once per week. We firmly believe that if you post quality content a few times a month, the additional post rewards on Whaleshares will be more than enough to pay for the moderate price of 1 SBD. We will also be giving away free Premium days once in a while - read until the end of this post to learn how to receive free Premium days!

---
Roadmap
We have many ideas for upcoming features:
Customise the tags to use on Whaleshares
Search and replace in your posts automatically - for example, if you have a "recent posts" section in your posts replace the steemit.com with whaleshares.io links
Customise or remove the footer that gets added to your Whaleshares posts
Add a custom delay
Which features would you like to see? Tell us in the comments or join our Discord
---
What does this mean for Steem?
Not everyone will like steem2wls since some believe that Steem profits from exclusive content and see Steem clones as a threat. We disagree - just take a look at #travelfeed, Steem has lots of excellent exclusive content already and is still a very small platform. What Steem needs to succeed is mainstream content on dApps; Sharing this content that often contains a link to the dApp promotes Steem and its dApps rather than devalues Steem in our opinion. Steem's real competitors are traditional platforms, not its clones with tiny user bases - Steem clones such as Whaleshares act as a sandbox to try out new features and concepts such as Whaleshares is doing with a 14-day reward window. These features may be implemented into Steem if proven successful.
SEO-wise, by default the Whaleshares posts posted through steem2wls contain a backlink to the original post on steemit.com at the end of the post. If enough users are interested in this feature, it will be possible to set a custom delay for cross-posting in the future.
For content creators, the possibility of getting post rewards on two platforms instead of one makes cross-posting a no-brainer.
---
Who is behind steem2wls
steem2wls is developed and maintained by @jpphotography. I was very sceptical about Whaleshares at first, but it is more than "just another Steem clone" and a decent community has formed over there. My main platform will always be Steem, but I enjoy going through my feed and answering comments on Whaleshares a few times a week. Seeing a lot of users cross-posting manually from Steem I wrote a Python script (open source on Github) to automate this, but I realised that non-developers would love to see a dedicated service for this purpose. steem2wls.rocks is written in Python using Flask and Beem by @holger80. I will consider open-sourcing it in the future.
---
Frequently Asked Questions
Does steem2wls charge beneficiary rewards?
No, steem2wls does not set any beneficiaries, neither in the Premium nor in the Basic version. We don't want to take a cut from your hard-earned rewards!
Is it safe?
We store your private Whaleshares posting key. Since Whaleshares does not offer any token-based service such as Steemconnect yet this is the only way we can cross-post on your behalf. We will never abuse your private posting key and aim to protect it as good as possible, but no system is unbreachable and in case we ever got hacked, hackers could get access to your private posting key and post and vote from your account until you change your keys. Your private posting key can be used for voting and posting from your account, but not to transfer your funds.
Can I pay in STEEM?
Yes! Any STEEM sent will be automatically converted to SBD for the current internal market rate.
Can I only buy a Premium subscription for 30 or 365 days?
No! You can send any amount higher than 0.001 SBD/STEEM to the Steem account @steem2wls and the correct amount of days will be applied automatically. If you send 10 SBD or more, the yearly discount will be accounted for automatically.
Can I send steem2wls Premium as a gift?
Yes! Simply send a transfer to steem2wls and put the username of the user you want to gift steem2wls Premium to in the memo field. This user needs to have registered with steem2wls already (=linked their Whaleshares account), otherwise the Premium subscription will be applied to the account sending the transfer. If neither the account in the memo nor the account sending the transfer have registered with steem2wls, the transfer will be refunded to the sender.
---
---
Join our Discord
steem2wls is currently in Beta, this means that bugs can occur. If you notice anything, we will be grateful if you report them on our Discord. Also, we would love to hear your ideas for steem2wls! In the future, there will also be giveaways of free Premium days for Discord members, so it pays to join ;)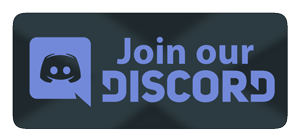 ---
Do you agree that steem2wls rocks?
Resteem this post on Steem for a chance to win one year (365 days) of Premium* (minimum 200 followers)! One lucky winner will be chosen in 7 days (December 6th).
Write a post why you think that steem2wls rocks on Steem and share it to Whaleshares using steem2wls. The best three posts will be chosen on December 10th and the winners will receive a Premium subscription* for one year (365 days); Each eligible participating author who does not win will receive 30 Premium days*. Remember to tag #steem2wls so we can find your post!
*Premium upgrades obtained through giveaways can be given only to the participating user and not be gifted.