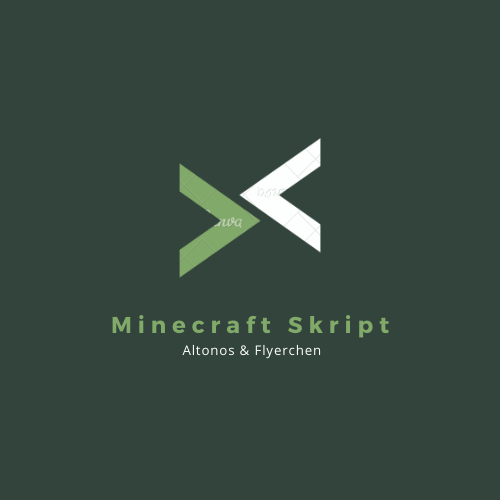 Das Wochenende naht, aber nicht ohne ein Update um den Kampf in Minecraft attraktiver zu machen.
Update Nr. 6 für das Kampf-Script
Mit dem neuen Update haben wir ein Boss-Skelet implementiert. Ähnlich wie unser Bosszombie ist dieser recht stark und hat besondere Attacken im gegensatz zu normalen Skeletten.
Das Boss-Skelett verfügt über 12 Herzen, eine Diamantrüstung und einen verzauberten Bogen mit Flamme. Es wird im Kampf also schon mal schnell heiß.
Seine besonderen Attacken sind zum einen Knockback, sprich der Spieler wird zurückgestoßen, zum anderen spawnt er Spinnenweben um den Spieler zu verlangsamen.
Wie der Kampf gegen das Boss-Skelett aussieht seht iher hier im Video:

Noch ein paar Bilder vom Code: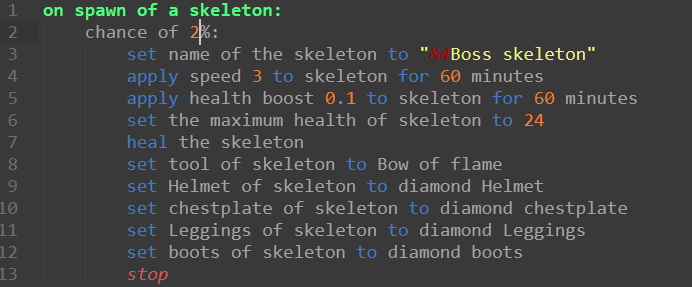 Optmierung der Scripte
Wir haben ebenfalls einige unserer Scripte optimiert, sodass sie auf nicht ganz so Leistungsstarken Servern besser laufen ohne unnötige Ressourcen zu verbrauchen.
Folgende Scripte wurden optimiert:


Download
Die immer aktuelle Version des Skriptes könnt ihr auf Github downloaden:
https://github.com/Altonos/Combat.sk
Beitrag erstellt von @flyerchen
Skript von @altonos
Über einen Upvote von euch würden wir uns sehr freuen. Gerne könnt ihr auch Wünsche und Ideen als Kommentar hinterlassen für zukünftige Updates oder neue Scripte.
Englisch version (google translate):
The weekend is approaching, but not without an update to make the battle in Minecraft more attractive.
Update #6 for the battle script
With the new update we have implemented a boss skeleton. Similar to our Bosszombie this one is quite strong and has special attacks in contrast to normal skeletons.
The boss skeleton has 12 hearts, a diamond armor and an enchanted bow with flame. So it gets hot quickly in battle.
Its special attacks are on the one hand knockback, meaning the player is pushed back, on the other hand it spins cobwebs to slow down the player.
How the fight against the boss skeleton looks like can be seen here in the video:

Some more pictures of the code: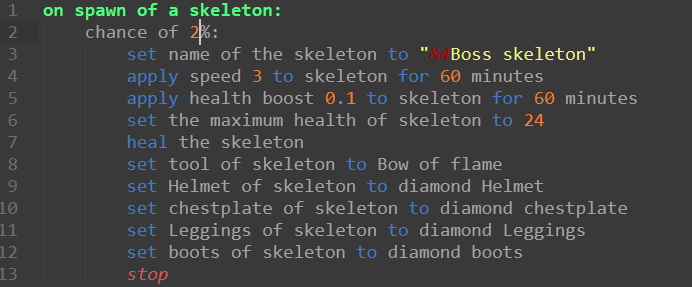 Optimizing the scripts
We have also optimized some of our scripts so that they run better on less powerful servers without consuming unnecessary resources.
The following scripts have been optimized:


Download
You can download the always up-to-date version of the script from Github:
https://github.com/Altonos/Combat.sk
Post created by @flyerchen
Script from @altonos
We would be very happy about an Upvote from you. You can also leave your wishes and ideas as a comment for future updates or new scripts.