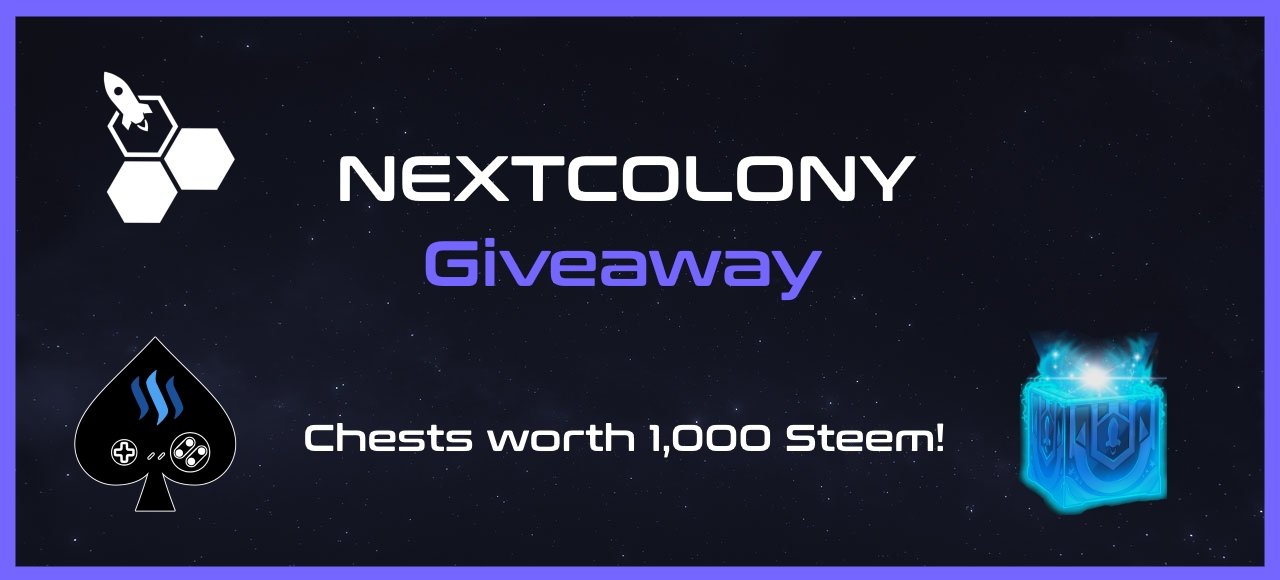 Today we have something special for our @nextcolony players and everyone who wants to start the journey in this wonderful Steem blockchain game.
We are giving away ressource chests for the game worth 1,000 Steem! Yes you heard it right, that's a pretty awesome number so it won't be that easy to win, but everyone has a chance. We will use them for multiple contests. This one is the first contest.
At this point we want to thank @nextcolony for giving us the chests for a giveaway to our great SteemAce community. We really appreciate that.
How to participate in the giveaway
It's very easy to take part. You have to make a post or even multiple posts (if you want) about NextColony. You can write about whatever you want as long as the topic includes NextColony. It could be a gamereview, a tutorial, something creative, or whatever you can think of. It could even be a video.
There are three simple rules:
Use the tags #steemace and #nextcolony
Write something about Nextcolony
Post your content until 26.07.2019 at 22:00 UTC (one week)
Our team will choose the highest quality posts and will reward the chestss according to that.
What we are giving away exactly:
1x Imperium Chest (99 Steem)
2x Huge Chest (49 Steem)
For the next contests we have 4x Imperium Chests and 8x Huge Chests left. We will give them away in the following weeks, so don't forget to follow us.
If you don't play it yet you could start with it now and write about your first experience. A Chest would be a great boost for the beginning. Start your journey in NextColony with this link.
What is NextColony?
NextColony is a space simulation strategy game on the Steem blockchain where you are able to explore and fight. You start with a single planet where you build your base on. When your colony is advanceddvanced enough you can build the first ships and explore the galaxy. If you are lucky you will find another planet or even multiple ones.
You can always decide if you want to be a friendly explorer of the galaxy or if you want to build big battleships to fight your enemies.
Everything you do is saved on the blockchain. If you find a planet for example it is 100% yours. If you want you can sell it to another player or use it as a base for new explorations.

We are looking forward to your posts and we will constantly scan post on Steemace with the tag #nextcolony.
Important links
(All rewards of this post go to @good.game except GG Tokens which will be burned