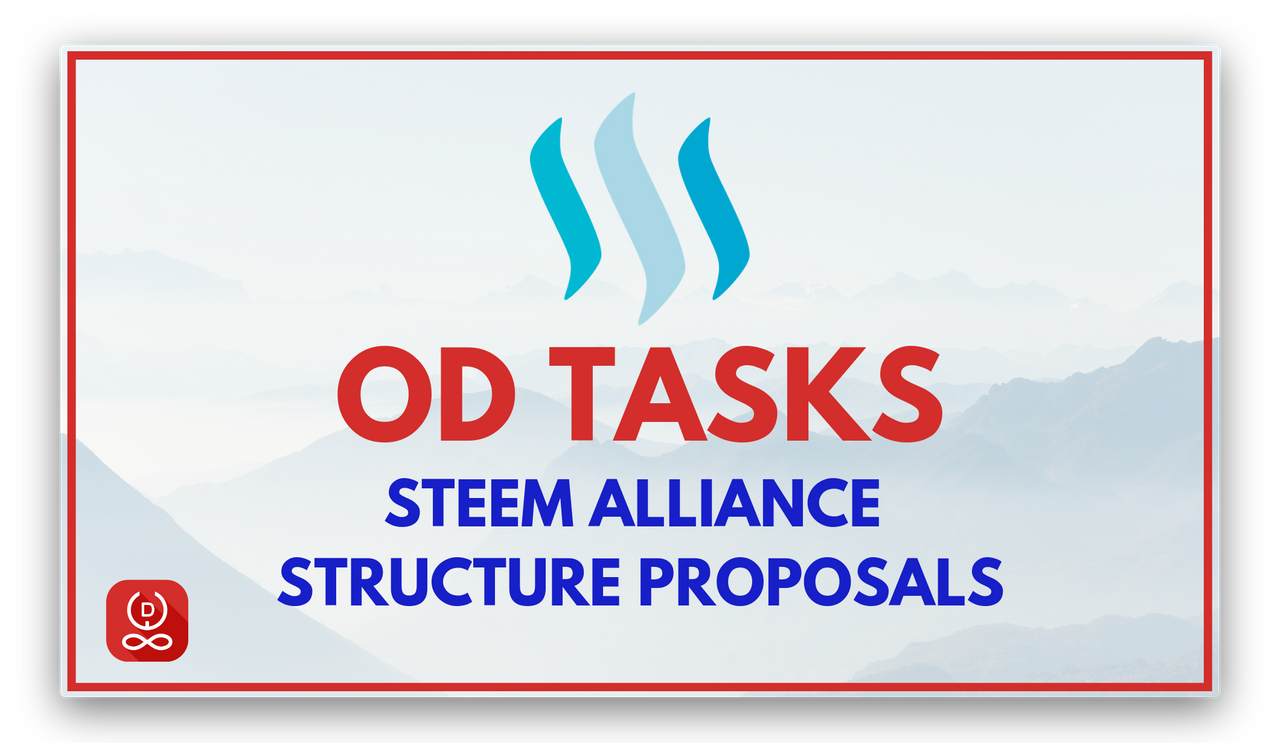 Hello Everyone, we are here with yet another task and this time in collaboration with @steemalliance. Do you know that voting for "Structure Proposals" will begin soon. And we need your help to find the best proposal for us.
REWARDS
Every blog that meets Oracle-D requirements & guidelines mentioned in this blog will be rewarded with upvotes based at our own discretion.
TASK DURATION
Start date: 5th - APR - 2019
End date: 10th - APR - 2019
MANDATORY GUIDELINES
Share all your entries as a comment under this blog - Task #7: Steem Alliance Structure Proposals Contest.
GOALS
To provide an objective and easy to understand description as well as a comparison of the Final Structure Proposals for The Steem Alliance Community Foundation.
Analysis and review of the Proposals can/will be used by voters to have a clear idea of how the structures differ so they can make an informed decision while casting their votes.
PROJECT/CLIENT DETAILS – Background Research
The Steem Alliance(@SteemAlliance) is an idea of a community coming together to build a foundation with the collective goal of improving Steem as a whole.
The goal of this future foundation is to be the combined "face of the chain", working alongside additional groups as well as Steemit Inc. to better the Steem platform together. With a main focus on helping to push Steem into the mainstream arena with focus on marketing, upkeep of Steemit.com, development of steemd, outreach and Steem events. Funding would need to be fundraising/profit based but also with large seed from Steemit Inc. itself.
The goal of this Working Group is to oversee the establishment of the future foundation while ensuring transparency, fairness and that the community's voice is heard. Once the foundation is established, Working Group is disbanded.
Election Schedule for Structure Proposals:
April 5th - Final Call For Structure Proposals Cut Off
April 8th - Voter Registration Deadline
April 10th - 17th - Election For Structure Proposals
TO DO
(1) EDIT: Check this list of final proposals: https://steemit.com/steem/@steemalliance/attention-community-here-are-your-choices-or-final-structure-proposals-that-will-go-to-the-vote
(2) Check this blog to get familiar with the schedule and the list of proposals submitted so far: Extended Voter Registration Deadline, Schedule Updates and Chosen Voting Method For Election.
(3) Create a comparison & review blog or video of the "Final Proposal List" shared as mentioned in the first point above. Read next section (Parameters For Comparision) to get some idea.
(4) Use tags #steemalliance #proposalcomparison
Parameters For Comparision (but not limited to) –
Main Goals (What does the foundation want to achieve?)
Primary Structure (Non Profit/For Profit etc)
Leadership Structure (If there is leadership, how is it structured? Who chooses the head and tail of the directive group?)
Decision-Making (How will decisions within the foundation be made? And by who?)
Funding Allocation (Who will be approving funding and how will it be distributed?)
Community Involvement (How will the community be involved, if at all?)
Transparency/Accountability (How will the foundation ensure transparency and how will the community be able to hold them accountable?)
Points To Be Noted
The goal is to keep these short and to the point while covering important information.
A short overview for each proposal that is no more than a short paragraph.
It would be optimal to include a graph or table to compare the proposals side by side per each topic. (Example; https://www.diffen.com/difference/Electoral_Vote_vs_Popular_Vote)
Do not include your personal opinions. The goal here is for an objective comparison.
If you have any questions, please let us know here or in The Steem Alliance Discord Server
SOME COMMON GUIDELINES TO FOLLOW
Please follow these guidelines for best results and high upvotes:
Create only high-quality professional blogs, videos, images, graphics etc.
The article must be at least 600-1200 words in length.
Follow the instructions and task specific details.
Original content only. Plagiarism will get you banned.
Enjoy your task and upvotes.
---