What am I offering?
Goblin Shaman
Rarity : Common
Element : Fire
Level: 1
Usefulness: useless (see bellow)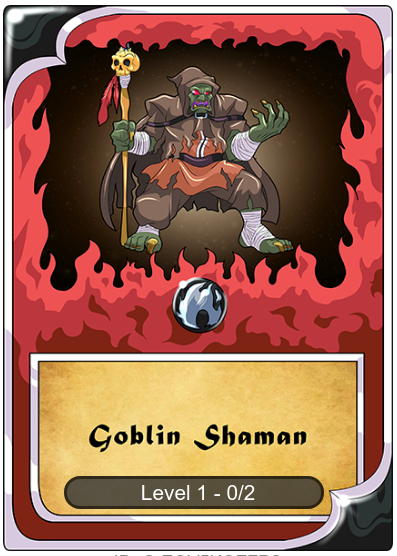 More about him (price justification)
He should be training and training for upcoming battles
But all he does is running around and chanting
He is chanting dance of RAIN! What in the world?
Since when fire messes with water?!?
I'm sick of raining on my training camp, mud everywhere, I WANT SUN!!!
I want him out of here! Now! Actually yesterday!!!
Auction Details
Opening Bid: 0.001 SBD!
Buy It Now: hidden, but not really high
Auction Ends after seven days or buy now price is reached
How To Place Your Bid
Reply (directly) to the post with "bid x"
Example: bid 0.002
Wait for the bot to log in the bid.
You will get a reply when you are overbid.
If you want to revoke your bid, reply to your bid comment with: revoke bid
The card will be transferred to the highest bidder after the end of the auction and after payment has been received