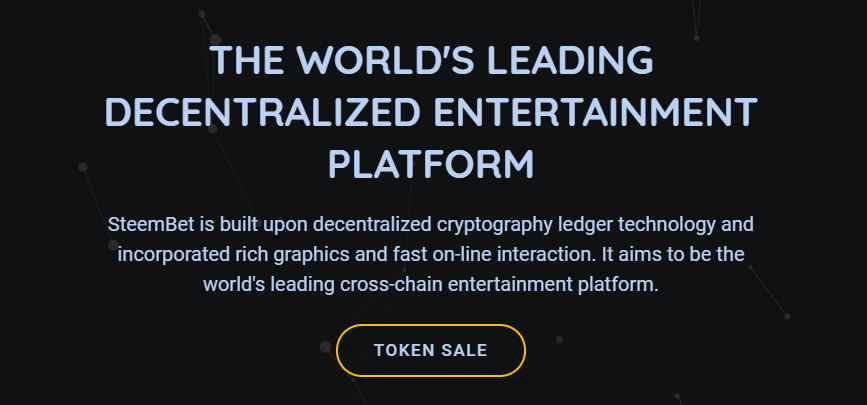 INTRODUCTION
The first thing you see when you enter the Steem-bet website is a button with Token sale which is interesting of course, because you can see they are still in the early phase of the pre-sale of their token. Personally, I want to know some more about a platform before I consider investing in their token. And although I've heard about Steem-bet before, I actually never used it before I visited their website. Before doing any research about the token sale of Steem-bet, I will see if they have my interest by logging in to the website and play some Dice. I've heard about people winning some Steem by playing it, so I want to try it out myself. That way I can also experience first hand if I find the website user friendly.
EASY LOGIN
The login process is very easy and fast, you won't have to go through hoops to explore the website being logged in. Below you can see the login process of Steem-bet.

To login to Steem-bet you click on the login button on the right top of your screen. You will be redirected to the following page: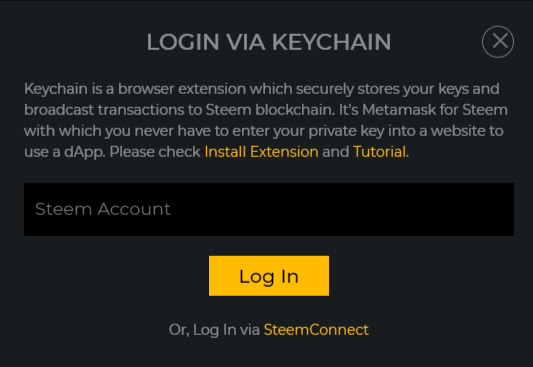 The first option you have to login, is by using Keychain. If you don't have this installed on your device yet, there's an Install Extension and Tutorial in the same pop-up as well.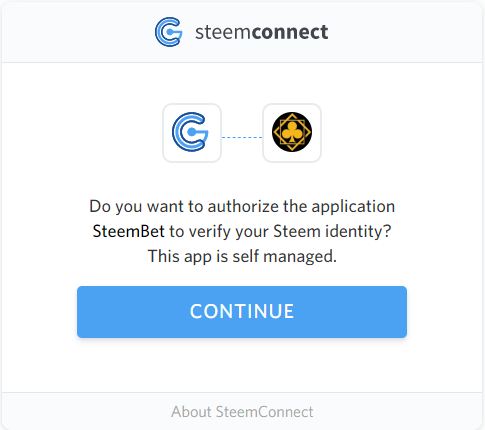 If you prefer using Steemconnect you can also click on "Log In via Steemconnect" and choose that option. In my case I used this option. You have to give permission to Steemconnect, and once you've done this, you will see the following pop-up:

You're now succesfully logged in.
---
PLAYING DICE
To play Dice go to Steem-bet website and click on the Dice button.

Once you've clicked on the Dice button, you will see this image below: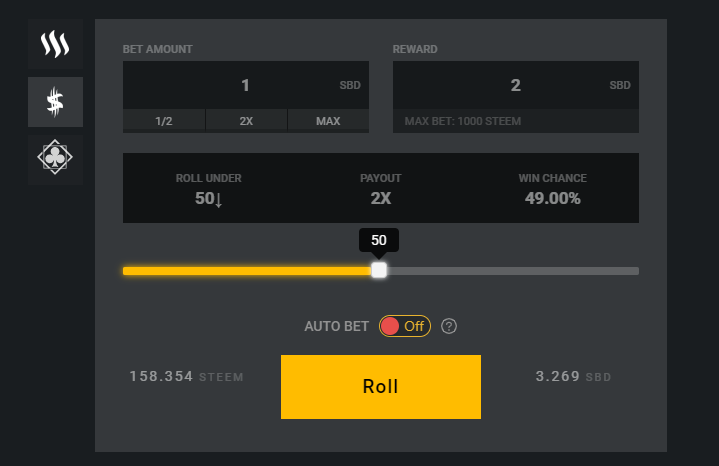 The game is new to me, so I had to figure out what to do to play Dice. First you have to select if you want to play Dice with Steem, SBD or SBT. I selected Steem: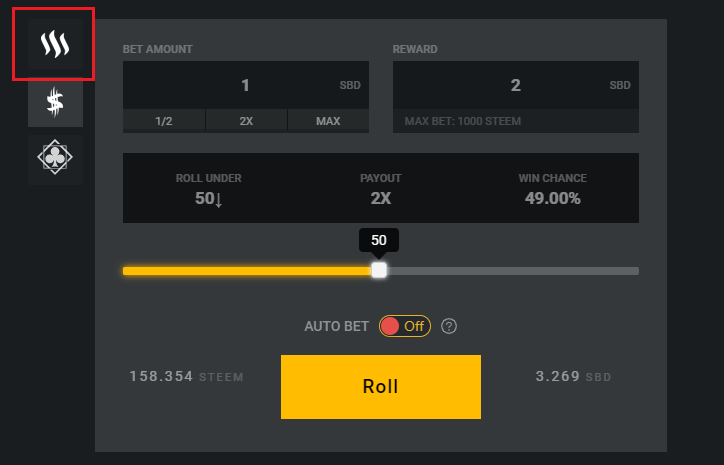 Then you have to fill in the Bet amount":

I filled in 1 Steem. On the right you can see how much you will win if your bet was correct. But first you have to move the slider by saying if you want to bet on a number under 2 to 95. Of course the amount of Steem you will win will be higher once you select a lower number. Because the higher the odds you'll lose, the higher the amount you wil win.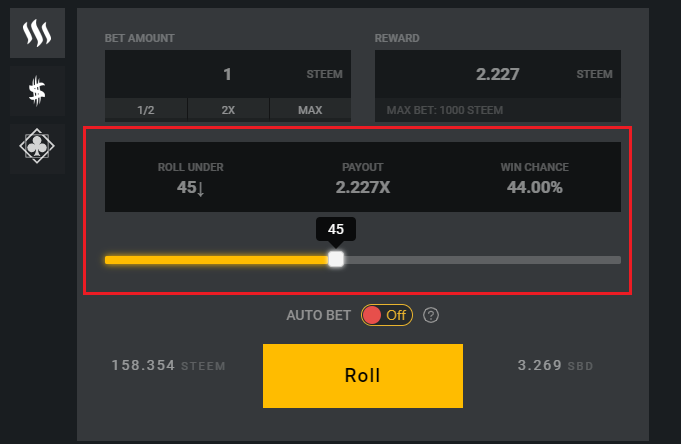 I filled in Under 45 meaning I will win 2.227 Steem if I'm correct about the number being under 45. You can see the amount on the right top: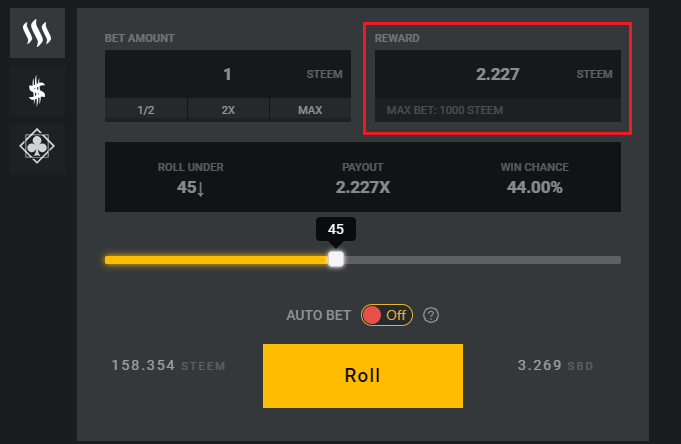 To start the game, click on the Roll button: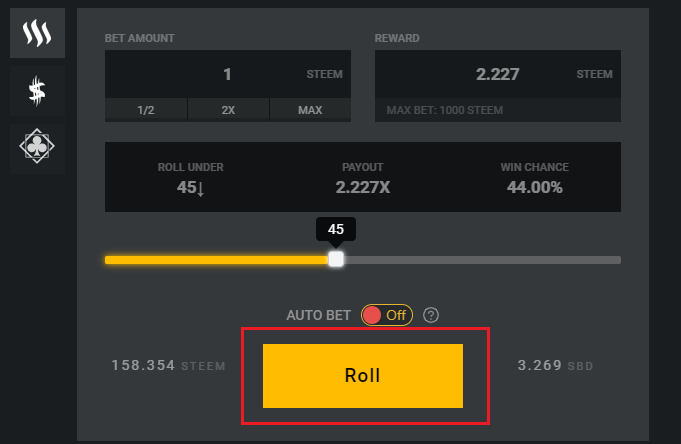 Now you need to make the transaction via Steemconnect like when you make a normal transfer on Steemit. You will see this pop-up once you clicked the roll button: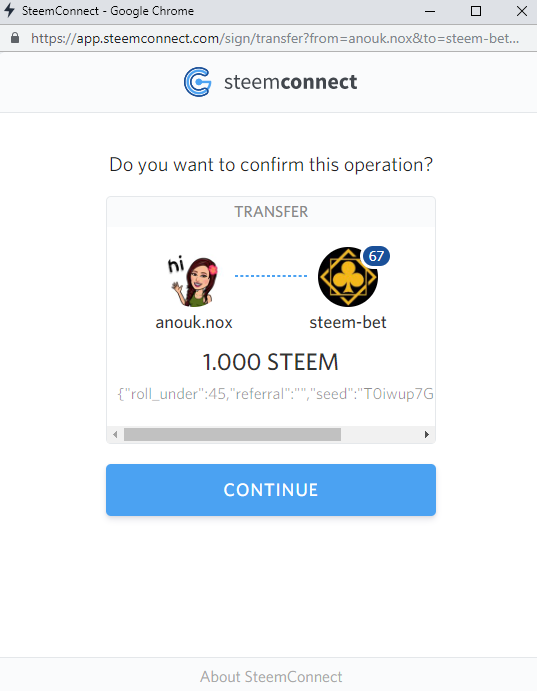 After the transaction has been made, you will see this pop-up from Steemconnect: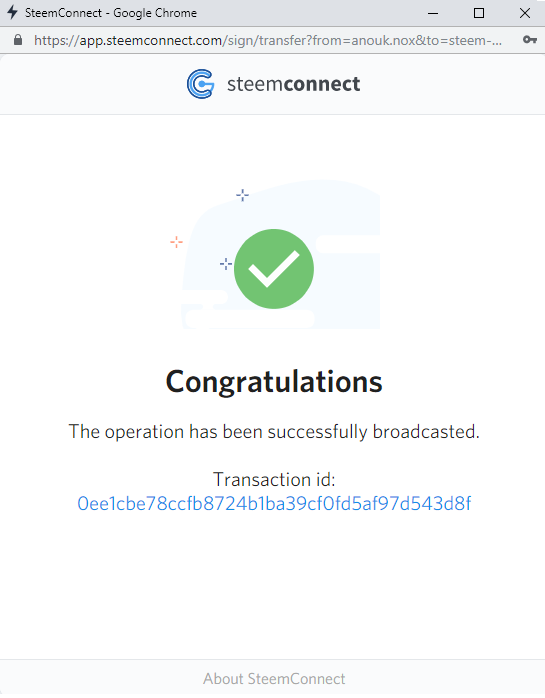 After this it wasn't clear to me if I won, or not. So I decided to go to my Steemworld page to see what happened after I made the transaction. I saw that I won, because there was a transfer from Steem-bet with 2.227 Steem:

Then I noticed that below the Dice screen where I just made my bet, you can see all the games that have been played. And mine was there as well:

I decided to play a few more games which I all won.
---
CONCLUSION
Although it's very tempting to keep playing, I decided it was enough. I'm quite sure my luck wasn't going to be there forever. You can easily get carried away playing this. Therefore it might be a smart idea to buy in the SBT token if you're interested in playing this game via the Steem-bet website. I will research how that works another time, because I'm curious to see how that works with the token instead of using Steem or SBD.
Did you already try playing Dice at Steem-bet yourself? And if so, did you use Steem or SBD, or did you play by betting with the SBT token? Leave your comments below if you want to share your experience.
---
**DISCLAIMER** This is not financial advice, nor a guarantee or promise in regards to any result that may be obtained from using the above content. The information provided here is for informational and entertainment purposes only. It should not be considered as financial and/or investment advice. No person should make any kind of financial decision without first consulting their own financial adviser and/or conducting their own research and due diligence.