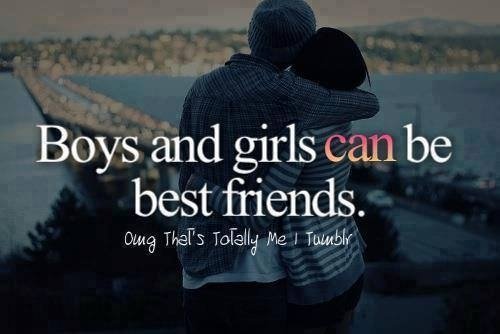 Source
You must know that opposite friendship is beautiul if done with:(Contd.)
2. In Purity: This is surrendering your friendship to the governing influence of the Holy Spirit. There are unholy things you can't do in such friendship. Your aim should be to please and honour God in the friendship not each other.
3. Live by the Word: God's word reveals His will, so we must walk in line with His word. For example look at this verse:
"Rebuke not an elder, but in treat him as a father; and the younger men as brethren; older women as mothers, younger women as sisters, in all purity."(1Timothy 5 : 1-2 IUV).
You see from the above passage Apostle Paul telling Timothy his son in the Lord on treating young girls as sisters, not as sex tools, not an emotional expression channel, not an expression of erotic desires. He said treat them in all purity, which means walking in the fear of God and doing His will in the friendship. This is one of the principles in God's word about opposite sexfriendship.
4. Walk In Love: You don't fall in love but you walk in love (Ephesians 5 : 2), this is because when you walk in love; you walk with God, because God is love. Read 2 Corinthians 13 on the characteristics of love.
5. Understand your Role in their ilves: Don't from friendship you begin to act like a lover, their husband or wife. You act as though you are their parent, na wa for you oh! Walk by principles and set boundaries for yourself when relating with them, to avoid temptations. Depend of God's Grace and not on your strength.
6.'What is your motive for friendship with the opposite sex:No matter how you feel you must have the motive of honouring God in the friendship not yourself or the devil. Always remember that the Girl who is your friend is God's Princess and the Boy is God's Prince and we are first brothers and sisters in Christ before anything else, we must treat ourselves in love unconditional, honour and respect...
7. Pray: Prayer is key in building anything in life. When we don't pray we faint ( Luk 18 : 1), This is why most people faint in their friendship with the opposite sex. The power of prayer can never be overemphasized, especially as we want to build friendship with the opposite sex for the glory of God. You must spend time to Pray for your friends, so you can align yourself to walk in God's will in the friendship.
God loves you dearly, He is the best friend you can ever have.
LIFE IS ALL ABOUT JESUS CHRIST.
Do well to encourage me with your upvote, resteem and comments
Thanks for reading.