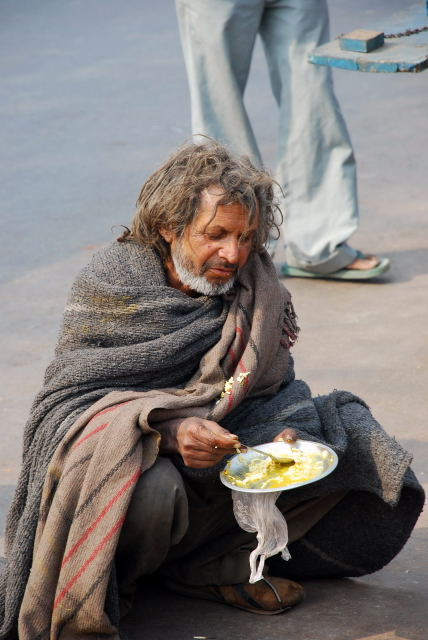 source
The night overturned all its harshness on the lights of the city. In the desolate corner of some warehouses abandoned to their fate, a light frozen by the cold was projected on an improvised cardboard house. Inside, a huddled silhouette was stirring looking for the warmth of a small bonfire that sizzled in the semi-darkness struggling to survive the night.
The beggar was of an indefinite age, as all men who have been abandoned to his luck, his long straight hair and his beards swirled around his face, they did impenetrable to time, only his living look betrayed that he would not rise to fifty. its thin body was wrapped in an old coat full of costurones. He poked the fire and unpacked a crust of bread along with
a wine brik and a couple of cans of sardines in oil. The heat of the wine began to heat up little the inside of his body.
While he was noticing the piece of bread and one of the cans of sardines, he began to stir inside a faded backpack and to take, little by little, some Christmas figurines that rested in the bottom of the bag. The portal of Bethlehem with the child Jesus, Saint Joseph, the Virgin, the burrito with the cow, some little shepherds of cheerful and playful aspect, the three
Kings on camels, everything began to take positions in a corner of the shanty.
His tired eyes met the smiling look of the baby Jesus, who seemed oblivious to the cold from the outside. His eyes covered with tears, which began to slide to the small figurine Suddenly, a beam of light began to emerge from the tiny clay hands covering with its light inside the shack. The beggar began to retreat at the same time The figure of mud grew before its perplexed sight, until reaching a real size. Looked like as if the Birth had absorbed the environment in which it was and the beggar will begin to be part of the new scenario. His position next to the Child that was now real, it made him feel part of another time and another place. The cold had been replaced by a comforting warmth that emanated from inside the manger.
The boy extended his arms towards the figure that was overflowing with a forgotten happiness and the Beggar disappeared between blinding lights.
Now, my birth has a figure of a poor man next to the Child Jesus his little clay face has a smile hidden in the folds of his beard that falls in love everyone who looks at this figurine.