---
---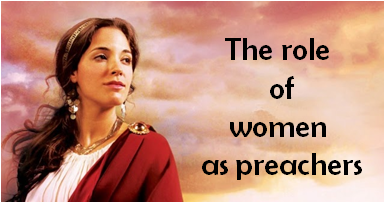 Source
Greetings, community
@steemchurch
. On this occasion I want to talk to you about women preachers, those who preached in the first Christian communities. some people only have as references in the Bible to Mary, Mary Magdalene, Salome, Ruth or Sarah, but there have been others who have acted as women preachers, women who have been bearers of the Word of God.
The first women in the Christian communities are not reduced to being simple collaborators, but women who were in charge of communities to teach them about the word. Women like Priscilla, Phoebe and Junia who dedicated themselves, together with their husbands, to share and extend the Sacred Word. Here are their stories:
Priscilla She is a Hellenistic Jewish woman, she is a fervent follower of Jesus. She and her husband were building tents, they were exiled from the city by an order decreed by Emperor Claudius, as shown in Acts (18: 1-2):
Paul in Corinth
After these things, Paul left Athens and went to Corinth.
And he found a Jew named Aquila, a native of Pontus, newly arrived from Italy with his wife Priscilla, because Claudius had ordered all the Jews to leave Rome. It was to them,
These spouses accompanied Paul on his return trip to Ephesus, a fact that is evidenced in Acts (18: 18-19):
But Paul, having remained many days there, then took leave of the brothers and sailed to Syria, and with him Priscilla and Aquila, having shaved his head in Cenchrea, because he had made a vow.
And he came to Ephesus, and left them there; and entering the synagogue, he argued with the Jews,
Priscilla and her husband, Aquila, are credited with the conversion of Apollo, an eloquent Jew who had studied the Scriptures and announced Jesus in the synagogues, as he says in Acts (18: 24-26):
Apollos preaches in Ephesus
A Jew named Apollos, a native of Alexandria, an eloquent man, powerful in the Scriptures, came to Ephesus.
He had been instructed in the way of the Lord; and being of fervent spirit, he spoke and taught diligently concerning the Lord, although he only knew the baptism of John.
And he began to speak boldly in the synagogue; but when Priscilla and Aquila heard him, they took him aside and explained more exactly the way of God.
These husbands from there started and created a Christian community in Rome. Paul in his writings declares on the testimony of fidelity that the spouses gave him, a fact that is evident in Romans (16: 3-5):
Greet Priscilla and Aquila, my collaborators in Christ Jesus,
who exposed their life for me; to whom not only I give thanks, but also all the churches of the Gentiles.
Greet also the church of your house. Greet Epeneto, my beloved, who is the first fruit of Achaia for Christ.
Phoebe
It was another woman who took the word of God. Paul is an apostle who recognizes the value of women in the Christian community. Just as he emphasized the qualities of Priscilla, he does them with Phoebe who is the deaconess of the church in Cencrea, as stated in Romans (16: 1-2)
Personal greetings
I also recommend our sister Febe, who is the deaconess of the church in Cencrea;
that you receive it in the Lord, as it is worthy of the saints, and that you help it in whatever it needs of you; because she has helped many, and myself.
Thus, as Phoebe deaconess assumed the position of emissary among the communities, Paul was favored with this election to achieve acceptance in the Church of Rome and therefore could carry forward his missionary project to Spain, as stated in Romans (15 : 22-24)
Pablo intends to go to Rome
For this reason I have been prevented many times from going to you.
But now, having no more field in these regions, and wishing for many years to come to you,
When I go to Spain, I will go to you; because I hope to see you in passing, and be routed there for you, once I have enjoyed with you.
This is how Phoebe helps Paul reach beyond to carry the Word of God.
Junia
This woman also expresses the responsibility they had in the spread of the gospel. Paul in his letter to the Christian community expresses, Romans (16: 7):
Greet Andronicus and Junias, my relatives and my fellow prisoners, who are highly esteemed among the apostles, and who were also before me in Christ.
Andrónico and Junias are known by Pablo, they are Hellenistic Jews as the great majority of their time had to emigrate to Rome, by persecution and intolerance. They were imprisoned with Paul and suffered the consequences of Faith for Jesus. Junia is known as an apostle like Andronicus and others.
Pablo is one of the pioneers in ratifying in his letters the service that the woman has done for the spreading of the Sacred Word. This participation of the woman in the service of the Gospel has led her to make a figure committed to the growth and propagation of the Word of God. It is to be considered, that in the biblical texts we can find other feminine figures like Cloe, Nymph and others.