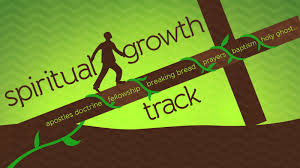 Source
Spiritual Growth and maturity is a course that begins when a person accepts Jesus Christ as Saviour. He or she is born again of the Holy Spirit and then chooses to live "in Christ."
The Apostle Paul said that spiritual growth is a continuing process, an unending course.
"Not as though I had already attained, either were already perfect: but I follow after, if that I may apprehend that for which also I am apprehended of Christ Jesus. Brethren, I count not myself to have apprehended: but this one thing I do, forgetting those things which are behind, and reaching forth unto those things which are before, I press toward the mark for the prize of the high calling of God in Christ Jesus." (Philippians 3:12-14).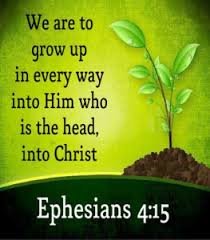 Source
Even the Apostle Paul had not arrived, yet he persistently pressed toward the prize.
Therefore, in order for you to grow spiritually, you must make a choice to learn God's Word, Let God renew your mind, and then be submissive and compliant to what you learn, be obedient. Romans 12:1-2 says,
"I beseech you therefore, brethren, by the mercies of God, that ye present your bodies a living sacrifice, holy, acceptable unto God, which is your reasonable service. And be not conformed to this world: but be ye transformed by the renewing of your mind, that ye may prove what is that good, and acceptable, and perfect, will of God."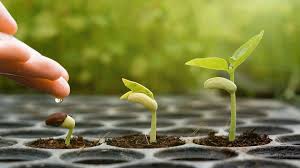 Source
Accomplishing Growth
What are the letters of spiritual maturity? Spiritual maturity is learning how to walk in obedience, submission and reverence to God. It is making the choice to live by God's viewpoint rather than your human viewpoint or will. Galatians 5:16 and 25 give the key,
"This I say then, Walk in the Spirit, and ye shall not fulfil the lust of the flesh.… If we live in the Spirit, let us also walk in the Spirit."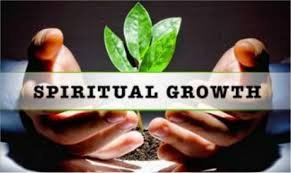 Source
The word "walk" in verse 16 is from the Greek word peripateo, which means "to walk with a purpose in view." The word "walk" in verse 25 is translated from another Greek word stoicheo and it means "step by step, one step at a time." It is learning to walk under the teachings and instruction of another. That person is the Holy Spirit. Since believers are indwelt by the Spirit, they should also walk under His control.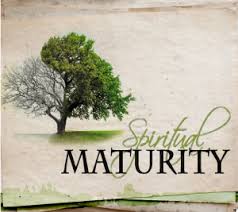 Source
How can you learn to walk in the Holy Spirit's control? You study God's Word! 2 Timothy 2:15, 3:16-17 instructs us,
"Study to shew thyself approved unto God, a workman that needeth not to be ashamed, rightly dividing the word of truth.…All scripture is given by inspiration of God, and is profitable for doctrine, for reproof, for correction, for instruction in righteousness, that the man of God may be perfect, thoroughly furnished unto all good works."
This is good real-world instruction on how you become spiritually mature. It is not done by osmosis, but it is done by choosing to apply God's Word in your everyday circumstances. As you walk side-by-side and step-by-step, applying God's Word to your life, you will grow spiritually.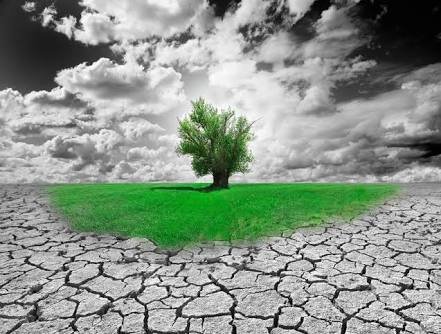 Source
Spiritual Growth and Maturity should be a priority for you; there should be an urgency in you.
"Anyone who lives on milk, being still an infant, is not acquainted with the teaching about righteousness. But solid food is for the mature, who by constant use have trained themselves to distinguish good from evil" (Hebrews 5:13-14).
As a believer, you are not to be milk-fed. Instead, you are called to chew on the "meat" of God's Word. Discover God's truth by comprehensive Bible study and feed yourself spiritually. Then apply that sustenance to your life as you walk in the Holy Spirit.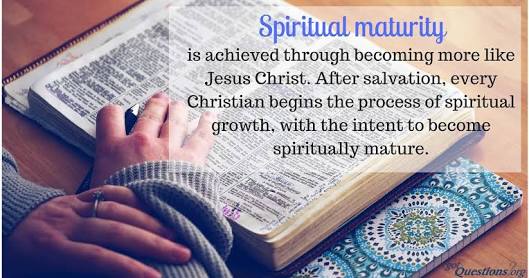 Living In Christ
In order to experience spiritual maturity, you must also understand that growth comes by grace and it is God alone who is your source. 2 Peter 1:3-9 reminds you that God is the source.
"According as his divine power hath given unto us all things that pertain unto life and godliness, through the knowledge of him that hath called us to glory and virtue, Whereby are given unto us exceeding great and precious promises: that by these ye might be partakers of the divine nature, having escaped the corruption that is in the world through lust. And beside this, giving all diligence, add to your faith virtue; and to virtue knowledge; And to knowledge temperance; and to temperance patience; and to patience godliness; And to godliness brotherly kindness; and to brotherly kindness charity. For if these things be in you, and abound, they make you that ye shall neither be barren nor unfruitful in the knowledge of our Lord Jesus Christ. But he that lacks these things is blind, and cannot see afar off, and hath forgotten that he was purged from his old sins."
When you became a child of God, you were given all you need "in Christ" to become a spiritually growing believer. However, you are responsible to make a choice! Will you choose to use and apply God's principles to your life? The wonderful thing about being in submission and obedience to God's maturing process is that you will be changed! You don't have to worry about becoming mature. God does the changing! He will conform you to the image of Jesus Christ as you humbly surrender to His Holy Spirit and learn His Word.
Hebrews 13:20-21 says,
" Now the God of peace, that brought again from the dead our Lord Jesus, that great shepherd of the sheep, through the blood of the everlasting covenant, Make you perfect in every good work to do his will, working in you that which is wellpleasing in his sight, through Jesus Christ; to whom be glory for ever and ever. Amen."
Finally, growing in spiritual maturity contains serving others in love.
I'll have to Draw my Curtain here.

Special Acknowledgement:
Special appreciation to the Great @ned for such a platform as #steemit which is a cosmos for creative minds.
A special thanks to the Most Ever Noble @SirKnight for such a great platform as @steemchurch.
Also special thanks to @sciffnscurry for their enormous contribution to @steemchurch.
I Will not forget to appreciate the #Apostles of the first ever church of the blockchain for their enormous and huge effort towards the growth of the church.