Text: I John 5: 4-6
For whatsoever is born of God overcometh the world: and this is the victory
that overcometh the world, even our faith.
Who is he that overcometh the world, but he that believeth that Jesus is
the Son of God?
This is he that came by water and blood, even Jesus Christ; not by water
only, but by water and blood. And it is the Spirit that beareth witness,
because the Spirit is truth.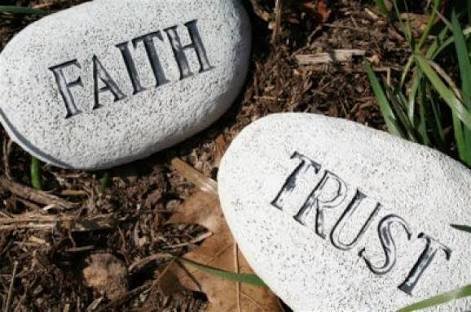 There are many factors that can, for some at least, shut out faith and trust from the heart and the soul. Here are two things which are similar and may often trouble us as a pair Sickness and Sorrow. Sickness, not only in ourselves but also in those whom we love; and then bereavement. Then there are the storms and troubles of life which can bear down heavily upon us. In fact, each one of us may be likened to being in a vessel on the vast ocean of life. Sometimes we will sail in the calmer seas, but the ocean of life is a tempestuous place and by varying degrees, each vessel will need to survive the storms of sorrow, sadness, sickness and trial. Sometimes the storms are short-lived. But for some, the threatening clouds and the battering wind and waves seem as though they were never going to abate.
Let us imagine one going through all these gloominess of life, and has no Christ in their lives, or no knowledge of God's presence, how overwhelming will the circumstances be upon their soul. For such, it will appear as if the grief will not pass, disillusionment get right inside of the heart and soul; with a sense of panic and despair.
Our faith and trust in the Lord must not be allowed to wane and falterFocusing on the unfailing arm of God, His faithful and everlasting love, and His blessed promises and covenants will prevent our spirits from feeling lost, empty and depressed. We have an anchor of faith, trust and hope in the Lord to hold on to. Faith is our victory that overcomes the world. Looking to and staying with the Lord for help, will hold us in that blessed assurance that the Lord is our Help and Shield; and He wilI never leave us nor forsake us.