Ladies and Gentlemen of the steemchurch, I greet you all in the name of our Lord Jesus Christ.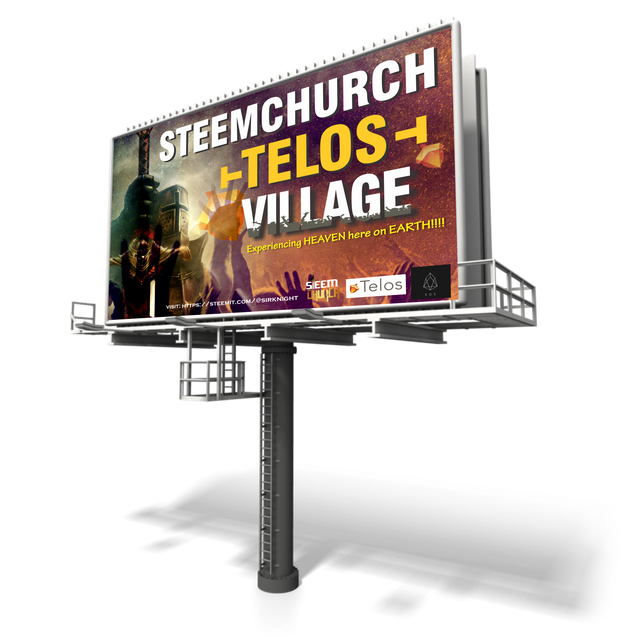 In our last post, we made it known that the Telos expansion has started and I'm happy to tell you all that the expansion is progressing rapidly. According to @sirknight, more than 70 accounts have been created. Thanks to our Golden Knight (@sirknight) and @marciabon, who is our registrar.
Due to the rapid rate at which the expansion is progressing, our very own @ammyluv has been called upon to assist the registrar and the Golden Knight with Telos account creation. This was announced by @sirknight today.
Keep on referring your family and friends to join us in the Telos village. Ask them to complete this form: https://forms.gle/bXR2QS4iaD2wbHE46
Be sure to have them list you (your Telos account name) as their referrer and you will receive a 5 TLOS referrer reward.
---
The Golden Knight announced yesterday that the budget to design SteemChurch Telos Village building will be opened
We do have a marketing budget for SteemChurch / Telos promotion - so this Knight will be opening this part of the budget to SteemChurch Telos Village building designs.
This is a call to all parishioners to get to work and start designing the new virtual village. 500 TLOS will be distributed to the best designs.
This month we need designs for all the current structures which are:
The SteemChurch
The rectory.
The abbey.
Our great oak tree (acorntree).
Our acorn wishing well (acornwell).
Check these posts for more information:
https://steemit.com/steemchurch/@sirknight/steemchurch-expansion-is-gaining-momentum
https://steemit.com/steemchurch/@sirknight/steemchurch-our-telos-village-ryzfoud8
---
Once again, here is the form to join the Telos expansion.
https://forms.gle/bXR2QS4iaD2wbHE46
---
Stay blessed
FF