Have you ever thought of what your eyes could do to your destiny?
Eyes are the instruments on our bodies through which we see the environment around us.
Matthew 6:22-23
[22]"Your eye is a lamp that provides light for your body. When your eye is good, your whole body is filled with light.
[23]But when your eye is bad, your whole body is filled with darkness. And if the light you think you have is actually darkness, how deep that darkness is!
Eyes are very important to the body. Without eyes we are excommunicated from our surrounding.
Eyes help us to see both the good and the evil about others.
How is your eye? What is the condition of your eyes?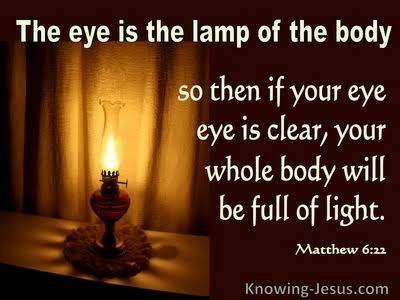 Remember, Our eyes are the lamp to our bodies which bodies are the temples of the Holy Spirit.
Posted using Partiko Android