Welcome to the SteemChurch International Ministry blog
Blessings,
We have been working on a radical change for the church, consolidating from the foundations for the future, it is true that circumstances have not been the most appropriate if we see it with our natural eyes, but if we see it as our spiritual eyes we are in the direction and the right path.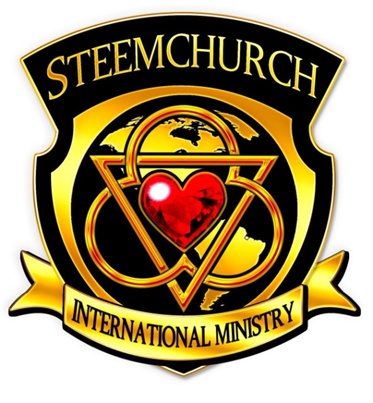 The churches are not effective for the number of members, but for the quality of them, it is useless to have crowds in a chair and that none of us have a heart ready for the work of God, many came here with the idea of obtaining a benefit economic, which is not bad, but on the way we realized that within this benefit would be encapsulated the greatest blessing of the hand of God, so little by little we were building what is today @Steemchurch, and we dream of the vision that God has given us.
It saddens me that many people have passed through here for money, and by not getting what they want, they leave, but it makes me sad for them, not for the church, although it is difficult to accept we must know that God has his chosen ones, and those hearts are Integrity who love him despite his mistakes, those who do not look at man but the Father.
The designs of this church have been revealed to me, in their totality, and in my heart are kept all those things that will come, we are being prepared in every way, to cleanse the earth, God will never give his work to people who do not be aligned with your divine purpose.
My spiritual father told me: Darlenys you have to be prepared for the latter rain, but that late rain will not bless you if you did not work in the early rain, those words were enough for me to realize that we have made mistakes in the early rain of Our church, for a moment we forgot that we had to prepare the land for planting, then we began to deliver seeds to the wrong hands, to believe that we were a beneficent house and obviously that brings certain consequences, but nothing important when the King of Kings and Lord of Lords who is Jesus Christ is on the throne of our project.
Some brothers have written to me that they feel unmotivated, others because of the situation of the steem, the situation of the country, etc. And I have answered: that we can not walk by sight, but by faith, I do not know how God is going to do it, but what he told him about us will do.
I was thinking about this time of transition, and God spoke strongly to my heart:
If things continue as you want, the glory would not be for me, what I'm going to do is so that there is no doubt that I am God. @Sirknight and I are connected with this dream that is Steemchurch but we both have placed our force, now comes the strength of God, because we will not be what we will place the seal of glory but the Almighty.
Those of us who know God, we know how he works, and nothing will fall ready from heaven, if you want to be blessed you will have to leave your comfort zone, walk in faith and obedience, if any have had this as a game, I can say that God is the God of the earth and everything in it, including technological platforms. From here on, you will be responsible for your own destiny.
Do not think that you are the only being on earth, if you despise the blessing, another will come if you take it, you can review the bible when God rejected Saul and blessed David. Everything God says is fulfilled, in Venezuela by example, some people stopped writing and I have seen how God has raised young Christians with presence in the local church, and willing to work for their community that are the youth of Cantuara State Anzoategui, approximately 16 people, and it is time for their opportunity.
BELIEVING GOD
An example of leadership in the Bible teaches us the story of Gideon:
The story tells that this man had to fight against a powerful people. When he counted his soldiers he realized that he had only 32,000 men, and that many of them were not fit for war.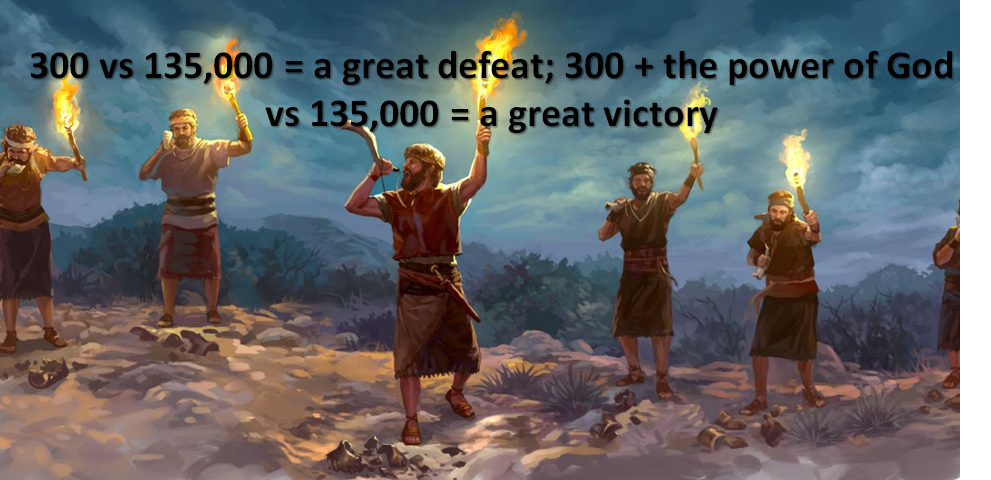 When he communicated the information to his boss (Jehovah), he told him: "Fire those who are afraid", to which Gideon replied: "Lord, why? The enemy army is very powerful in number and armament." Then his superior told him: "because when you go to war they will abandon you".
I have a word for this time and I will walk on it:
"Then Jehovah said to Gideon, With these three hundred men who licked up the water, I will save you, and will deliver the Midianites into your hands." Judges 7.7a (RV1960)
32,000; that was the number of men that Gideon had to face the 135,000 who made up the army of Midian. God called Gideon to be the deliverer of the oppressed people. Gideon did not respond quickly, but asked for a sign and God granted it. For that reason, he undertook his liberating feat with courage and security, because God had confirmed that he would be with him and give him the victory.
32,000 men, however skilled they were, were few to face Midian. Not in the eyes of God. In Him, little is enough.
It was the custom, that before going to war, the army was consolidated with the purpose that those who lacked courage or were weak, would withdraw. In that way, he went out to battle with the best possible army. God instructed Gideon to choose His army within the army of Israel and only chose 300 men. Within God's plan, they would be enough. No way 300 men could have defeated Midian. Only the power of God. So, in this way they would not be tempted to boast that the liberation of the Midianites had been by force of their army.
Israel came out victorious, because the power of God was greater than the circumstances and resources with which the people counted. His greatest resource was Jehovah God of armies, but many times they had forgotten him. That day they saw the movement of His hand in a wonderful and powerful way.
Did you know that God is also our greatest resource? As humans and facing the vicissitudes we face, we usually look only at what we have in our hands. We are filled with doubt and we forget that we have a BIG God. Because we have God, our victories will never depend on our resources or our strength, but on the power, mercy, love and fidelity of God.

REFLECTION OF LEADERSHIP APPLIED TO YOUR LIFE
On your way to success, you will get an army of people to accompany you, but many will not really help you at all. Therefore, you must make a list of the people with whom you are willing to fail or succeed. There will be people who will be on your list of failures and another on your list of successes. You decide which one to join.
It is very important to identify the people who will accompany you to reach your goals and objectives. Join people who empower your dreams, who encourage you with words of encouragement, esteem and wisdom, as they will inspire you and make you develop dreams and visions in an extraordinary way.
---
---

On the other hand, I want to encourage all those people who declared their membership with the church to remain active in our work and our expansion, make sure to consolidate the people that are entering Steemchurch Telos, this journey is still beginning, a lot of work ahead .Our friends @sniffnscurry will be happy to continue helping people who want to leave the world in a better place.
OUR ACTION PLAN
Continue promoting the expansion to Steemchurch Telos, if you wish to be part of it, register in the following form:
https://goo.gl/forms/TOJ4cCDiMT4KlM0g2
Our brother @maxdevalue has started a challenge with the "Goldencenser" through which we can obtain, Heart, Telos and Steem. It is important to interact with the activities of the church and support our growth, knowing the word of God. Wait for the next updates .
https://steemit.com/goldencenserchallenge/@maxdevalue/introducing-steemchurch-golden-censer-challenge
You can declare your membership and begin to translate your projects and send it through the mail:
MANAGEMENT PROJECTS@STEEMCHURCH.ORG

Any questions or suggestions can be sent to the email: darlenys@steemchurch.org
Or in our situation room SC.Telos in Telgram:
https://t.me/joinchat/JfcYQRZKH3Fu0M9kIzcjjw
*NEXT ACTIVITIES OF THE CHURCH:
SUPPORT THE CELEBRATION OF THE CHILD'S DAY.
ATTENDING CHILDREN'S PROMOTIONS AS OFFICIAL SPONSORS.
OFFICIAL PUBLICATION OF THE MEMBERSHIP OF THE CHURCH.
OFFICIAL PUBLICATION OF THE DIRECTOR OF DIGITAL MARKETING.
OFFICIAL PUBLICATION OF THE COMMUNITY SOCIAL PROJECT.
MEETUP FOR THE CONSOLIDATION OF THE EXPANSION STEEMCHURCH TELOS.
PUBLICATION OF OUR NEW MEMBERS WITH THE TOKEN INVITE OF @Steem.ninja.
THANK YOU TO ALL WHO WRITE EVERY DAY IN OUR COMMUNITY!
We thank all those people who have contributed to our community to grow.
@pennsif, @luppers, @redes, @hanshotfirst, @theycallmedan, @redpalestino, @wilx, @curatorhulk, @ripperone,@penguinpablo,@newhope.
EXPRESS THE LOVE OF JESUS THROUGH: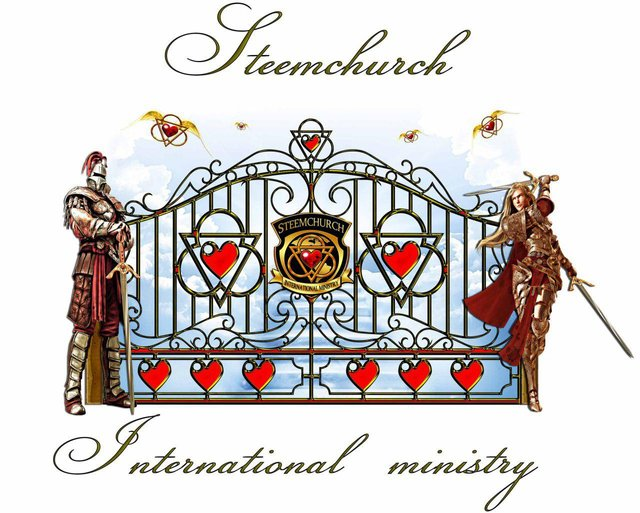 50 SP| 100 SP|200 SP|500 SP|1000 SP|2000 SP|5000 SP
---
---