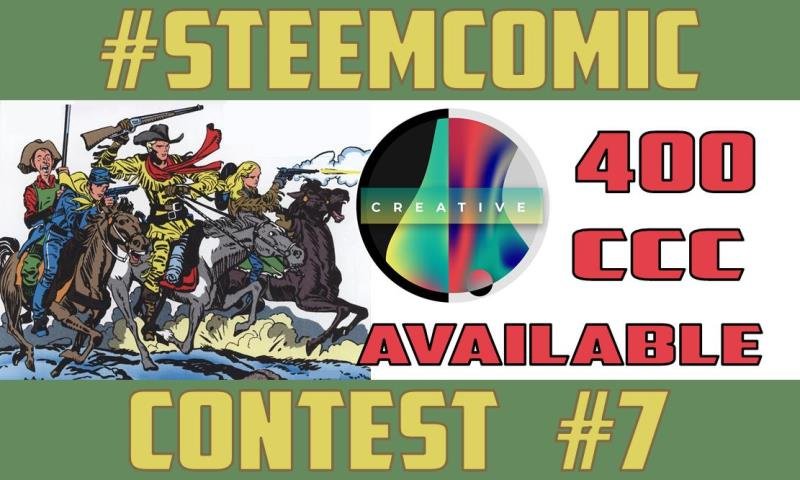 ---
🚨 ᴜᴘᴅᴀᴛᴇ 🚨
---
     I am proud to announce #SteemComic #7 is in collaboration with CreativeCoin. The liquid Steem payout from each #SteemComic is the next #SteemComic's rewards, in various forms. #6's payout was 8 STEEM, with which I have purchased 400 CCC to be used as #7's rewards.

𝐎𝐮𝐫 #𝐒𝐭𝐞𝐞𝐦𝐂𝐨𝐦𝐢𝐜 𝐉𝐮𝐝𝐠𝐞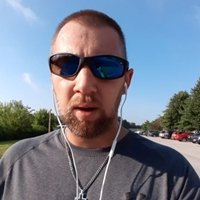 𝐌𝐚𝐬𝐭𝐞𝐫 𝐁𝐞𝐚𝐬𝐭 (ɴᴏɴ-sᴛᴇᴇᴍɪᴀɴ)
Facebook
     The results are in; Master Beast has chosen the winners of #SteemComic #6. So far he is still a non-Steemian, but that is a good thing at least for choosing a winner without bias. He is battling brain cancer, and any bits of humor are welcome distractions in his days. Scroll to the bottom of this post to see Master Beast's winning picks.

𝟒𝟎𝟎 𝐂𝐂𝐂 𝐀𝐕𝐀𝐈𝐋𝐀𝐁𝐋𝐄
I reinvest the liquid STEEM payout from each #steemcomic into the next contest's rewards.
MORE PAYOUT = MORE REWARDS
---
𝐑𝐄𝐖𝐀𝐑𝐃𝐒
𝟏𝐬𝐭  𝐏𝐋𝐀𝐂𝐄  🏆  -  𝟐𝟎𝟎  𝐂𝐂𝐂 (𝐂𝐫𝐞𝐚𝐭𝐢𝐯𝐞 𝐂𝐨𝐢𝐧 𝐂𝐫𝐲𝐩𝐭𝐨)
𝟐𝐧𝐝  𝐏𝐋𝐀𝐂𝐄  🥇  -  𝟏𝟐𝟓  𝐂𝐂𝐂 (𝐂𝐫𝐞𝐚𝐭𝐢𝐯𝐞 𝐂𝐨𝐢𝐧 𝐂𝐫𝐲𝐩𝐭𝐨)
𝟑𝐫𝐝  𝐏𝐋𝐀𝐂𝐄  🥈  -  𝟕𝟓  𝐂𝐂𝐂 (𝐂𝐫𝐞𝐚𝐭𝐢𝐯𝐞 𝐂𝐨𝐢𝐧 𝐂𝐫𝐲𝐩𝐭𝐨)

𝐓𝐇𝐄 𝐑𝐔𝐋𝐄𝐒

#1 - To be eligible for 𝟏𝐒𝐓 𝐏𝐋𝐀𝐂𝐄, 𝐔𝐏𝐕𝐎𝐓𝐄 this post with 𝟏𝟎𝟎% 𝐏𝐎𝐖𝐄𝐑 & 𝐑𝐄𝐒𝐓𝐄𝐄𝐌.
#2 - 𝐃𝐎𝐖𝐍𝐋𝐎𝐀𝐃 one of the 3 jpeg comic strips for #STEEMCOMIC 𝐒𝐓𝐑𝐈𝐏 𝐂𝐎𝐍𝐓𝐄𝐒𝐓 #𝟕.
#3 - Overlay your custom text onto the comic strip.
#4 - Make sure your text and font are of a 𝐥𝐞𝐠𝐢𝐛𝐥𝐞 size, and 𝐝𝐨𝐧'𝐭 𝐨𝐯𝐞𝐫𝐜𝐫𝐨𝐰𝐝 the text boxes.
#5 - 𝐎𝐧𝐥𝐲 𝐚𝐝𝐝 your text, 𝐝𝐨𝐧'𝐭 𝐚𝐥𝐭𝐞𝐫 any illustrations.
#6 - Remember to be creative and original. It doesn't necessarily have to be funny.
#7 - You 𝐝𝐨𝐧'𝐭 𝐡𝐚𝐯𝐞 𝐭𝐨 𝐛𝐞 𝐩𝐨𝐥𝐢𝐭𝐢𝐜𝐚𝐥𝐥𝐲 𝐜𝐨𝐫𝐫𝐞𝐜𝐭, but please 𝐧𝐨 𝐜𝐮𝐫𝐬𝐞 𝐰𝐨𝐫𝐝𝐬. This is 𝐒𝐓𝐄𝐄𝐌♨️, we are free, and I have a good sense of humor.
#8 - Make sure your 𝐦𝐚𝐢𝐧/𝐟𝐢𝐫𝐬𝐭 𝐭𝐚𝐠 is #steemcomic when posting your submission.
#9 - Optional - Use #creativecoin as your second tag to give your entry a chance at being curated by @creativecoin.

⬇️ 𝐇𝐞𝐫𝐞 𝐢𝐬 𝐭𝐡𝐞 #𝐒𝐭𝐞𝐞𝐦𝐂𝐨𝐦𝐢𝐜 𝐒𝐭𝐫𝐢𝐩 𝐚𝐯𝐚𝐢𝐥𝐚𝐛𝐥𝐞 𝐟𝐨𝐫 𝐂𝐨𝐧𝐭𝐞𝐬𝐭 #𝟕. ⬇️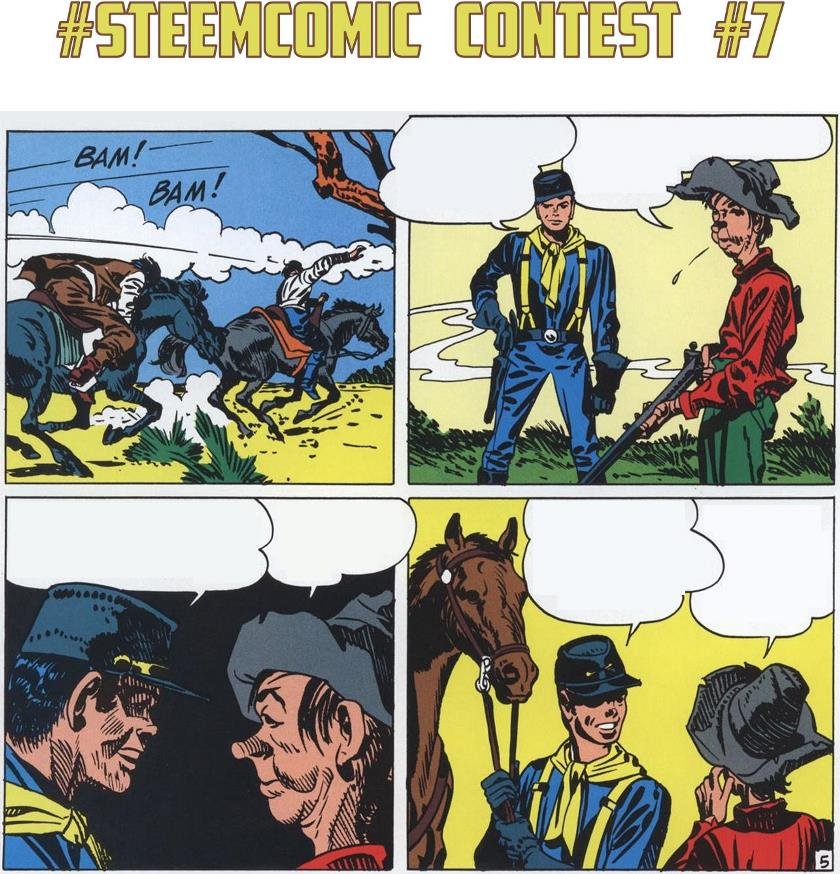 Download Link Option #1
---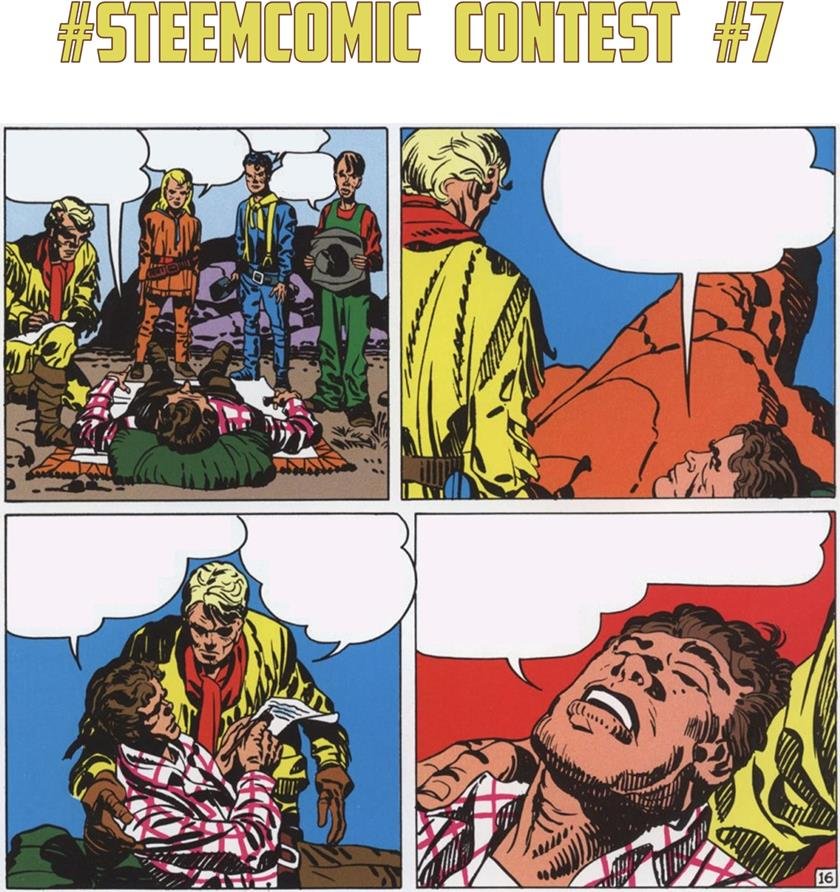 Download Link Option #2
---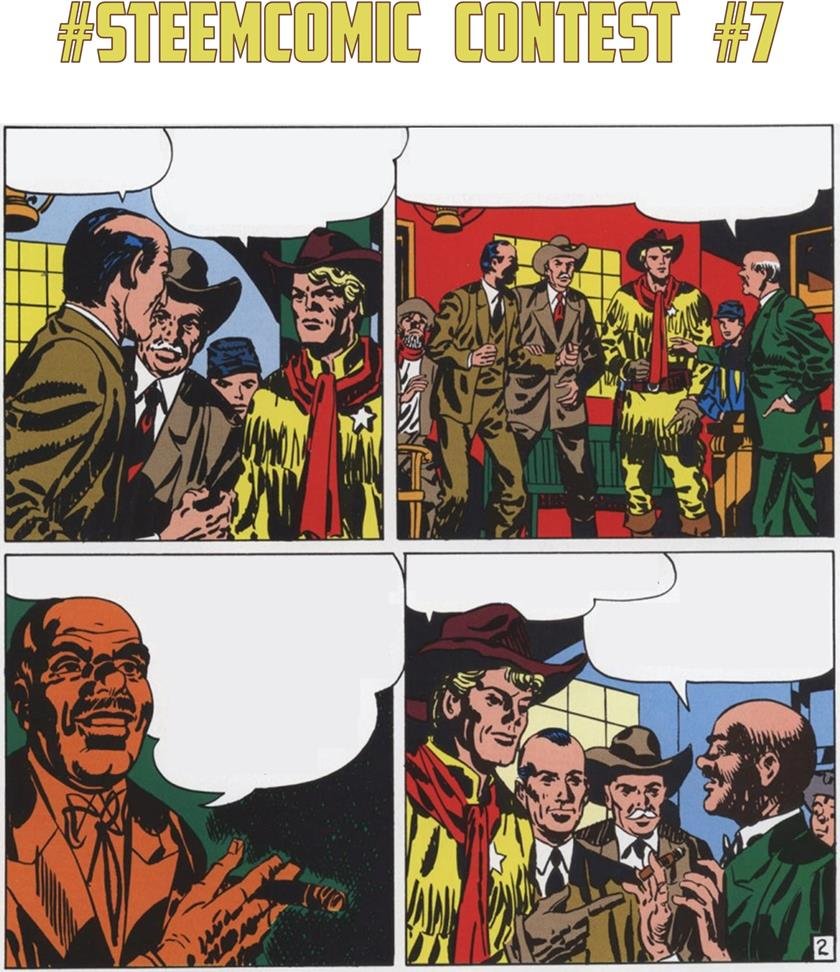 Download Link Option #3

𝐇𝐎𝐖 𝐓𝐎 𝐄𝐍𝐓𝐄𝐑 𝐘𝐎𝐔𝐑 𝐂𝐎𝐌𝐈𝐂 𝐒𝐓𝐑𝐈𝐏

𝐏𝐨𝐬𝐭 your comic strip on the 𝐒𝐓𝐄𝐄𝐌osphere using #steemcomic as your 𝐦𝐚𝐢𝐧 𝐭𝐚𝐠 and 𝐩𝐫𝐨𝐯𝐢𝐝𝐞 𝐭𝐡𝐞 𝐥𝐢𝐧𝐤 to your post in the comments below.
𝐒𝐮𝐛𝐦𝐢𝐭 your comic during the 7-day period 𝐛𝐞𝐟𝐨𝐫𝐞 𝐭𝐡𝐢𝐬 𝐩𝐨𝐬𝐭 𝐫𝐞𝐚𝐜𝐡𝐞𝐬 𝐩𝐚𝐲𝐨𝐮𝐭.
𝐖𝐢𝐧𝐧𝐞𝐫𝐬 will be announced in a new post within 𝟒𝟖 𝐡𝐨𝐮𝐫𝐬 after this post reaches payout.
Please make your entry 𝐯𝐢𝐬𝐢𝐛𝐥𝐞 in the comments below by using a 𝐡𝐲𝐩𝐞𝐫𝐥𝐢𝐧𝐤. Example: <𝐚 𝐡𝐫𝐞𝐟="www.yourcomicsurl.com">your comic's url image link</𝐚>

𝐖𝐢𝐧𝐧𝐞𝐫𝐬 𝐅𝐫𝐨𝐦 #𝐒𝐭𝐞𝐞𝐦𝐂𝐨𝐦𝐢𝐜 𝐒𝐭𝐫𝐢𝐩 𝐂𝐨𝐧𝐭𝐞𝐬𝐭 #𝟔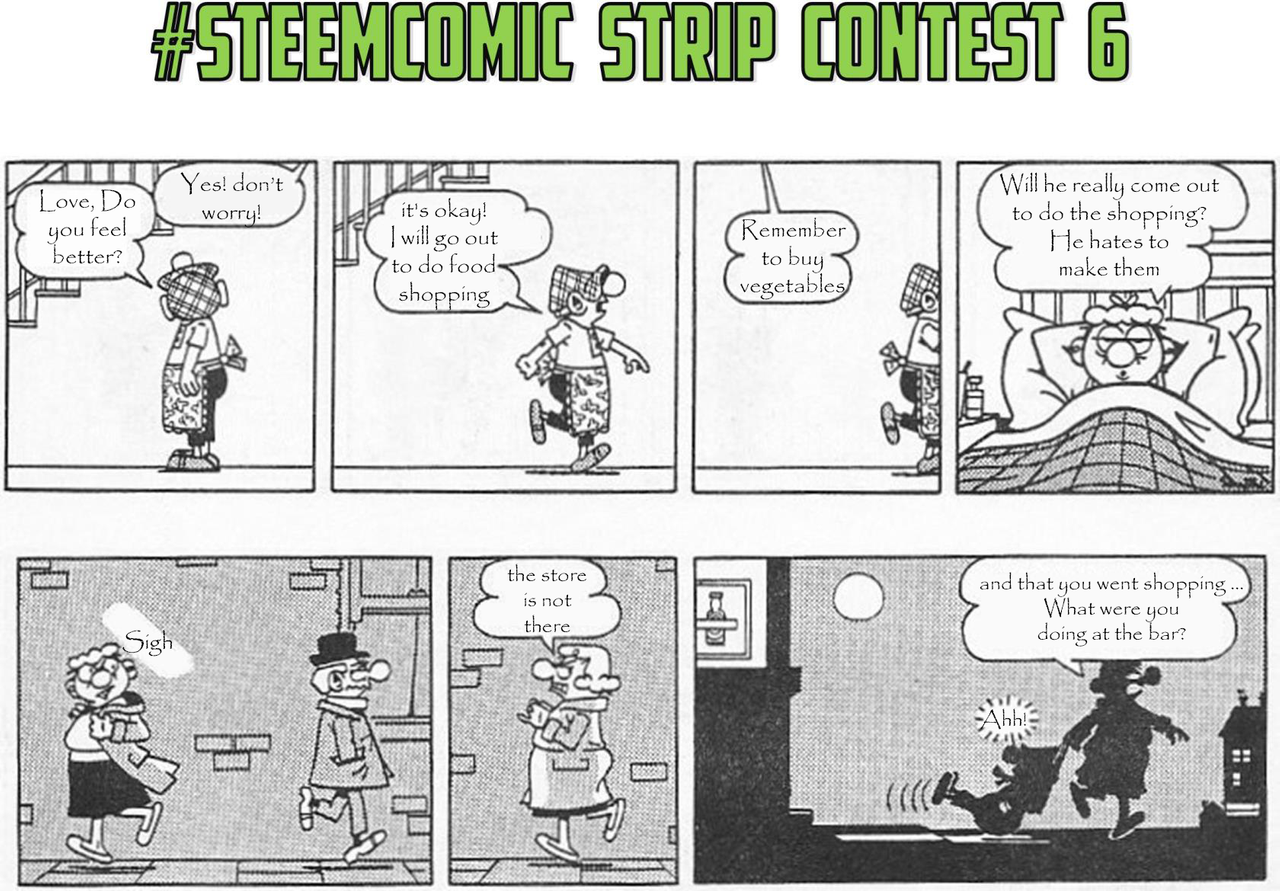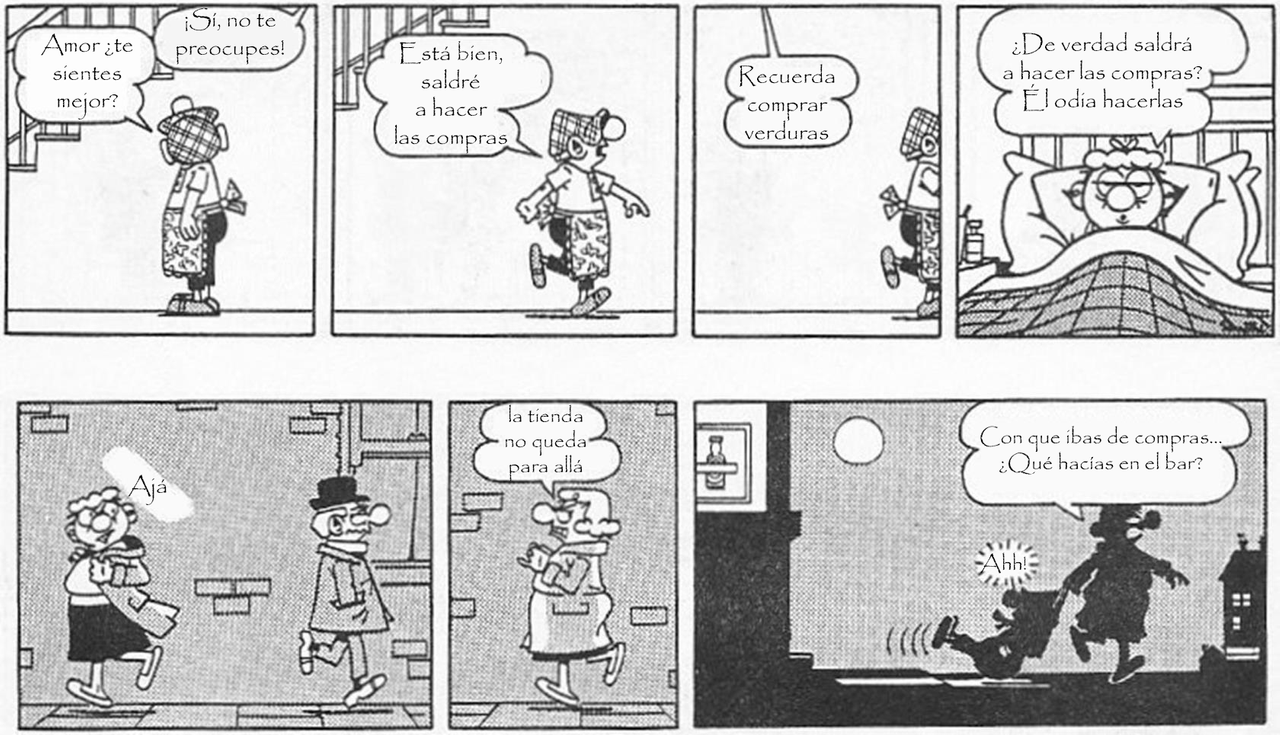 1st Place 🏆
5 STEEM
submitted by: @jade17
You followed the rules, and were one of two contestants eligible for 1st place.
I personally would rather go buy vegetables than spend a minute in a bar.
Also, thanks for a bilingual submission.
Nice work! 🔨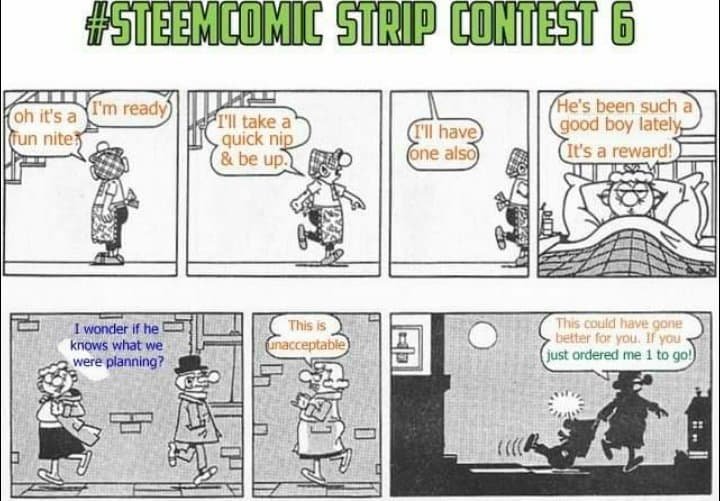 2nd Place 🥇
3 STEEM
submitted by: @indoorfarmer
Master Beast chose this as the 1st place entry, but it was ineligible. (please read the rules)
Not the prettiest text or font, but it humored our judge.
Piece of Cake! 🍰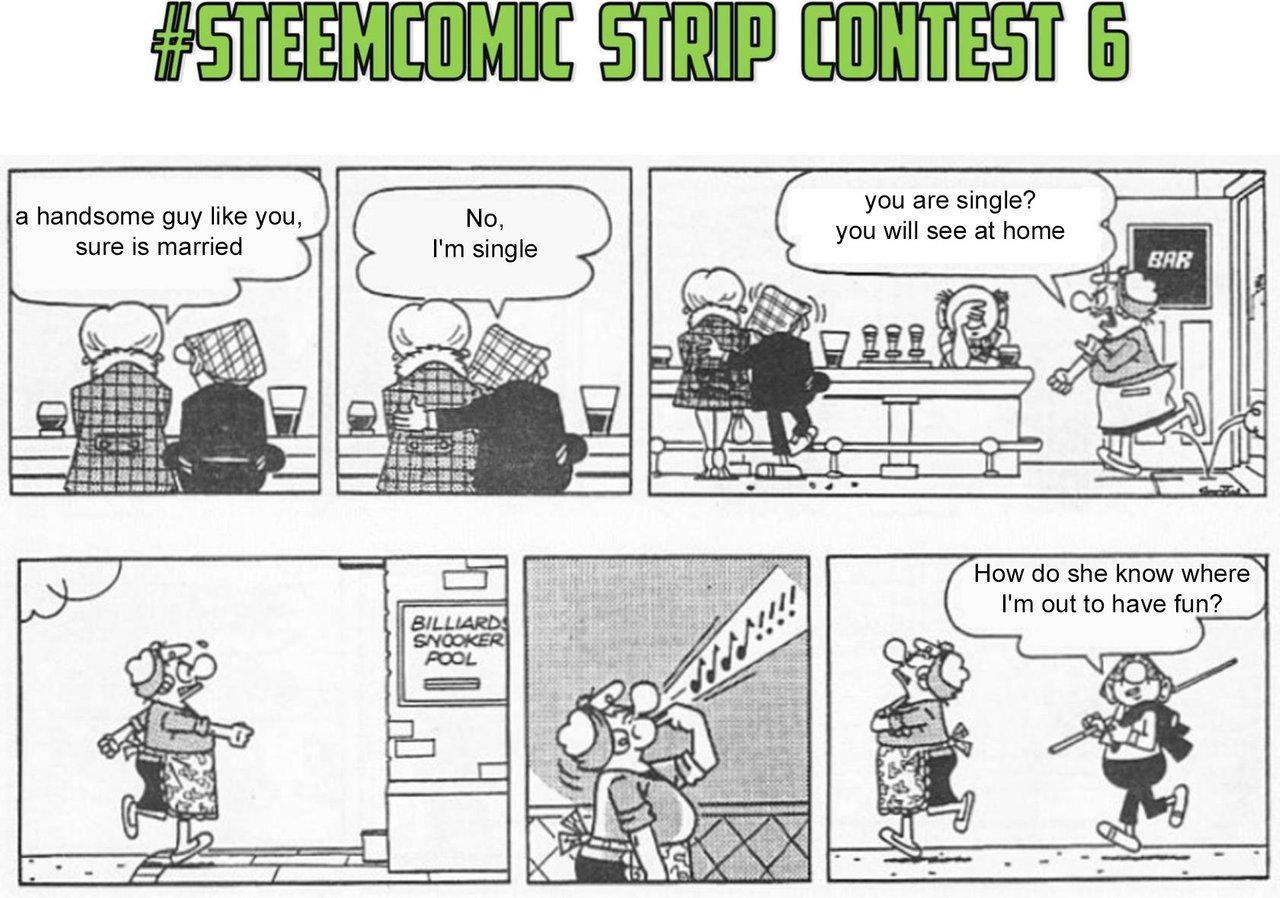 3rd Place 🥈
2 Steem
submitted by: @rainbow83
Master Beast isn't a spelling or grammar stickler like myself.
This entry must have given him a good laugh.
Bravo! 🍪

Only 2 entries were eligible for first place this time.
I've noticed many returning participants still haven't read the rules yet.
Many of you not reading the rules are also blacklisted Steemians.
By not upvoting or only upvoting 5% you are not supporting the growth of #SteemComic.

ɪ sᴜᴘᴘᴏʀᴛ ᴀɴᴅ/ᴏʀ ᴅᴇʟᴇɢᴀᴛᴇ ᴛᴏ
@joshman ✭ @canadian-coconut