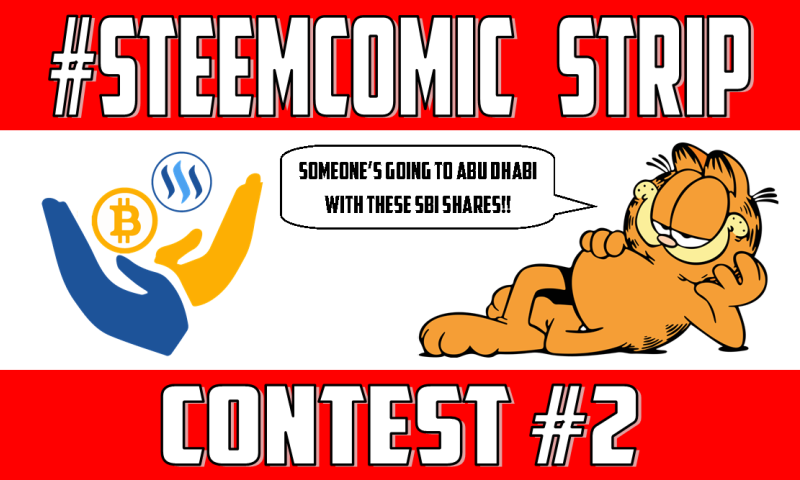 ❿ 𝐒𝐁𝐈 𝐒𝐇𝐀𝐑𝐄𝐒 𝐀𝐕𝐀𝐈𝐋𝐀𝐁𝐋𝐄
I've increased the rewards from 6 SBI shares to 10 SBI shares for Contest #2.
If #steemcomic continues to grow, so will the rewards.
---
𝐑𝐄𝐖𝐀𝐑𝐃𝐒
𝟏𝐬𝐭  𝐏𝐋𝐀𝐂𝐄  🥇  -  𝟓  𝐒𝐁𝐈  𝐒𝐇𝐀𝐑𝐄𝐒
𝟐𝐧𝐝  𝐏𝐋𝐀𝐂𝐄  🥈  -  𝟑  𝐒𝐁𝐈  𝐒𝐇𝐀𝐑𝐄𝐒
𝟑𝐫𝐝  𝐏𝐋𝐀𝐂𝐄  🥉  -  𝟐  𝐒𝐁𝐈  𝐒𝐇𝐀𝐑𝐄𝐒

𝐓𝐇𝐄 𝐑𝐔𝐋𝐄𝐒

#1 - UPVOTE & RESTEEM this post.
#2 - DOWNLOAD one of the 3 .jpeg comic strips for #STEEMCOMIC STRIP CONTEST #2
#3 - Use Microsoft Publisher, Paint or any other program with text to overlay your custom text onto the comic strip.
#4 - Make sure your text and font are of a legible size, and don't overcrowd the text boxes.
#5 - Only add your text, don't alter any illustrations.
#6 - Remember to be creative and original. It doesn't necessarily have to be funny.
#7 - You don't have to be politically correct, but please no curse words. This is STEEM ♨️, we are free, and I have a good sense of humor.
#8 - Make sure your main tag is #steemcomic when posting your submission.

⬇️ 𝐇𝐞𝐫𝐞 𝐢𝐬 𝐭𝐡𝐞 #𝐒𝐭𝐞𝐞𝐦𝐂𝐨𝐦𝐢𝐜 𝐒𝐭𝐫𝐢𝐩 𝐚𝐯𝐚𝐢𝐥𝐚𝐛𝐥𝐞 𝐟𝐨𝐫 𝐂𝐨𝐧𝐭𝐞𝐬𝐭 #𝟐. ⬇️
"Peanuts" by Charles M. Schulz


Download Link Option #1
---

Download Link Option #2
---

Download Link Option #3

𝐇𝐎𝐖 𝐓𝐎 𝐄𝐍𝐓𝐄𝐑 𝐘𝐎𝐔𝐑 𝐂𝐎𝐌𝐈𝐂 𝐒𝐓𝐑𝐈𝐏

Upload your comic strip as a post on the STEEM blockchain using #steemcomic as your main tag and provide the link to your post in the comments below.
Submit your comic during the 7-day period before this post reaches payout.
Winners will be announced in a new post within 48 hours after this post reaches payout.

𝐇𝐞𝐫𝐞 𝐚𝐫𝐞 𝐭𝐡𝐞 𝐰𝐢𝐧𝐧𝐞𝐫𝐬 𝐟𝐫𝐨𝐦 #𝐒𝐭𝐞𝐞𝐦𝐂𝐨𝐦𝐢𝐜 𝐒𝐭𝐫𝐢𝐩 𝐂𝐨𝐧𝐭𝐞𝐬𝐭 #𝟏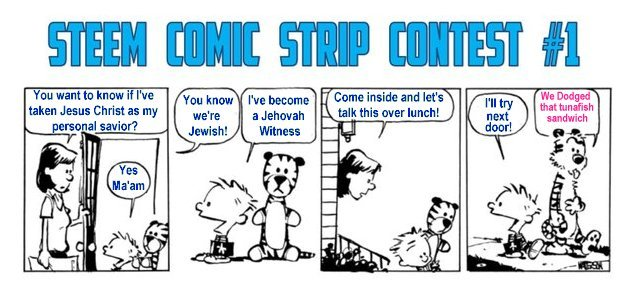 1st Place 🥇
3 SBI Shares
submitted by: @stanism
Very creative and nice twist at the end, not where I thought it was going.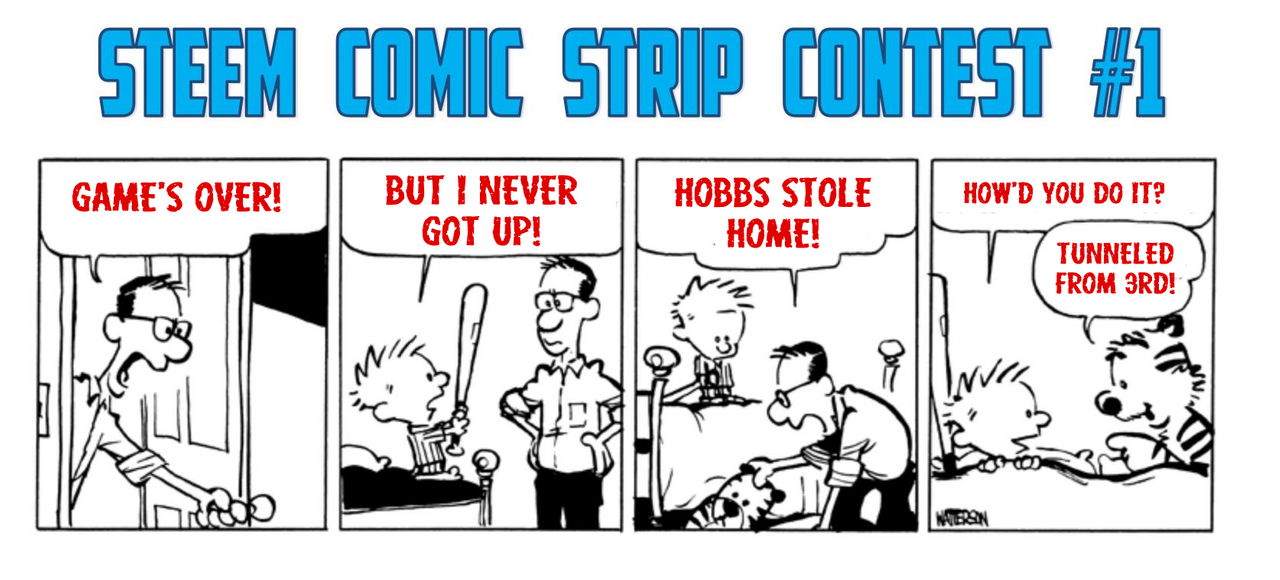 2nd Place 🥈
2 SBI Shares
submitted by: @airfarce
Sometimes simple is supreme, and even our young daughters got a kick out this one.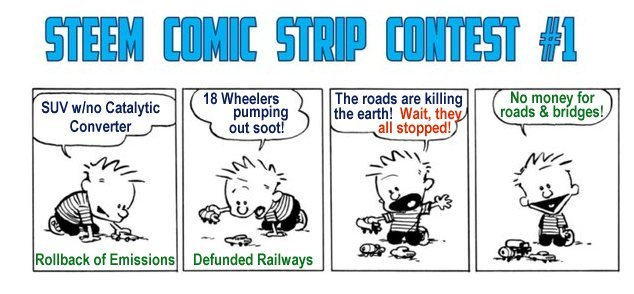 3rd Place 🥉
1 SBI Share
submitted by: @trumpsatraitor
Not sure if it's funny or sad, but very true. A good depiction of the current state of infrastructure in the USA.

𝐈 𝐒𝐔𝐏𝐏𝐎𝐑𝐓


@ecotrain ✭ @c-squared ✭ @ocdb ✭ @travelfeed ✭ @reggaesteem ✭ @naturalmedicine ✭ @steembasicincome ✭ @crowdmind ✭ @innerblocks ✭ @vegansofsteemit ✭ @canadian-coconut
---
Travelfeed.io
✭
NaturalMedicine.io
✭
ReggaeSteem.io
✭
TheInnerBlocks
✭
Crowdmind.io