This week the #SteemCryptoChallenge is dealing with the topic of being the best exchange. That is a fantastic topic, and I have enjoyed most of the articles published so far. However, one topic that I haven't seen covered in many of those articles that I do feel deserve more attention when it comes to "being the best cryptocurrency exchange", is which one is giving you the best entry into the crypto-world!
What do I mean? Who would search Google for information about the best cryptocurrency exchange? I would not do so, after all, I have been trading for a couple of years, and I believe I know the answer already. Who is the one searching for the best cryptocurrency exchange? I think you have guessed it correctly - those who haven't traded a single dime before!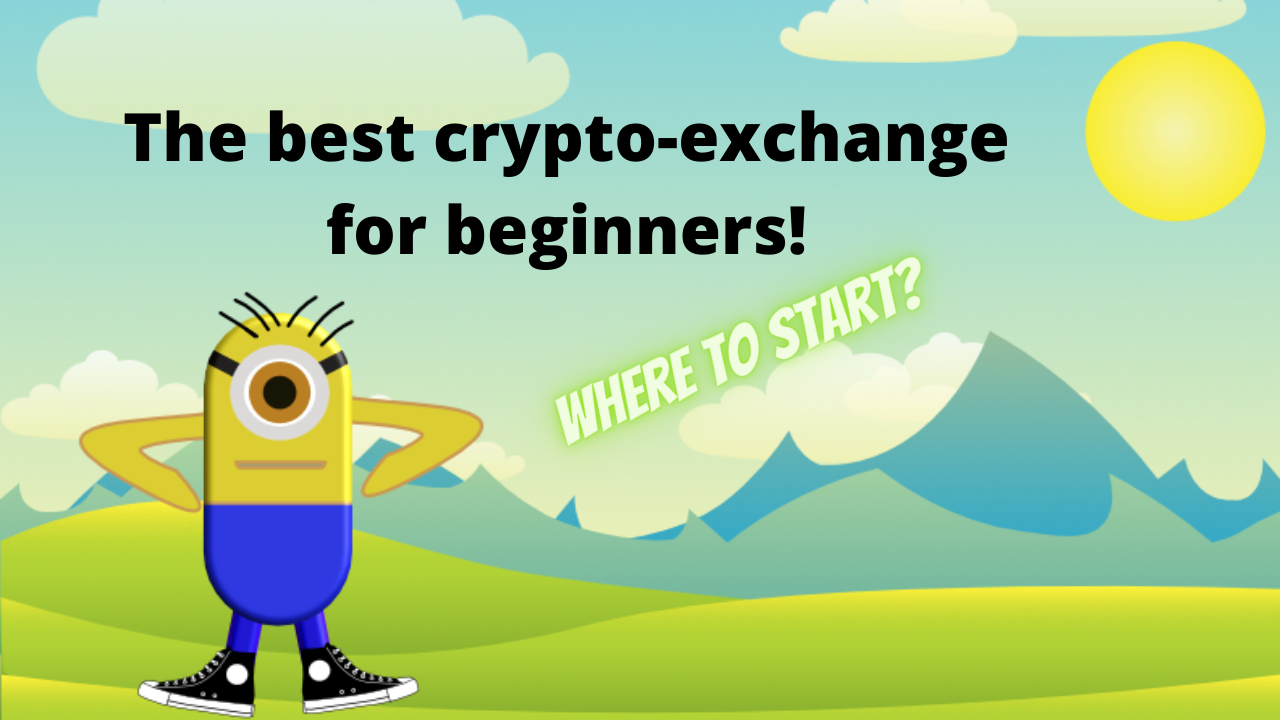 Those who are looking for and searching for answers as to which cryptocurrency exchange to use are standing there with Dollars in their hands and in their pockets, ready to use them wherever they can - so, where to start? Which exchange is the best for a first time trader who has lots of FIAT (which is a government-issued currency like Euro, Dollar, Yen, and other currencies)? How can they easiest find the way into the world of cryptos, make their first purchases, and then get started with hodling (buying a crypto and keeping it without touching it, hoping that the value will increase with time) or immediately start trading with whatever they have bought?
Worth knowing before you purchase your first cryptos!
Maybe you are reading this article and your goal is to buy your first cryptos. Where to start? First of all, the easiest way to add money to the cryptoworld is by paying directly with a card online or by transfering money to an exchange, where you can later buy cryptos directly with that money.
If you decide to buy with a credit card, you should be prepared to pay fees around 2%-5%, which should be considered fairly high. But, the positive aspect here is that you get your cryptos in a few seconds, and you can start trading or hodling at once. Or if you have some information about a crypto that will increase in price a lot in the next hour, then you do not want to wait for a bank transfer to arrive, and then purchasing with a payment card online can be the best and quickest solution.
If you have a little patience, you will find it to be much cheaper to do a bank transfer from your own bank account to the bank account belonging to the exchange you decide to use. Depending on your location, your bank, and the exchange, such a transfer can take anything from a couple of hours to a couple of days (normally). Do not forget, banks are closed during weekends, so nothing will happen on such days. The positive here is that there are no fees, except for the banking fees of actually transferring funds to the exchange you use.
When the money has arrived to the exchange you can start purchasing all the cryptos available on that exchange at once!
This was some background information. Which exchange should you actually choose? Which can help you purchase cryptos quickly either with a card or by transferring money from your bank account? Besides supporting these functions, it will, of course, need to be a solid and good exchange with a high level of security, high quality trading pairs, and a transparent leadership that you can trust and that you know.
Three great exchanges for new traders (and old traders)!
When I first started with trading, Coinbase was the big thing. It was incredibly easy to use, and the natural pick of many starters. Today, however, I consider this to be almost out of date, and they have some terrible fees for those purchasing cryptos within the system. As a result, I will not include Coinbase, even though you can see it in many articles about the best crypto exchanges for beginners.
Instead, I would like to mention the following three exchanges. If you only want to use one of them, go for the first!
Binance - A natural place to start
You can find the Binance website at www.binance.com. This is a natural place to start if you want to purchase crypto. They are making it very easy at their website, just check the screenshot below.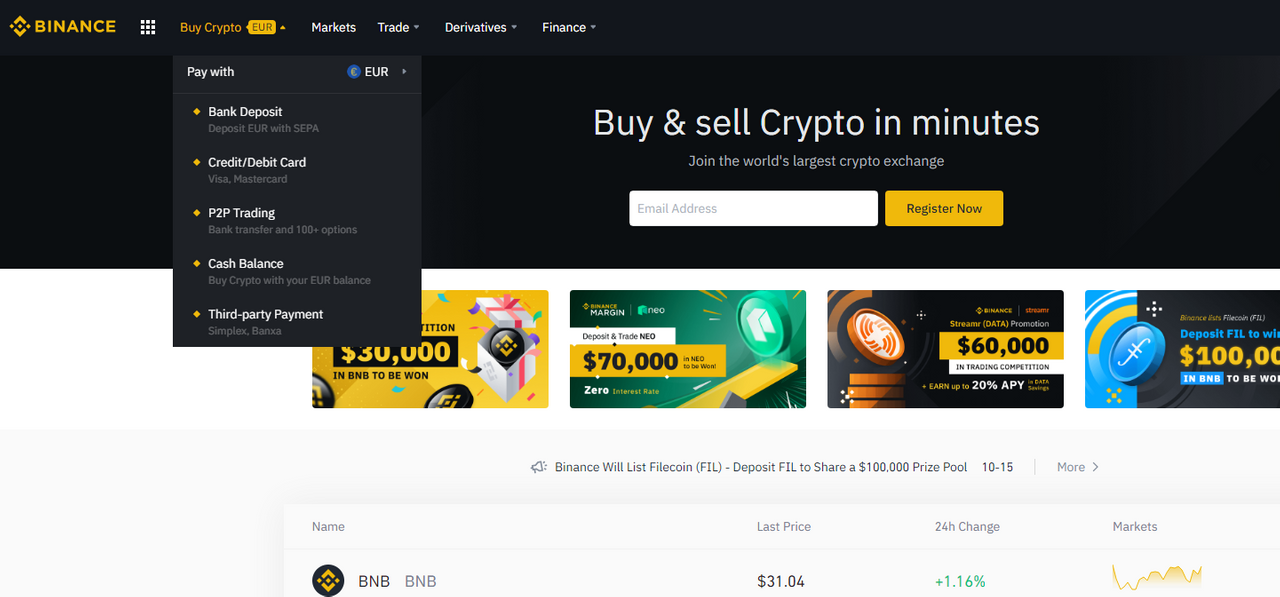 As you press the menu text for buy crypto, you will immediately find links that will let you do a bank transfer or purchase directly with your card. And one of the awesome things here is that Binance often run campaigns in which you can purchase crypto with your MasterCard/VISA card without any fees involved. Normally, however, the fees are around 3%.
Binance is working hard to be available to customers all around the world, and they are the leading exchange when it comes to compatibility with local currencies and more.
There are many other positives with this exchange as well, including the fact that Binance has awesome trading pairs (making it a natural place to purchase most of the popular cryptos available), they have a fantastic department with investment opportunities (making it perfect if you just want to keep your money working for you, even while hodling), and so much more!
Kraken - An Exchange you can trust
Kraken is often left out from lists such as this one, but I find it to be a brilliant exchange for starters. They are making it very easy to do a bank transfer, which again will let you quickly start purchasing cryptos with no fees attached. When you have registered your account, they are taking care of your privacy, and they are helping you keep your account running with the highest levels of security.
Kraken doesn't have as many trading pairs as Binance, but it is still a place where you can feel safe and let your money do the job for you! It should also be mentioned that Kraken just received the right to create a bank in the United States, meaning that this can turn very interesting in the future, combining a bank and an exchange in the same place. Can you imagine seeing your cryptos and your bank account information on the same surface? That might be possible with Kraken in the future!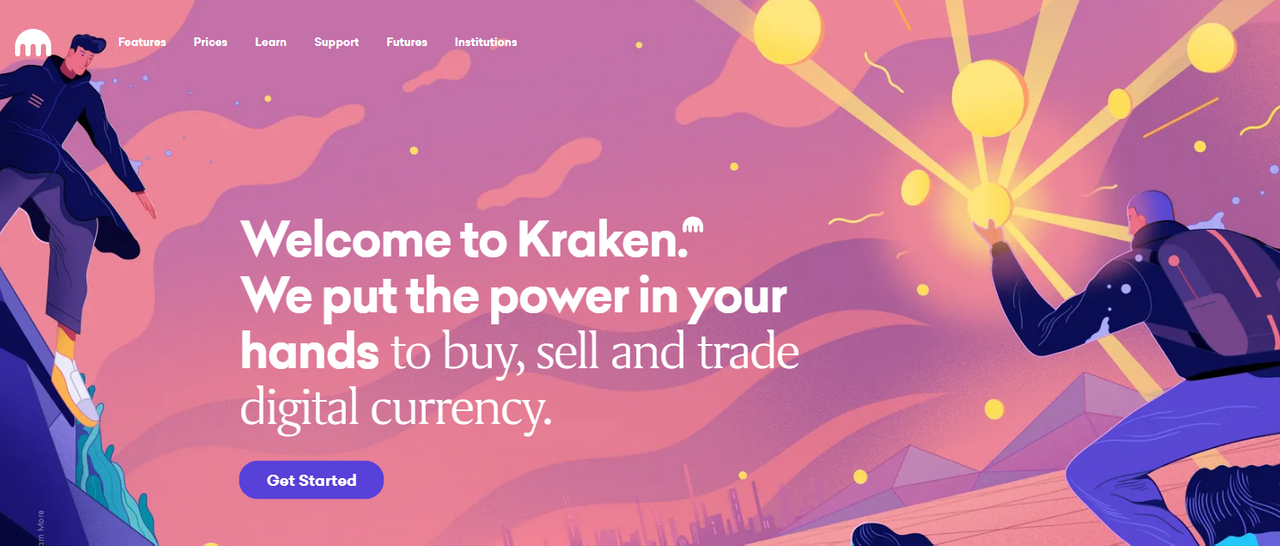 A great place to start, but due to the lack of trading pairs, and not the coolest looking trading platform design, a good second option, but not as good as Binance. And, a very good solution for those who want to add money via bank transfer!
Kucoin / Bittrex - good options, but still not as good!
Kucoin and Bittrex are two great exchanges. If security was highest priority, then I might say Bittrex, but still - I have accounts on both of them and like'em both! You can easily purchase cryptos with your card on both platforms, and Bittrex has a 3% fee on such purchases. You can also do a bank transfer with Bittrex, but it is incredibly stupid, and only meant for giant customers making USD transfers of thousands of dollars. In other words, not at all as good for bank transfers as Kraken and Binance mentioned earlier in the article.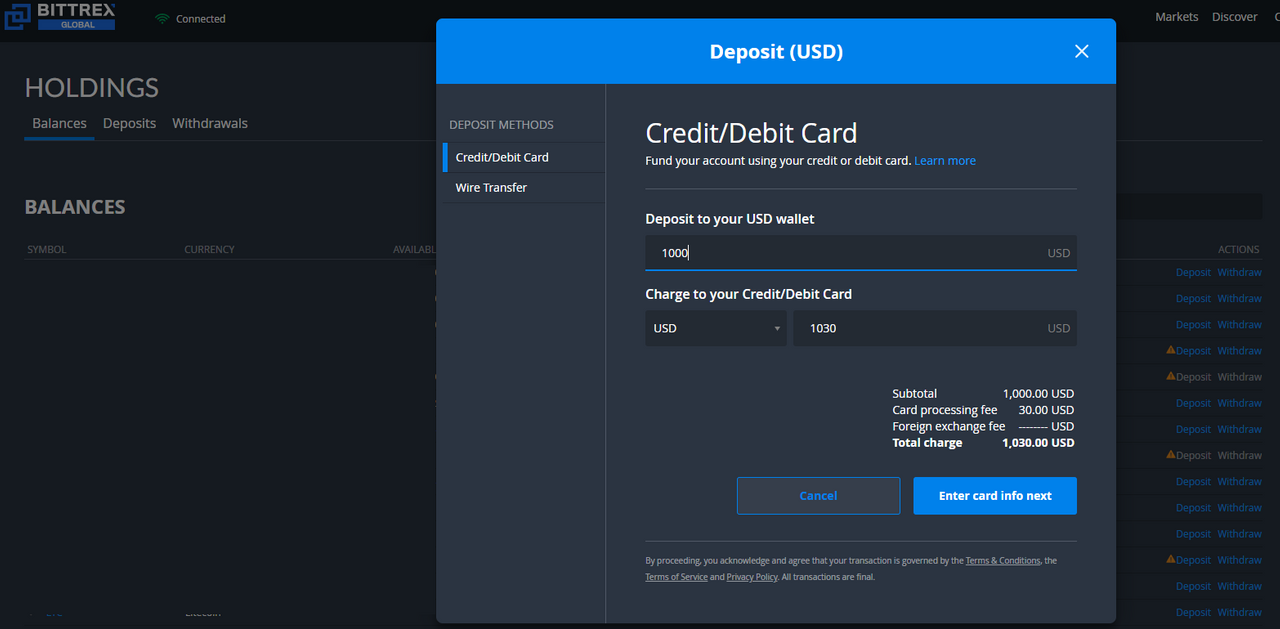 Both Kucoin and Bittrex have great trading pairs available. If you want to purchase Steem, the token you can earn by publishing articles here on the Steem platform, I suggest that you use either Bittrex or Binance, as the token can be found on both platforms!
---
What is the conclusion?
Binance is by far the easiest platform for beginners. It is easy to get started, and after a few minutes, you will also very well understand the platform and be able to trade, invest, stake, and all sorts of other cryptoactivities. It should also come as a plus that they have love fees on deposits and withdrawals, which again comes as a plus when moving your funds between wallets and exchanges!
I hope you have found this article to be useful. If you have further advice, please write a comment. Do not forget that you can find lots of more cryptorelated information here on the Steem platform, so make sure to place a bookmark here, register a user here, write some articles, and be a part of this fantastic community yourself!