My Best Exchange
Welcome to my blog dear Steemian. This is my entry to Steem Crypto Challenge Month #3.
---
Best exchange in my view is Binance and this is why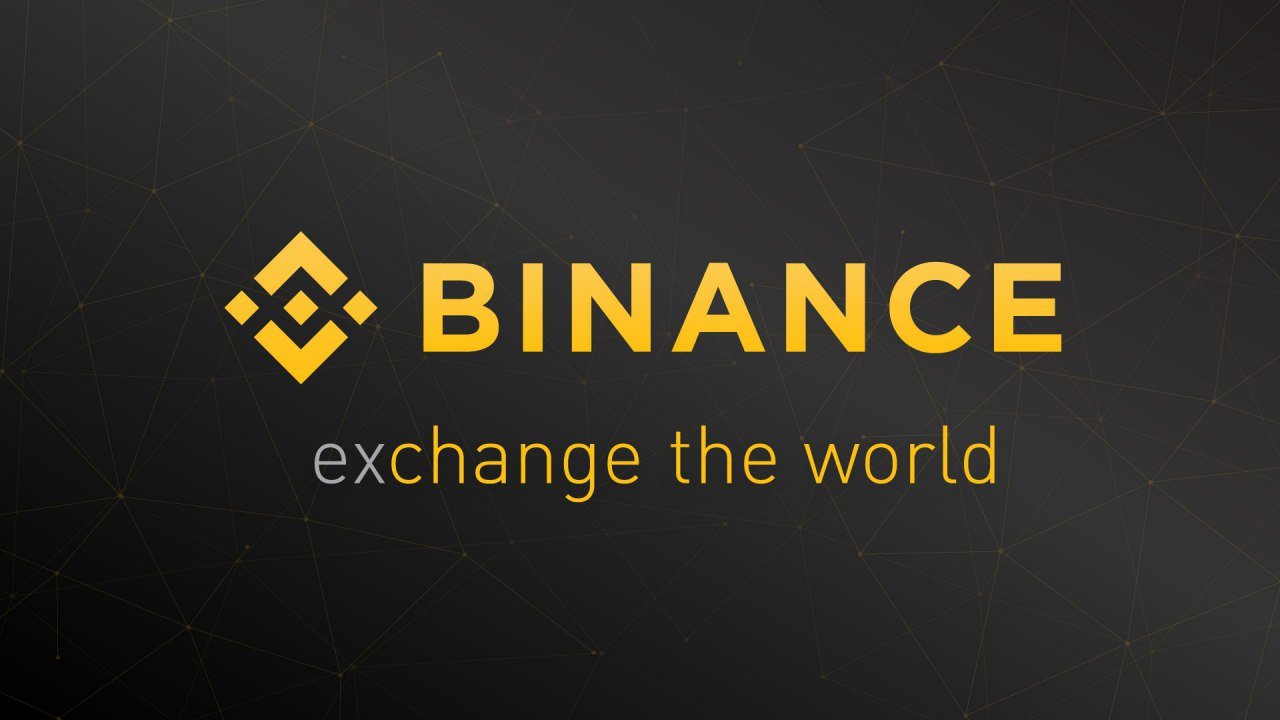 Image source: https://images.app.goo.gl/eFCkePPRqFUJMd6z7
Binance is a cryptocurrency exchange that provides best platform for trading a variety of cryptocurrencies including Steem and SBD. Since its inception in July 2017, Binance has been the largest cryptocurrency exchange in the world in terms of trading volume and user friendly environment. Binance founder is Changpeng Zhao.
I'm simply here to say the honest truth about this best exchange in my view. As they say, "beauty is in the eyes of the beholder". That beauty in my eyes is coming from Binance Exchange. I've been in crypto space for several years, meaning that I've seen most of them all; I know when most of today's exchanges started, Binance inclusive. I have opportunity to register with many exchanges. But Binance from the day of its inception has proved to be the best by providing an unprecedented atmosphere for trading around the world. They're exchange simplified; in the sense that dummies wouldn't find it difficult navigating their chain and market.
Best features about Binance exchange that has set them on the moon
Trying exchanges is like when a merchant is looking for the best market which is friendly; not just to him but for his business partners.
In my hunt for best exchanges, there are many things that I considered which drives business, and all these qualities I've found with Binance which set them to become my number 1 among many exchanges that I've used.
I'am glad to bring to consideration some of the features that sets Binance the first choice for every trader.
They support STEEM and SBD.
They have P2P trading option that can allow you to securely trade coins of your choice for your countries fiat.
They have academy in case you are new to crypto and Binace; they are too friendly to train you on anything crypto.
The allow you to convert your coin crumbs to Binabce coin; making sure that there would be no waste on your interest.
They support many fiat currencies, making trading, funding of your Binance account and withdrawal to your bank account so easy and fun.
Their saving account puts your coin with them automatically on background trading, making gains for you even whiles you're sleeping. This happens without loosing any of your coin, they do this by crediting some interest for you for saving in their exchange. They also make sure that you no longer miss out on most of airdrops of new featured coins that have good use-case.
Their customer care is beyond this world.
All the power of the Binance cryptocurrency exchange is in your hands using Binance Mobile and Destop Crypto Trading Apps.

The Binance API was created to provide an easy and effective way to integrate your trading application into their platform; such as your business websites etc.
These are just but a few of the features that attract millions to their exchange. Indeed Binance is more than an exchange.
How Do you care for how long I have used Binance exchange, and how I found out about it?
This is the most interesting part. I joined Steemit 3 years ago; that's in 2017, fortunately for me, that was the same year that Binance was created. I later joined Binance exchange in 2018 after they joined steemit in January 2018 . The news about Binance existence came to me through our Steemit Nigeria WhatsApp group.
How often do I use Binance exchange and what sorts of transactions do I do on it?
Trading on Binance and blogging on Steemit.com has become part of my life that may remain with me forever. For this reasons, I use both Binance and Steemit daily. This post is a proof that I've used Steemit today. Below screenshot is one of my transactions on Binance today.
I trade many crypto currencies at Binance for gain.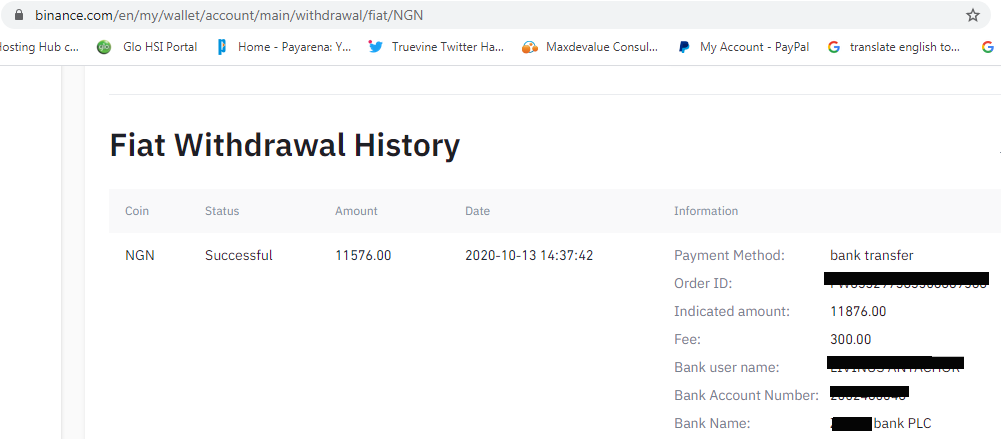 Binance promotions or contests that I have taken part in
At Binance exchange, promotions and contests has become fun norms; from trading contest to launchpool, from Defi Staking to Locked Staking etc. I participates in Flexible Savings which gives me chance to earn additional BNB coin and other coins listed on Binance.

I'd love to invite you my reader to join Binance exchange and this is Why
Binance Referral program is lovely
Earn up to 40% commission every time your friends make a trade on Binance. Isn't that interest you?
Now that I said explained a lot about Binance exchange, you can now join me to enjoy the inestimable experience on the exchange. Joining Binance is as easy as ABC; just click the below link below which is inviting link, or you can scan the code below with your phone camera. They will immediately pick you up from there, hassle free!
https://www.binance.com/en/register?ref=FB8J8576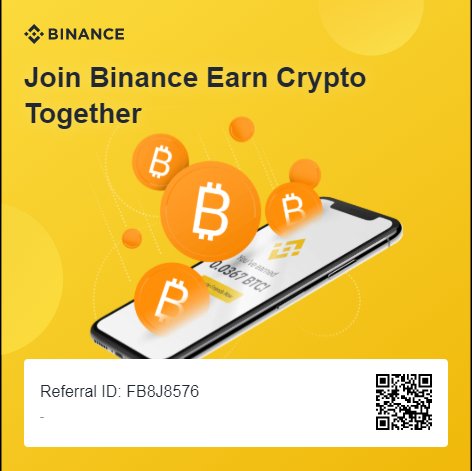 Binance Referral Rule
Binance has upgraded our Referral Program! Invite your friends to register and trade on Binance.com, and you and your friends can share up to 40% of the referral commissions from their trading fees.
Rules:
Inviters can choose to share a portion of the commissions received from the trading fees of the friends they invite, as a "kickback". Inviters can set the sharing rates as follows:

If the inviter's daily average BNB account balance is less than 500 BNB and their base referral rate is 20%, they can choose to share 0%, 5% or 10% with the friends they invite.
If the inviter's daily average BNB account balance is 500 BNB or more, their base referral rate is increased to 40%, and they can choose to share 0%, 5%, 10%, 15% or 20% with the friends they invite.
Daily average BNB Balance Calculation Rules: here
Effective as of 2019/08/28 0:00 AM (UTC)
In Conclusion
Binance remains my number one, while LocalBitcoins Exchange is my second option considering their P2P trading possibility
I got informed about this challenge because I follow Steemit on twitter! Thanks for updating steemit twitter handle…
My biggest appreciation to Steemit team for this great opportunity of expression.
Note: Pictures used are screenshots from my Binance dashboard, except one (the first picture) which i also provided the source.
---
I'll love to invite my few Steemit friends to join this great challange.
@darlenys01
@uyobong
@ricci0
@tomas.enrique
@evegrace
@obrisgold
Thanks for reading through.