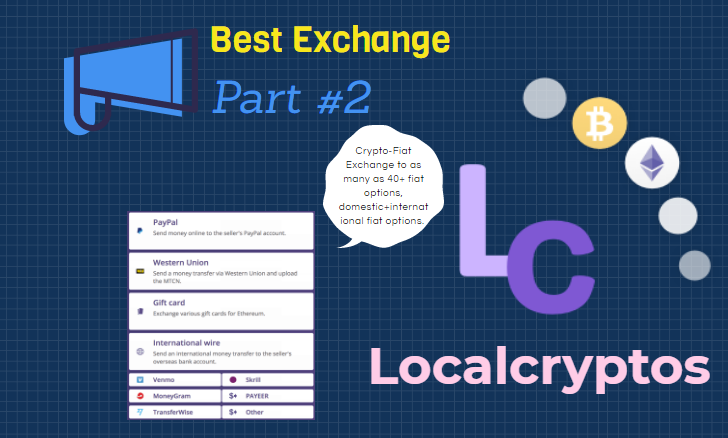 Crypto enthusiasts orient themselves around a facility in which they have absolute control of their assets even in the process of exchange. Despite that, the centralized exchanges are very popular because of their low latency and sufficient liquidity.
But as we progress and as a process of evolution, we will have more decentralized solutions down the line, because, the fundamental principle of crypto & blockchain technology is central to absolute control of the fund, even when it caters to a business use-case.
In the ongoing week of Best Exchange in #steemcryptochallenge I will introduce you to some of the best exchange facilities that are available in the crypto domain. I have already introduced ChangeNOW in Part 1.
Today I have selected Localcryptos which is yet another non-custodial exchange facility akin to LocalBitcoins, however, it is not limited to Bitcoin only, most importantly non-custodial; it offers a p2p exchange solution for BTC, ETH, LTC, DASH, etc. But the popularity of this exchange is not about how many coins that are listed rather it is about the wide variety of fiat options, probably it includes all the fiat options that are available all across the globe.
Localcryptos offers flexibility in fiat options, not just local fiat options, international fiat options too, including the centralized digital currencies like Paypal, Skrill, etc.

Localcryptos offer p2p exchange solution, with Blockchain-powered escrow service, making it non-custodial. Even the messages/chat between two peers are end to end encrypted. A trader can choose fiat from as many as 40+ fiat options (both domestic and international fiat options).


Screenshot-Source
Localcryptos wins as one of the popular p2p exchange facility because it offers both crypto-crypto swap as well as crypto-fiat swap. Even though the listed cryptos are only 4, but the number of fiat options is unparalleled with more than 40+ fiat options. So it's truly a global p2p hub.
This ideally creates an opportunity for the individual traders to create their exchange niche, set their own terms, rules of trading, and make their business grow in time.
They also make the listing of coins through community voting and that is another best example they are setting conforming to the principles of Blockchain technology.
Listed Cryptos
BTC, ETH, LTC, DASH
Different Fiat Options
Bank transfer, Cash (in person), Cash deposit, WeChat Pay, PayPal, Western Union, SEPA transfer, Skrill, Alipay, MoneyGram, International wire, TransferWise, PAYEER, Mercado Pago, Venmo, M-PESA (Kenya), UPI (India), Paytm (India), IMPS (India), Alfa cash-in (Russia), QIWI (Russia), Interac e-Transfer(Canada), Yandex.Money (Russia), WebMoney (Russia), AdvCash (Russia), Efecty (Colombia), Cardless cash (Australia), Swish (Sweden), PayNow (Singapore), Pingit (United Kingdom), Airtel(India), Cardless Cash, and many others.
This illustration explains very well how it works in Localcryptos when you want to buy or sell your cryptos for fiat.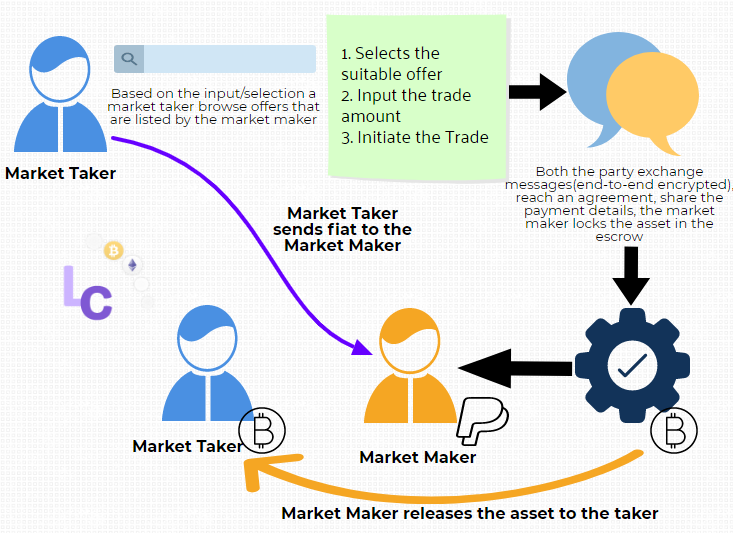 Market Maker- The one who creates an offer
Market Taker- The one who responds to an offer
The Market Maker fee is 0.25% whereas the Market Taker fee is 0.75%.

Getting started with Localcryptos
You can sign up either with an email or simply with your Etherum Wallet like Metamask, Walletconnect, Portis, Fortmatic, etc. However, I will suggest opening an account in Localcryptos with an email ID, that gives more flexibility as you can deal with all the coins BTC, ETH, LTC, DASH. In your user portal(once you sign-up), you can create a decentralized wallet for each coin. Don't forget to backup the keys.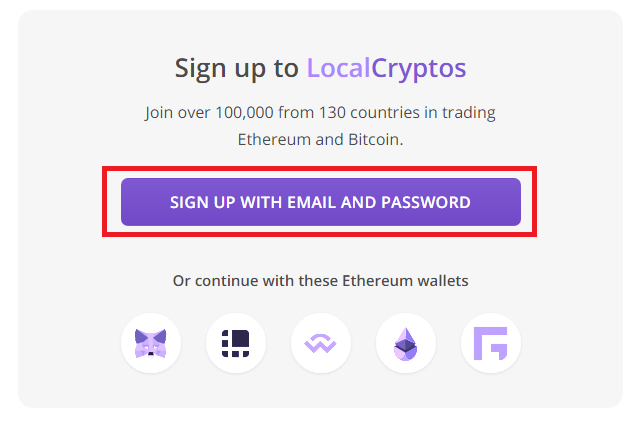 Crypto-crypto swap
Localcryptos has already announced its integration with ChangeNOW to offer the crypto-crypto swap facility for the listed coins. Earlier this service was not available. So when you swap crypto-crypto in Localcryptos, you need to agree to the ChnageNOW's terms of use as well.
Login to your Localcryptos account.
Click on "wallet" or go to https://localcryptos.com/wallet
Click on "Swap".
Then you select the input crypto and the output crypto out of the four(BTC, ETH, LTC, DASH). Input the amount and then hit the "Next" button.
It will take a few minutes to execute through ChangeNOW(a third party exchange).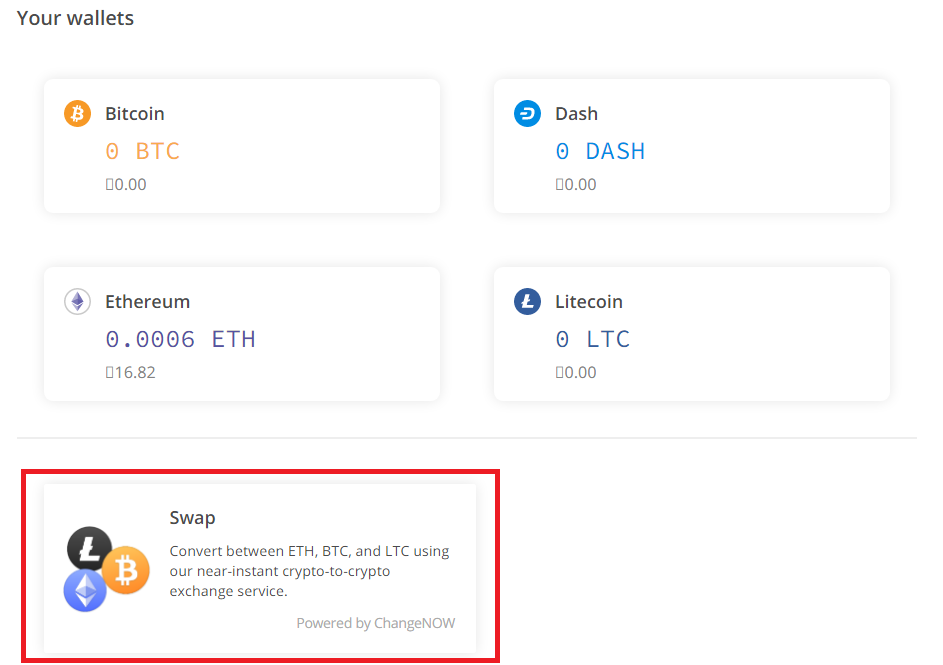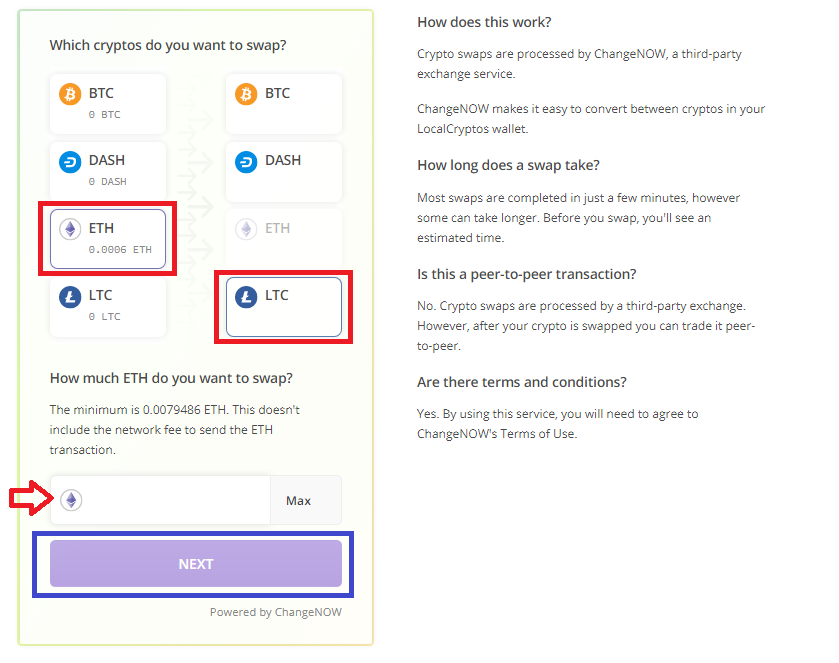 Crypto-Fiat Swap(Buy/Sell)
Login to your Localcryptos account.
Click on "Browse".
Now select the variables as per your requirement: Buy/Sell, Crypto(BTC, ETH, LTC, DASH), Payment Method, Location.
Based on your input/selection, it will display the list of offers that are available. Here sort it either by popularity or by price. You can also disable the new users, in case you don't feel comfortable to trade with a new user.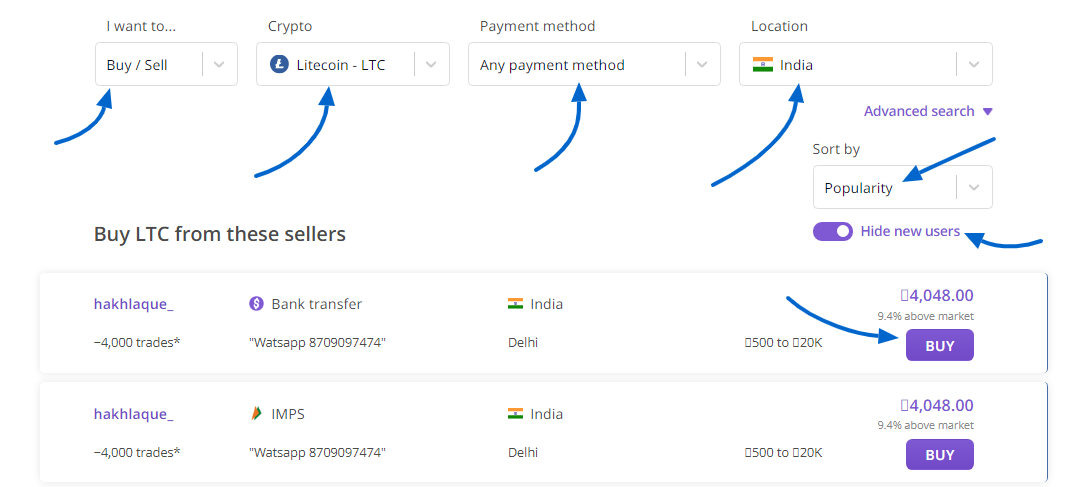 Now select the one which you feel as the most competitive offer to trade. You land on another page where you need to fill the amount, pay attention to the minimum amount, terms of trade set by the trader as displayed in this page. Then type the message in the chatbox, click on "Open trade". Please note that the chat is end-to-end encrypted. So no one can see except you and your counter-part.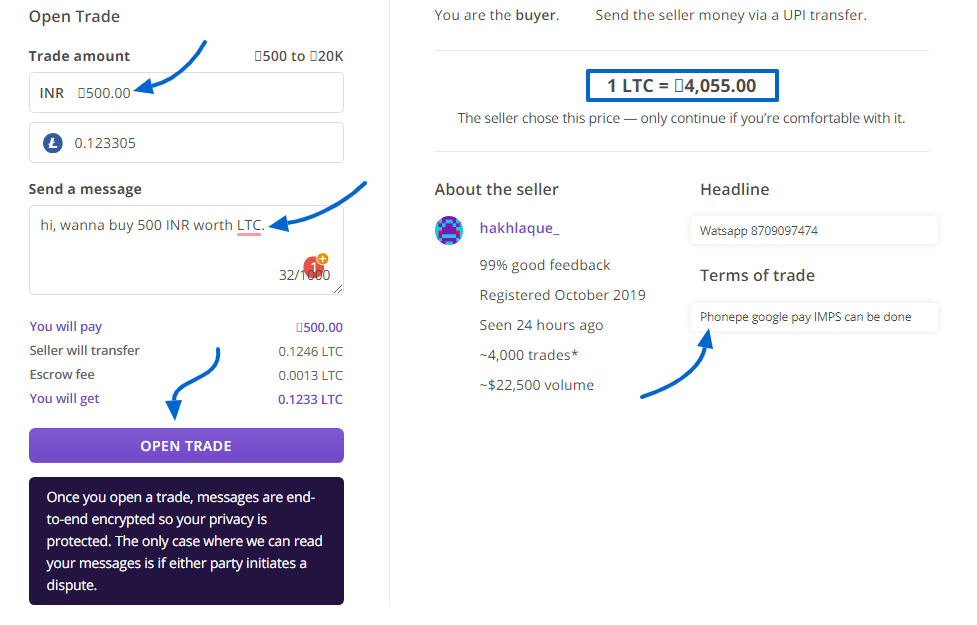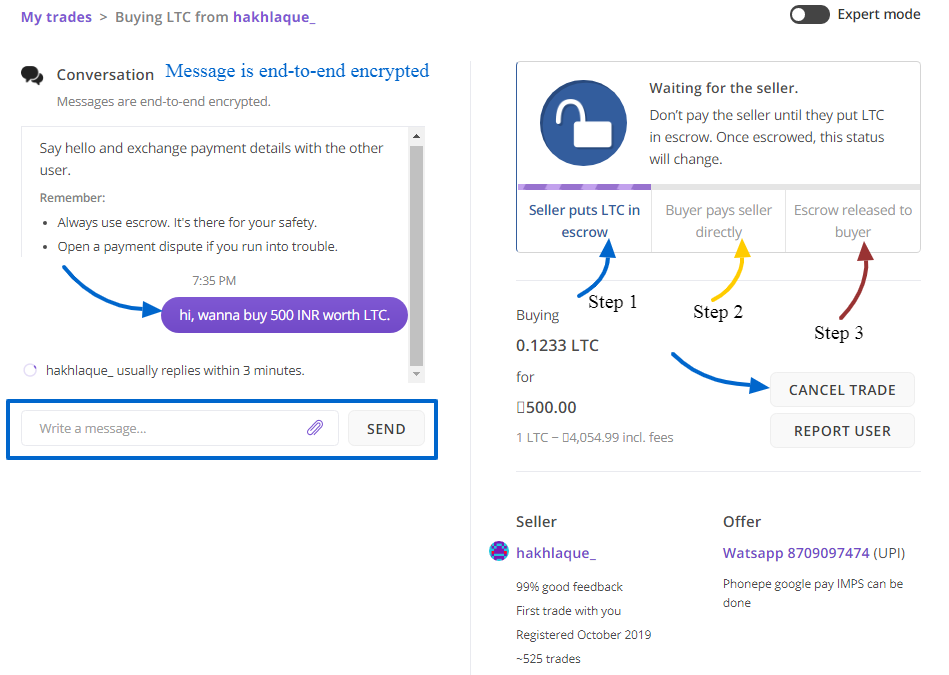 After both of you reach an agreement, the seller will share the bank details/account details with you, at the same time he will lock the asset in the escrow, buyer will pay the seller directly, finally, the seller confirms the payment & release the escrow to the buyer. In case of dispute, the matter will be escalated to the dispute resolution team of Localcryptos they will check the things from both sides and resolve the issue.
Escrows are performed on-chain, so it will incur network fees.
Create your own offer(Market Maker), Set the terms of trade
Login to your Localcryptos account.
Click on Offers.
Then click on Create a New offer.
Select either Buy or Sell. Choose the specific Coin.
Then provide the Location Details which will be displayed in your offer.
Then select the payment method(out of the 40+ fiat options).
Indicate the currency(Fiat) that you want to trade with. If you have chosen a domestic option it will be your local currency, if you have selected international fiat options it can be USD, EUR, GBP, etc.
Then "set your rate". There are two options: Dynamic market price and Custom equation. In Dynamic market price, you chose a rate above or below the rate of a chosen exchange. In the custom equation, you customize your rate based on the rate of different exchanges, which is relatively complex. So it is better to go with Dynamic market price for a new trader.
Then specify your reference exchange. e.g. Binance & set your margin. e.g. 2% above the market or 1% below the market.
Review the price, Confirm the price.
Specify the minimum trade size & maximum trade size. You can customize your trade offer on your own term. You can also skip this step.
Then chose a headline that defines your trade offer.
Outline the trade terms. e.g. Meeting places, Restrictions, Payment Methods, etc.
Specify the standard hours during which you are available to respond to a trade. You can also skip this step.
Specify with whom you would like to trade: Anybody or Users with phone number verified.
Finally, click on "Confirm Details". Now your trade offer goes live.
You are free to modify, pause, or delete the offer. If a user responds you will be notified in email as well as through notification bell, you need to respond as quickly as possible to build a good reputation as a trader.
After a brief conversation with your counterpart in the encrypted chatbox, you can fund the escrow, share the bank details, or any payment method that you have specified. After receiving the payment you can release it to the buyer.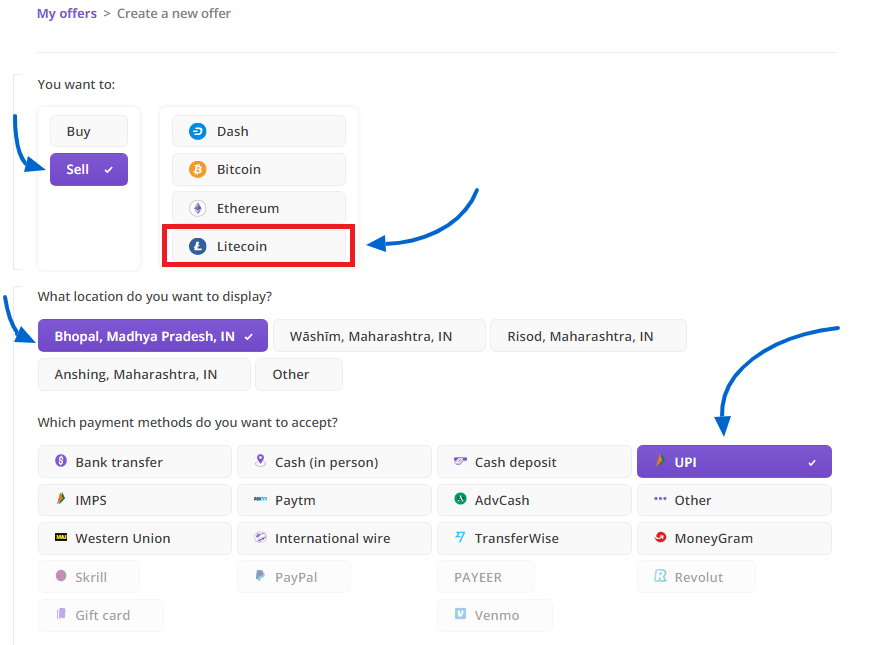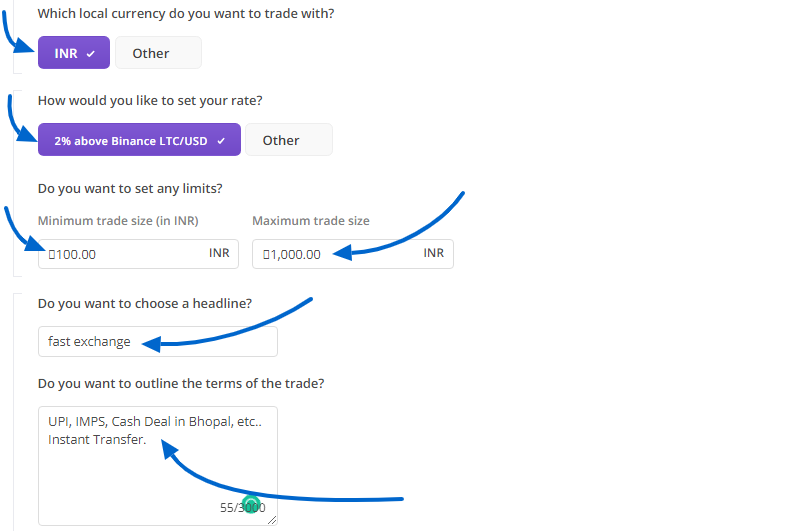 Pros & Cons of Localcryptos
Pros
Crypto to Fiat exchange to as many as 40+ fiat currencies worldwide. Crypto-crypto swap is also possible.
The end-end encrypted messaging respects data privacy.
Non-custodial- Your crypto wallet is created locally and only you can access your wallet.
Non-custodial escrow with (Pay-to-Witness-Script-Hash) P2WSH transaction in case of BTC and Smart contract in case of ETH.
A new asset is listed through community voting, conforming to the principles of decentralization
The market maker fee is competitive, only 0.25%.
Cons
Only limited to four crypto- BTC, LTC, ETH, DASH.
The market taker fee is higher, 0.75%.
Although Paypal, Venmo are supported fiat options, there is risk of chargeback, frauds.

Summary
With four cryptos now listed in Localcryptos, it may so happen that in some of the coins the demand may be less, where as for other coins it can be more demanding. For example the buy/sell offer may be more in case of BTC as compared to LTC or ETH or DASH, in that case, a trader can go for crypto-crypto swap and access to the highly demanding coin.
The ability of the user to set the margin, a certain percentage high or low from the reference exchange rate(e.g. Binance, Bittrex) gives more flexibility to the Market Maker to create a niche of exchange on their own terms.
If two traders happens to be from the same city, they can also exchange cash (in person), however for higher amount, personally I will not recommend this method owing to security & safety issues.
Localcryptos offers for as many as 40+ fiat options, that makes it easy for the general traders and offer more flexibility to those who dont want to go through the regulatory framework. Not to mention it does not require any KYC.
Overall, I consider Localcryptos as a good exchange facility particularly in the use-case of crypto-fiat swap.
Thank you.

Cc:-
@steemitblog
@steemcurator01
@steemcurator02

Unless otherwise stated, all the images, infographics, charts, tables, etc(if any) are my original works. Screenshots are taken from the Localcryptos official site.
---
The post payout is set to "Power Up 100%".