Dear Steemians,
With this post I would like to thank all users that have been so nice and friendly to send me some of their STEEM ENGINE tokens!
Here is my previous STEEM ENGINE post :-)
A little bit of kindness and curiosity and the STEEM community responds amazingly!
Here's my today's WALLET: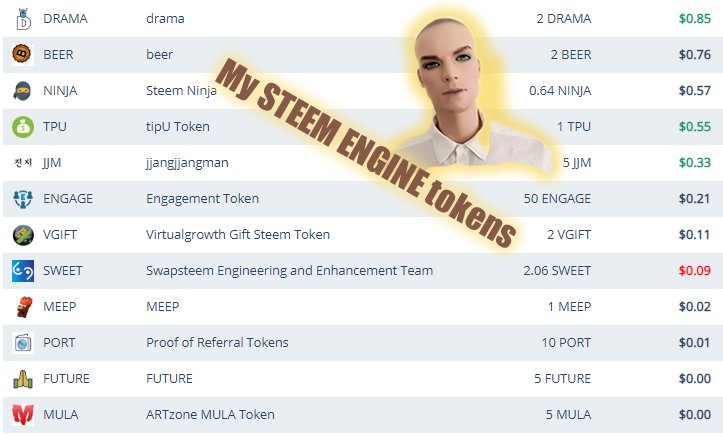 A big thank you goes to…
… the team of STEEM ENGINE: @aggroed, @yabapmatt and @harpagon
… to @whatsup for having sent 1 DRAMA @dramatoken
… to @ran.koree for the JJM and a DRAMA token
… to @amico for the TPU and the NINJA
… to @portokens for the PORT
… to Asher @abh12345 for his ENGAGE
… to @uwelang and @detlev for letting me taste the BEER tokens
… to @virtualgrowth for the VGIFT
I'm still collecting tokens ;-)
... but now it's my turn!
I need 100 ENG to create some tokens, where 1 ENG = 1 STEEM.
At this time I have 20 STEEM available… I would need 80, but slowly I'll get there.
Hence, leave your upvote to speed up the process.
I also accept donations in STEEM or ENG… and in exchange you'll receive some mannequin-tokens as soon as they will be produced.
Details about this token and its use will follow soon ;-)
Have a great weekend!
Steemitri The Mannequin
@steemitri